PMKVY being an integral part of the Skill India eco-system, revamping of the scheme with emphasis on making the skill eco-system future ready was imperative.
For Free Updates JOIN our TELEGRAM channel, CLICK HERE
To meet the challenges of the past and the aspirations of the future, PMKVY 4.0 is being realigned by redesigning the training framework with core focus on making the existing skill eco-system more flexible, swift, and geared to meet the current challenges and the emerging needs through a process overhauling by promoting innovative financing, digitalization, etc.
To get the latest updates on skill development tenders, EOI, RFP, Notifications, News CLICK HERE to follow SKILLSPEDIA on FACEBOOK
Objectives of PMKVY 4.0
PMKVY 4.0 will be implemented between 2022-26 with a strong emphasis on making the programme candidate centric by creating an enabling ecosystem to meet the aspirations and emerging sectoral needs.
a. To promote an enabling ecosystem for youths to get skilled and choose a career path.
b. To create a platform for both demand and supply side by making the existing skilling eco-system more flexible, swift, and geared to meet the emerging demand.
c. To effectively meet the demand and supply through a process overhauling by promoting technology-driven ecosystem, innovative financing, and digitalization.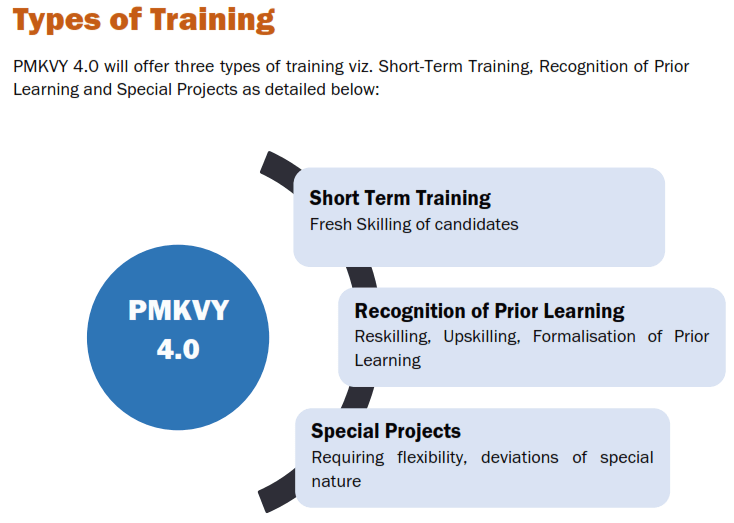 Eligibility Criteria for PIA
a. Any form of corporate entity or legal entity.
b. Should have an average annual turnover of last 3 financial years that is at least 25% of the total project cost proposed.
c. The PIA may propose a maximum of two projects, included rejected proposals, across all available sectors in a given financial year.
d. The PIA should have a positive net worth for the last two consecutive financial years.
e. The conditions may be exempted in case of Government/semi-Government organizations.
For detailed Guidelines click the download link: