The Ministry of Skill Development and Entrepreneurship (MSDE), Government of India launched the 'Skills Acquisition and Knowledge Awareness for Livelihood Promotion' (SANKALP) programme, a World Bank loan-assisted outcome-based project in 2018. The project focuses on transforming the overall skilling ecosystem of India, covering both Central and State level agencies for improved outcomes.
SANKALP consists of the following three Result Areas (RAs):
RA1: Institutional Strengthening at the National and State Levels for Planning, Delivering, and Monitoring;
RA2: Improved Quality and Market Relevance of Skills Development programs;
RA3: Improved access to and completion of skills training for female trainees and other underserviced sections of the society
One of the primary objectives of SANKALP is to improve short term skill development planning and implementation by employing decentralisation as a strategy, along with monitoring of skilling activities and promoting convergence. SANKALP also encourages innovative best practices at the local level that result in enhanced access, quality and capacity in the skilling ecosystem. Strengthening of skill development machineries at all levels is at the core of SANKALP.
While SANKALP has been working at strengthening skill development machineries at the State and District levels, it is critical that these efforts reach and connect with the last mile, that is, local bodies such as Rural Local Bodies (RLBs) to be truly effective.
To make skill development relevant to the needs of the rural citizens and be integrated as part of development planning at the Gram Panchayats (GPs), MSDE is working with Ministry of Panchayati Raj (MoPR) to develop and test different models of skill development and employment linkages at the GP, which would focus on quality delivery and regular maintenance of essential services related to Water, Sanitation and Hygiene (WASH).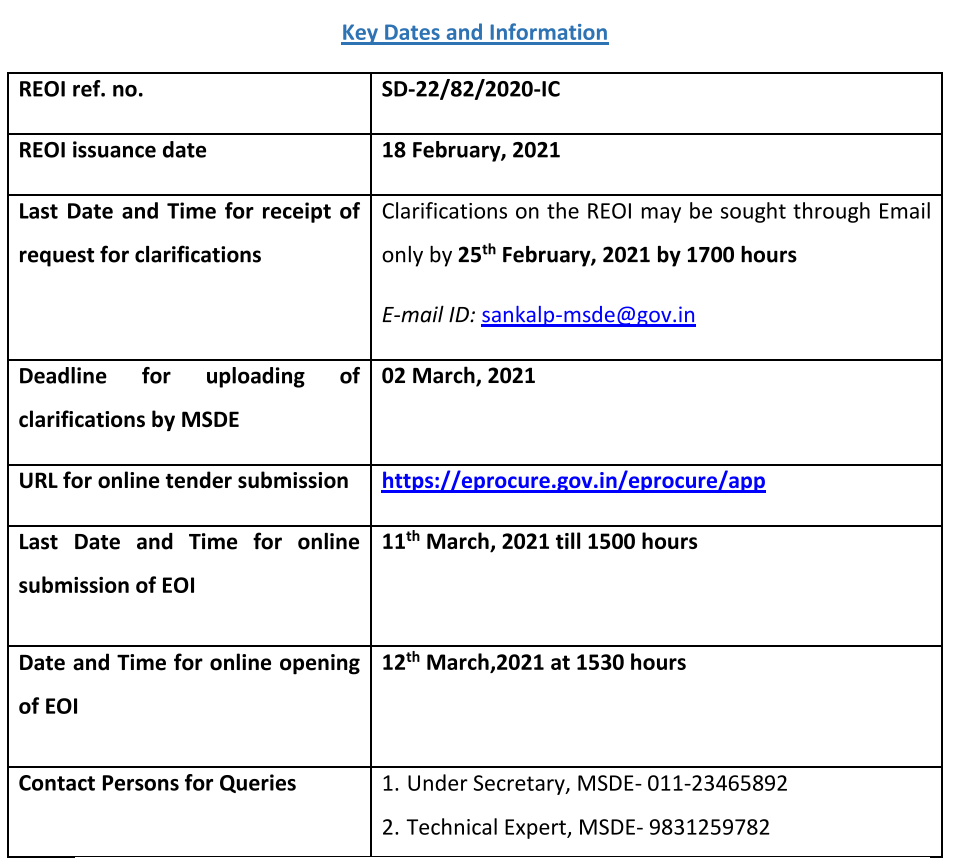 Assignment Background
To make skill development relevant to the needs of the rural citizens, MSDE in partnership with MoPR, is taking skill development planning and promotion of local livelihood opportunities through decentralisation planning to the GPs. This will enable these local bodies in meeting the existing and emerging requirements for skilled resources to operationalise and maintain public utilities essential to public health and community development.
The interim report of the 15th Finance Commission (FFC)further validated the need to integrate skill development planning at the GPs by identifying Drinking Water and Sanitation as national priority areas, mandating the RLBs through tied grants, to give high priority to the Operations and Maintenance (O&M) of services related to WASH. This necessitates that skilled resources be deployed to carry out the recommendations of the FFC and therefore, a surge in the demand for skilled resources is anticipated at the GPs.
This also prompts us to view rural communities and economies as not only supplier of skilled labour but also, consumers of skilled resources for quality delivery and maintenance of essential services. This will not only lead to generation of local employment opportunities but also self-reliant GPs.
In this context, MSDE has partnered with MoPR to address the current and emerging skill development needs at the GPs, implement the recommendations of the FFC through a pool of skilled resources, and to make skill development training relevant to the needs of rural citizens. To this effect, Integrated Project for WASH (IPW) has been identified as one of the key initiatives. The project will be implemented in different GP clusters across the country with the aim of building a sustainable model of demand and supply of skilled resources at the grassroots, leading to local livelihood opportunities.
MSDE would like to appoint an agency/s as the Implementation Agency/s (IA) for this project who would be responsible for the end-to-end effective on-ground implementation of the project. The IA will be responsible for managing this multistakeholder project, to create a sustainable model of skill development and employment at the GPs, which is both scalable and replicable.
MSDE will provide inputs on project requirements and facilitate implementation through necessary funding under SANKALP.
MoPR will provide access to the Panchayati Raj system to undertake activities pertaining to the project and provide facilitative support.
In this regard, MSDE invites all eligible Government and Non-Government Organizations, Not-for-profit organizations, and any other legal public and private entity (Consultancy firm, Proprietorship firm, Partnership, LLP, Company, Society, and Trust etc.) to submit their Expression of Interest (EOI) for skill training in WASH related job roles and linking to appropriate employment opportunities at the GP, as per objectives and requirements elaborated in the document.
Project Implementation Location:
The project will be implemented in identified GPs from the following 6 states:
a) Uttar Pradesh
b) Madhya Pradesh
c) Gujarat
d) Odisha
e) Karnataka
f) Sikkim
The above the states have been shortlisted based on their performance against key WASH indicators, and due care has been taken to ensure balanced and fair representation from different regions of the country.
EOI Online Submission Process and Timelines:
The EOI containing the Technical Proposal along with supporting documents as per Qualification criteria mentioned above under Section- Eligibility Criteria as per format given at Annexure 1 and 2 of the document should be submitted online (only) on the Portal
https://eprocure.gov.in/eprocure/app
Manual submission of EOI is not permissible. The Agency shall submit a digitally signed, encrypted and complete EOI.
Deadline for online EOI submission is 11th March, 2021 till 15:00 Hours.
An authorized representative of the Agency shall digitally sign the EOI submission letter in the required formats and supporting documents. The authorization shall be in the form of a written power of attorney scanned and uploaded together EOI. The digitally signed and encrypted EOI shall be uploaded in the Procurement Portal as mentioned below, using valid DSC.
The Agency must have Class III Digital Signature Certificate (DSC) with signing, and User-id of the e-Procurement website before participating in the selection process. The Agency may use their DSC if hey already have. They can also obtain DSC from any of the Government of India's authorized Certifying Authorities. For user-id they have to get registered themselves on procurement website https://eprocure.gov.in/eprocure/app and submit their EOI online on the same. Offline bids shall not be entertained by the MSDE.
For support related to submission of EOI on the Procurement Portal, Agency may contact the 24×7 CPP Portal Helpdesk (Help Desk Number 0120-4001005) at the Portal https://eprocure.gov.in/eprocure/app
To download detailed EOI, click below link"