The purpose of this NIRFP is to provide interested parties with information that may be useful to them in the formulation of their proposals pursuant to this NIRFP. In the backdrop of the unprecedent COVID 19 situation, it is imperative that this program for training health care workers is implemented in a limited span of time. This NIFRP will assist interested parties in advance preparation.
A. INTRODUCTION
The Ministry of Skill Development and Entrepreneurship ("MSDE") has introduced 'Customised Crash Course Programme for COVID Warriors' ("Programme") which is being implemented by National Skill Development Corporation ("NSDC"). As part of this implementing endeavour, it has been decided to invite proposals for selection of Training Partners ("Training Partners") who will be required to impart training in accordance with the Programme Guidelines ("Request for Proposal" or "RFP"). Training Partners shall be solely responsible for compliance to the requirements of the Programme Guidelines.
To get the latest updates on skill development tenders, EOI, RFP, Notifications, News CLICK HERE to follow SKILLSPEDIA on FACEBOOK
The "Programme Guidelines" are available at
https://nsdcindia.org/sites/default/files/Guidelines-for-Customized-Crash-Course-Programmefor-COVID-Warriors-under-PMKVY3-29-06-2021.pdf
B. BACKGROUND
COVID-19 has put our existing healthcare system under unprecedented stress, and it was felt that there is a requirement of skilled COVID warriors across the country. In order to meet this deficit of skilled COVID warriors and augmentation of available healthcare services with limited span of time, MSDE has undertaken a programme to create a pool of trained/skilled COVID warriors as per standardized skilling ecosystem. Accordingly, the 'Customised Crash Course Programme for COVID Warriors' is designed as a special strategic programme for its effective implementation under Special Project category of Central Component of Pradhan Mantri Kaushal Vikas Yojana 3.0 (PMKVY 3.O) available at https://www.msde.gov.in/sites/default/files/202101/PMKVY%20Guideline%20report_(06-01-2021)_V5.pdf
Considering the nature of the pandemic, National Disaster Management Authority ("NDMA") established under the Disaster Management Act, 2005 has laid down policies, plans and guidelines for management of the COVID-19 situation including additional guidelines pertaining to COVID-19 by Ministry of Home Affairs, Ministry of Health & Family Welfare etc. ("Applicable Guidelines").
The successful applicant under the Programme shall be expected to have all the permissions, licenses, and approvals in place for carrying out the skill training under the Programme. In addition, the successful applicant must also ensure compliance of the Applicable Guidelines along with any directions/advisories issued by concerned ministries from time to time.
C. JOB ROLES FOR HEALTHCARE TRAININGS
Based on the recommendations of Health Sector Skill Council ("HSSC") (as presented in the Annexure 1 of Programme Guidelines), training would be imparted in customized six job roles namely:
i. COVID Frontline Worker (Home Care Support)
ii. COVID Frontline Worker (Basic Care Support)
iii. COVID Frontline Worker (Advanced Care Support)
iv. COVID Frontline Worker (Emergency Care Support)
v. COVID Frontline Worker (Sample Collection Support)
vi. COVID Frontline Worker (Medical Equipment Support)
As COVID healthcare management requires extensive data management, therefore the course content for the job role of 'Medical Record Assistance (MRA)' has been embedded in the course content of all six job roles.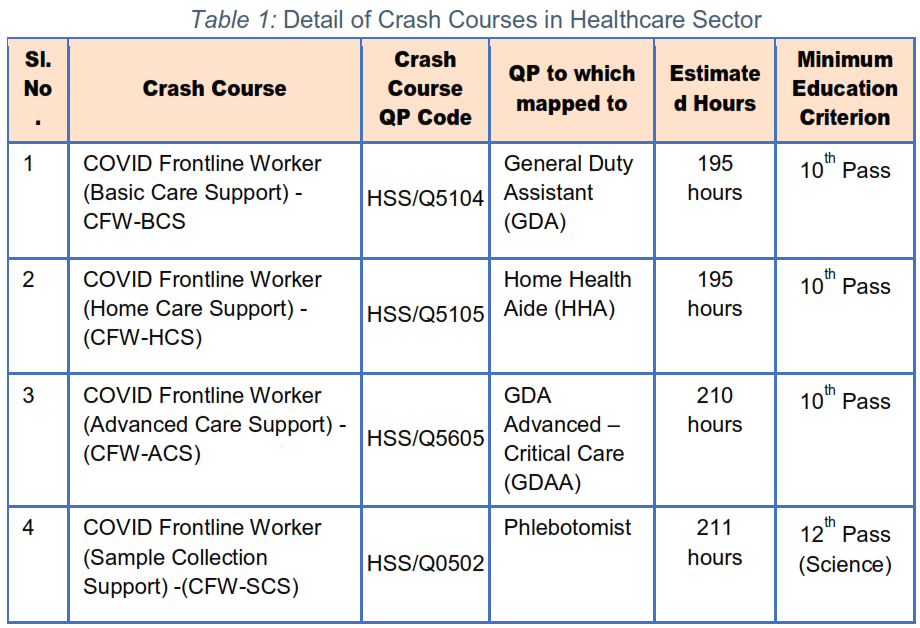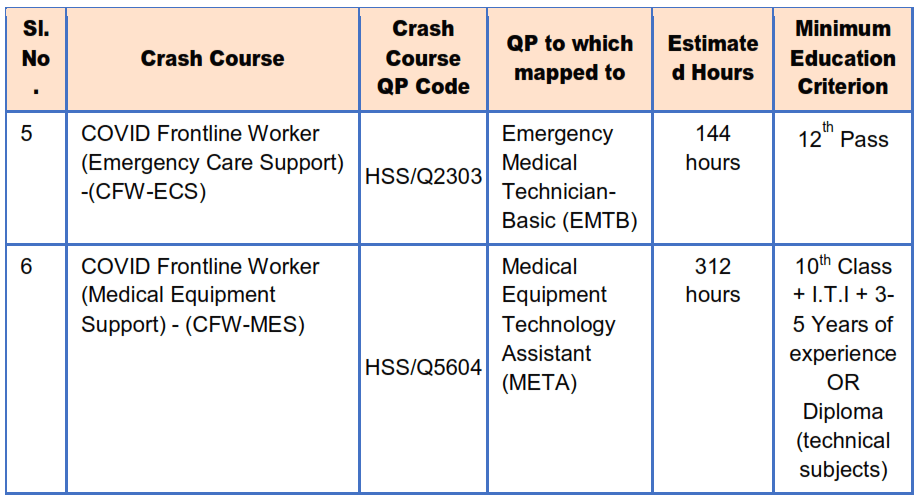 D. SELECTION OF TRAINING PARTNERS
For undertaking such trainings, the criteria for selection of Training Partners shall be specified in the RFP.
E. ACCREDITATION AND AFFILIATION OF TRAINING PARTNERS
The Accreditation and Affiliation process shall be specified in detail under the RFP. However, the prospective applicants may refer to the following guidelines:
 Guidelines: https://s3.ap-south-1.amazonaws.com/nsdctesttemplates/sdmsknowledgebank/CentreAccreditationAffiliationGuidelinesVersion.pdf
 Specifications as per SSC and other related details:
https://skillindia.nsdcindia.org/knowledge-bank
 FAQs: https://skillindia.nsdcindia.org/faqs
G. ALLOCATION OF TARGETS
The details pertaining to the allocation of targets to be provided to such Training Partners shall be
specified under the RFP.
For any questions/clarifications, please write to [email protected]
To Download the Notice Inviting RFP click below link: