Delhi Skills Mission Society (DSMS), Department of Training & Technical Education, Govt. of NCT of Delhi invites Request for Proposal for Empanelment of Project Implementing Agencies (PIAs)/ Training Providers for implementing Recognition of Prior Learning (RPL) under PMKVY 3.0 CSSM (State Component).
Delhi Skill Mission Society (DSMS) is the nodal agency for implementing, monitoring and coordinating the Skill Development & Entrepreneurship activities initiated by the Central Govt. and implemented by the State Govt. to leverage employability. DSMS implements various skill development schemes in the State of NCT of Delhi for skilling of youth. It also acts as a catalyst in strengthening Skill Eco System of Delhi. DSMS also has partnerships with industries for demand and outcome based skilling of candidates. Being a Project Implementation Agency (PIA) for promotion of skill development, entrepreneurship & innovation in the state, DSMS has been participating in Pradhan Mantri Kaushal Vikas Yojana. In PMKVY 3.0, Recognition of Prior Learning has also been included in CSSM for the first time. Ministry of Skill Development & Entrepreneurship (MSDE) has allocated the total RPL target of 2200 (@200 per district) under the Pilot phase of PMKVY 3.0-CSSM scheme.
Recognition of Prior Learning is a skill certification component to enable a large number of Indian youth to take on industry-relevant skill certification which will help them to secure a better livelihood. Individuals with prior learning experience or skills can register themselves and get assessed and certified under the Recognition of Prior Learning (RPL) component of the scheme.
In this context, Delhi Skills Mission Society (DSMS) invites "Request for Proposal (RFP)" from the interested PIAs/ TPs for submission of Proposal for conducting Skill Development Training under RPL component of PMKVY 3.0 during FY 2020-21. The following entities are eligible for submitting proposals.
Any legal entity such as Government organizations/institutions, private companies/organizations, Trust, Societies, NGOs, Industrial associations, cooperatives, etc. who have prior experience and have been recognized for skill training works can submit proposals.
Note:
Assessment Agencies will not be permitted as PIA under RPL in PMKVY 3.0.
Training/Assessment cost reimbursement for RPL will be done as per PMKVY3.0 guidelines, latest circular/orders of NSDC/MSDE, GoI. Further, payment will be released on receipt of funds from Govt. of India.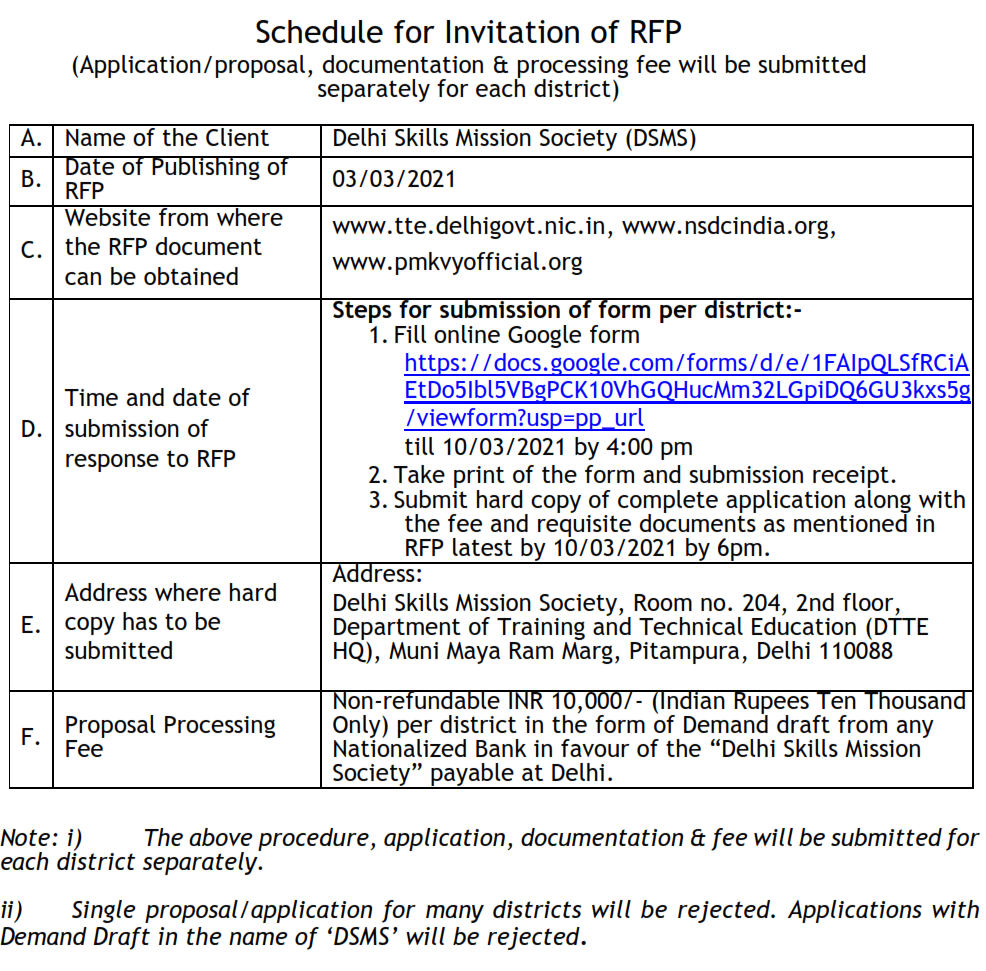 To Download the RFP click below link: