The link for accessing the Special Projects RFP portal and to submit the proposal is https://cccpcw.nsdcindia.org
National Skill Development Corporation (NSDC) has invited RFP for Selection of Training Partners for Special Projects COVID Training (Customised Crash Course programme) (Centrally Sponsored Centrally Managed Component-CSCM) under Pradhan Mantri Kaushal Vikas Yojana 3.0.
Proposal Processing Fee:
A non-refundable one-time fee of INR 1,000/- (One Thousand only) is to be provided by all the Applicants as a registration fees through any one of the multiple modes of online payment available on the project application portal. Additionally, the Applicant need to provide a fee of INR 500/- (Five Hundred only) for each proposal submitted by them.
To get the latest updates on skill development tenders, EOI, RFP, Notifications, News CLICK HERE to follow SKILLSPEDIA on FACEBOOK
Submission of proposals:
The proposal should be submitted online by visiting proposal management system at www.pmkvyofficial.org that would be accessible to the Training Provider on 20th July 2021. The tentative schedule for the process is highlighted in the table below: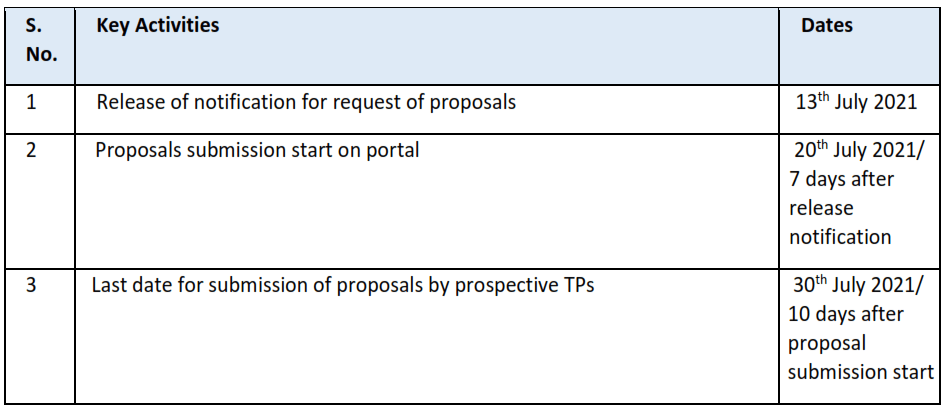 In case the eligibility conditions of the Applicant do not suffice the condition set by this RFP, the Applicant will not be allowed to submit proposals. All queries related to RFP to be sent to [email protected] only.
Background:
COVID-19 has put our existing healthcare system under unprecedented stress, and it is felt that there is a requirement of skilled COVID warriors across the country. In order to meet this deficit of skilled COVID warriors and augmentation of available healthcare services within limited span of time, Ministry of Skill Development and Entrepreneurship (MSDE) has undertaken a programme to create a pool of trained/skilled COVID warriors with scale, speed and as per standardised skilling ecosystem.
Accordingly, the 'Customised Crash Course Programme for COVID Warriors' is designed as a special strategic programme for its effective implementation under Special Project category of Central Component of Pradhan Mantri Kaushal Vikas Yojana 3.0 (PMKVY 3.O).
National Skill Development Corporation (NSDC) has taken the requirement of fresh skilling and upskilling, state/ UT wise and district wise, in six health care job roles pertinent for training of COVID warriors from the states/ UTs. Based on the demand received, a rationalization across state/ UT, districts and job role has been done.
Some target allocation to available and interested centers has been made as per districts and state demands to quickly launch the Programme and make the trained workers available in the health care facilities.
This RFP is being rolled out to meet the unmet demand in Fresh Skilling (Component 1 of the Customized Crash Course Programme mentioned below). The allocation will be done as per state and job role demand. The Applicant/s are expected to apprise themselves and follow the following guidelines, and amendments thereof which can be referred vide links provided below –
Customized Crash Course Programme under PMKVY 3.0 guidelines:
https://nsdcindia.org/sites/default/files/Guidelines-for-Customized-Crash-Course-Programme-forCOVID-Warriors-under-PMKVY3-29-06-2021.pdf
PMKVY 3.0 Guidelines:
https://www.pmkvyofficial.org/App_Documents/News/PMKY-Guideline_report_(08-01-2021)V3.pdf
Ministry of Health and Family Welfare: (https://www.pmkvyofficial.org/App_Documents/News/2909_NSDC_Guidlines_5_10_12.pdf) and
Ministry of Skill Development and Entrepreneurship guidelines on opening TCs:
(https://pmkvyofficial.org/App_Documents/News/OMs-and-SOP-for-opening-of-TCs-under-PMKVY2016-20.pdf),
In addition, applicable central, state and local authorities, during the tenure of the Programme on
preventive measures to contain the spread of COVID-19 in TC will be followed.
Key features:
The major steps involved in the selection of Training Providers in the project mode as per this RFP are summarized below:
No organization is being asked to set up a new center for the purpose of this RFP. NSDC does not guarantee target allocation to any organization applying through this RFP.
Eligible Institutions and organizations are invited to submit proposals for allocation of targets through this RFP. The applications will be accepted only during a fixed time period.
This RFP is only inviting proposals for fresh skilling (Component 1 of Crash Course Guidelines)
Each applicant organization ("Applicant") will have to register on an online portal.
Each Applicant can submit proposal for multiple proposed centers. Each training center proposed by an Applicant should contain the details of state and district with job roles in which the Applicant wishes to conduct trainings.
After the date of receiving applications is over, all applications will be evaluated as per the evaluation criteria.
The Training Providers with sector experience, skilling experience and available infrastructure etc. have been encouraged and given weightage.
Professional bodies in health sector like Hospitals, labs, original equipment Manufacturers (OEMs) will be encouraged to participate and given weightage.
The proposals of the TPs would be evaluated on quantitative parameters, which have been detailed in this document and scoring matrix given at Annexure II.
Based on the evaluation criteria and scoring matrix, upon successful selection of the Training Provider, targets will be allocated to the Applicant according to the target allocation methodology.
Due Diligence will be taken up for the shortlisted / eligible Applicants for the selection and thereafter for target allocation.
Post Approval by competent authority, the successful Applicants may be intimated and invited for signing of an Agreement/ issued a Sanction order.
Post the selection and thereafter allocation of targets, the Applicants can start training in proposed centers only after successful accreditation and affiliation of each training centre (

https://smart.nsdcindia.org/img/Centre%20Accreditation%20&%20Affiliation%20Guidelines%20Version%201.0.pdf

) and availability of ToT certified trainers. PMKVY 3.0 guidelines would be followed.
The performance of the Training Providers allocated with targets would be monitored for quality aspect of Training, placement and other factors.
Those already allocated targets in the programme will be considered based on the existing performance and those with unsatisfactory performance may be removed from the allocation process.
The Scheme does not allow franchising/ consortium/ Subcontracting.
Training components:
The training will be conducted on customized crash courses in identified six (06) job roles (as mentioned below). The training duration will be of approximately 21-days* of theory-based classroom training followed by approximately 90 days On-the-Job Training (OJT) in healthcare facility such as Primary Health Centres, hospitals, diagnostic facility, sample collection centre, etc.
This training would include two assessments – one after the classroom training and another after completion of OJT, followed by certification of trainee for the crash course and the same shall be undertaken by Health Care Sector Skill Council(HSSC) in accordance with key roles and responsibilities identified in Guidelines.
*Actual days of training will be number of hours of the job role as per Table 1 @ 9 hours per day.
Based on the recommendations of Health Sector Skill Council ("HSSC"), training would be imparted in customized six job roles namely:
i. COVID Frontline Worker (Home Care Support)
ii. COVID Frontline Worker (Basic Care Support)
iii. COVID Frontline Worker (Advanced Care Support)
iv. COVID Frontline Worker (Emergency Care Support)
v. COVID Frontline Worker (Sample Collection Support)
vi. COVID Frontline Worker (Medical Equipment Support)
As COVID healthcare management requires extensive data management, therefore the course content for the job role of 'Medical Record Assistance (MRA)' has been embedded in the course content of all six job roles.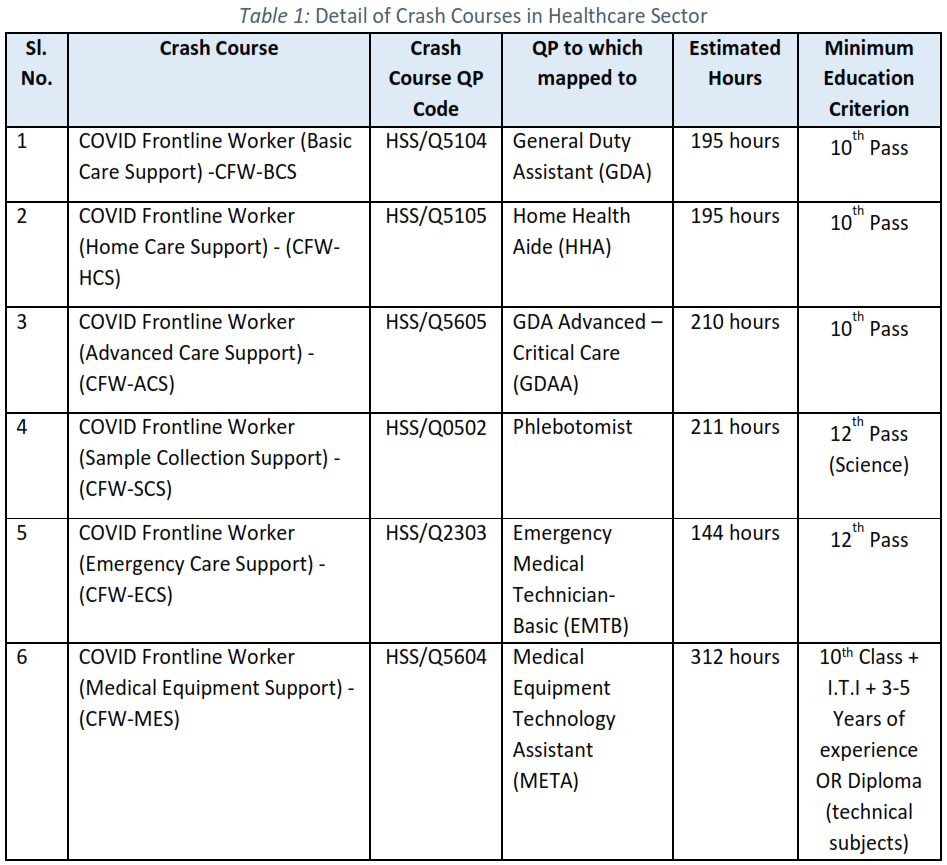 Classification of Applicants:
Target allocation through RFP route would involve the below categories organizations:
Healthcare facilities – Hospitals, labs, Associations, Original Equipment Manufacturers, etc. To be recommended by Health Care SSC
Training Providers with PMKVY 2018-21 engagement
Training Provider recommended by the State Govt. Letter of recommendation from SSDM/ DSC
Other Organizations
The below process would be followed for selection and allocation of targets under RFP: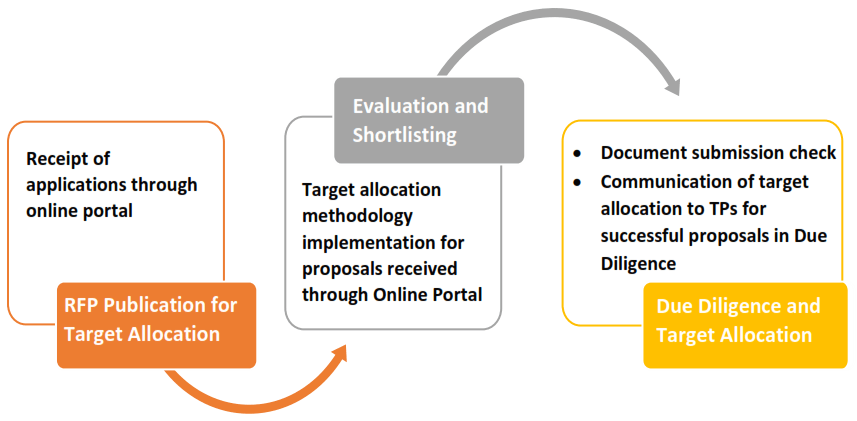 Late Proposals:
The portal accepting applications will be closed at 06:00 PM on 30th July 2021. All Applicants will be allowed to submit individual proposals independently during the proposal receipt window, before the deadline. Any application that has been created but not submitted by a TP on the portal will be considered null and void. No proposal will be received or considered by NSDC after the deadline for submission of proposals prescribed in this document in any form.
To know about detailed RFP, Scoring Matrix and State wise and Job Role wise Targets, click below links: