DATE EXTENDED till 02-05-2022 till 5.30 PM
Expression of Interest is hereby invited National Institute of Solar Energy (NISE) is an Autonomous Institute of Ministry of New and Renewable Energy (MNRE), Government of India (GoI) to facilitate Research & to empanel Training Centres (TCs) to impart training under Suryamitra skill development program. The empanelment of TCs may be considered for one year or beyond, subject to the continuity of the programme.
For Free Updates JOIN our TELEGRAM channel, CLICK HERE
Last date to submit the online application is 18/04/2022 up to 5:30 PM.
The link for online submission of application is https://suryamitra.nise.res.in/Enrollment/Login
About Suryamitra Skill Development Program (SSDP)
SSDP aims to develop the skills of youth, considering the opportunities for employment in the growing solar energy sector such as: installation, operation & maintenance in India and abroad.
To get the latest updates on skill development tenders, EOI, RFP, Notifications, News CLICK HERE to follow SKILLSPEDIA on FACEBOOK
The SSDP is also designed to prepare the participant/ trainee to become an entrepreneur in solar energy sector. This is a 600 hours residential skill development program following the Qualification Pack (QP) of SGJ/Q0101 details of the QP is available at https://sscgj.in/wpcontent/uploads/2016/10/Booklet_Qualification-Pack-SCGJ.pdf
Preferable qualification for participant will be as per QP SGJ/Q0101. Special emphasis to be given to the persons coming from rural background, unemployed youth, women, SC/ST category.
The participants would be provided boarding and lodging facilities at the Training Centre (TC) by the Training Partner (TP). At the end of the course, Assessment and certification shall be done by Skill Council for Green Jobs (SCGJ). Any change in assessing body (SCGJ) shall be informed by NISE.
List of Equipment and Curriculum for conducting training under SSDP is attached as Annexure 1.
Scope of work
NISE invites response document to this Expression of Interest for the selection of TCs to impart training under Suryamitra skill development Programme on PAN India basis against the program sanctioned by MNRE for FY 2021-22. Empanelled TCs may also be considered for FY2022-23 subject to the program sanctioned by MNRE and also subject to the fulfilment of all qualifying conditions. As per present sanction all empanelled training centres to ensure completion of training by June 2022. However, this date may be extended subject to the receipt of sanction from MNRE.
Eligibility Criteria
(i) The TC must be an Institute/ Engineering College/ Polytechnic College/ ITI/NGO/Pradhan Mantri Kaushal Kendra (PMKK) or any other affiliated skill development centre with proper infrastructure as per para 2.5.
(ii) TC must have training experience in the renewable energy/ solar energy.
(iii) The TC must have at least one MoU/Tie-up with Industries for industrial on job training.
(iv) The TC must have valid centre affiliation from NSDC to conduct training as per the relevant QP i.e. solar PV installer SGJ/Q0101.
(v) The TC shall have 2 trainers per centre and at least one of them shall be certified as Training of Trainer (ToT) from SCGJ to conduct solar training as per the relevant SCGJ Qualification Pack.
(vi) TC must have well-equipped laboratory, classroom facilities and residential facilities as per para 2.5.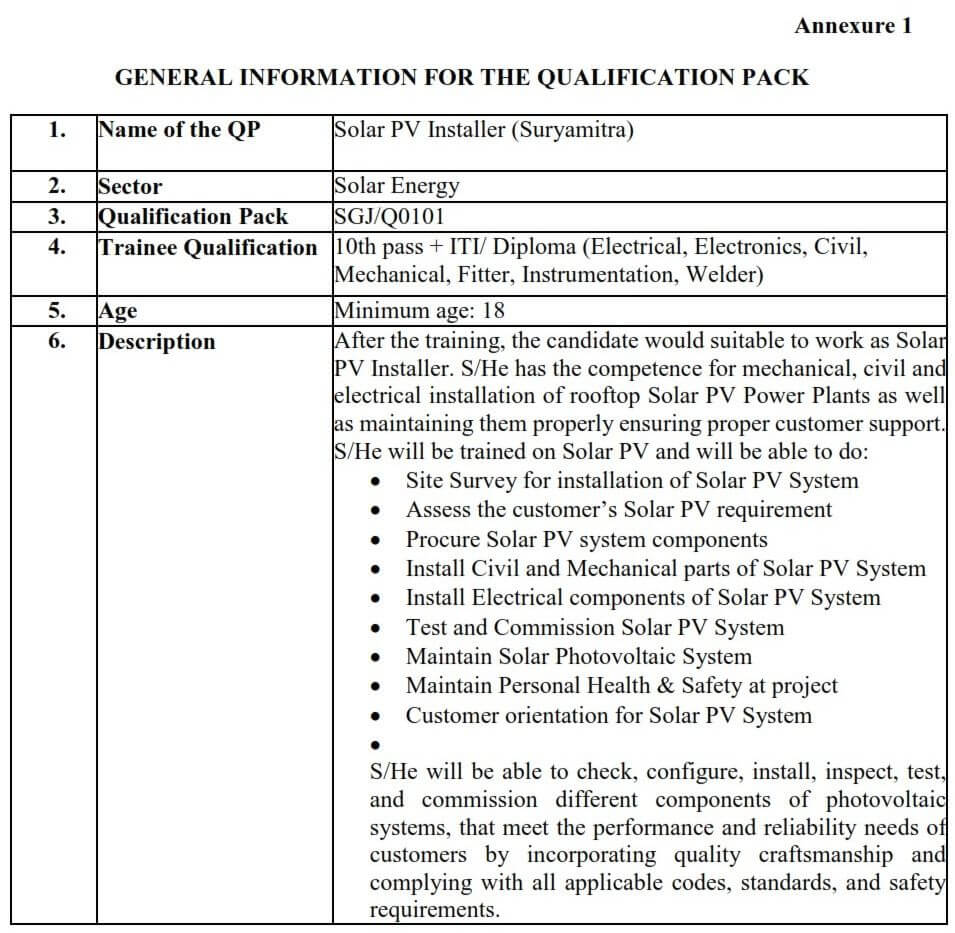 To Download detailed EOI, click the below link: