Madhya Pradesh State Skill Development and Employment Generation Board, MPSSDEGB requests for proposal (RFP) from reputed Industries & Institutions for conducting Recognition of Prior Learning (RPL) under Jal Jeevan Mission as per National Skills Qualification Framework (NSQF). Last Date: 27-10-2021, up to 3.00 PM
For Free Updates JOIN our TELEGRAM channel
The Training/Assessment programs shall be implemented in accordance to the Common Norms prescribed by the Ministry of Skill Development and Entrepreneurship, Government of India.
Interested Industries & Institutions may obtain the RFP document from www.mptenders.gov.in, www.mpskills.gov.in or www.ssdm.mp.gov.in. The Tender process will be started from 24th September 2021 and last Date for Submission of proposal is 27th October 2021.
The proposal should be submitted online by visiting www.mptenders.gov.in, the tentative schedule for the process is highlighted in the table below:
To get the latest updates on skill development tenders, EOI, RFP, Notifications, News CLICK HERE to follow SKILLSPEDIA on FACEBOOK
Targets and Timeline:
The training providers will initiate implementation of the scheme within 1 month from the signing of the MoU, else the MoU will be treated as null and void.
50000 beneficiaries will be assessed under the pilot RPL, implemented over a period of 1-2 months.
Out of the total target of 50000 candidates, the initial target of 30000 will be allocated to the eligible TSPs after evaluation. The remaining target of 20000candidates will be distributed to the successful TSPs as per their performance. i.e. TSPs who will achieve their initial allocated targets within least possible time. However, the undersigned reserves the right to increase, decrease and split the targets mentioned in this RFP depending on the situation whatever it may be.
Funds Disbursement: The quantum of funds disbursed shall be as per PMKVY(3.0)
Key Dates and Time: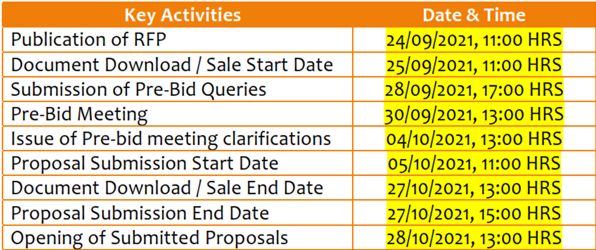 All queries related to RFP to be sent to [email protected] only.
Training Components:
The training will be conducted on customized crash courses in identified job roles (as per PMKVY 3.0 guidelines). The training duration will be of approximately 12 Hrs. Actual days of training will be number of hours of the job role as per Table 1, i.e. 4 hours per day.
The training will be theory-based followed by On-the-Job Training (OJT). This training would include assessment after completion of training, followed by certification of trainees for the crash course in accordance with key roles and responsibilities identified in Guidelines.
Based on the recommendations of Public Health Engineering (PHE) department, training would be imparted in customized five job roles namely: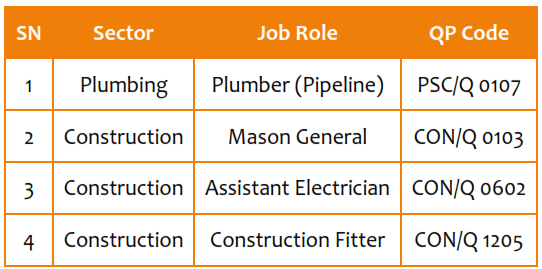 Proposal Processing Fee:
A non-refundable one-time fee is to be provided by all the Applicants as registration fees through online payment mode available on the portal. Additionally, the Applicant needs to provide a fee of INR 1000 for the proposal submitted by them. Submission of proposal and paying of registration fees and proposal processing fees under RFP mode doesn't guarantee allocation of target under the Scheme.
Earnest Money Deposit (EMD):
Applicant has to pay refundable Earnest Money Deposit (EMD) of INR 50,000 (Fifty Thousand Only) online in favor of CEO, MPSSDEGB.
Performance Guarantee (PG):
Within 10 days of allocation of targets the Applicant has to submit a PerformanceGuarantee of an amount equal to 10% of the total allocated target cost in form of a bank guarantee (BG) or Fixed Deposit Receipt (FDR) of a scheduled Commercial Bank drawn in favor of CEO, MPSSDEGB valid for 24 months. The same will be get verified by issuing bank by MPSSDEGB, before signing of MoU.
Eligibility Criteria: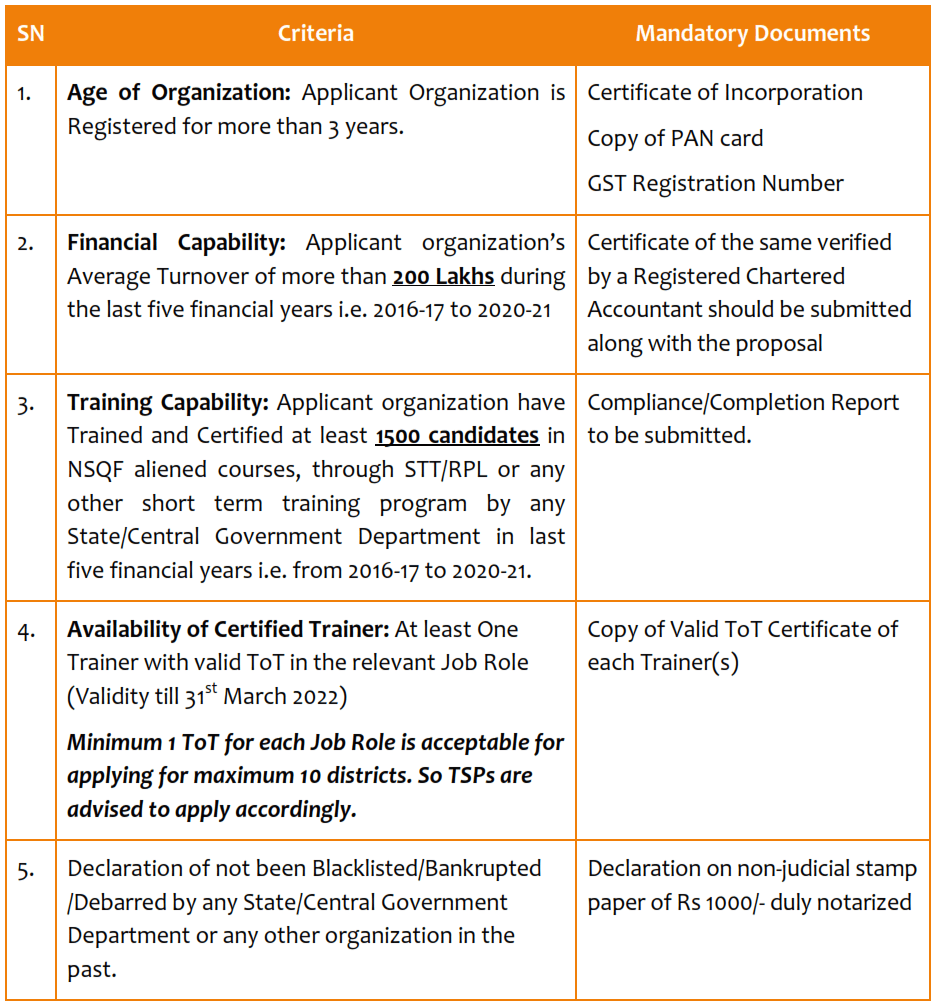 Evaluation Criteria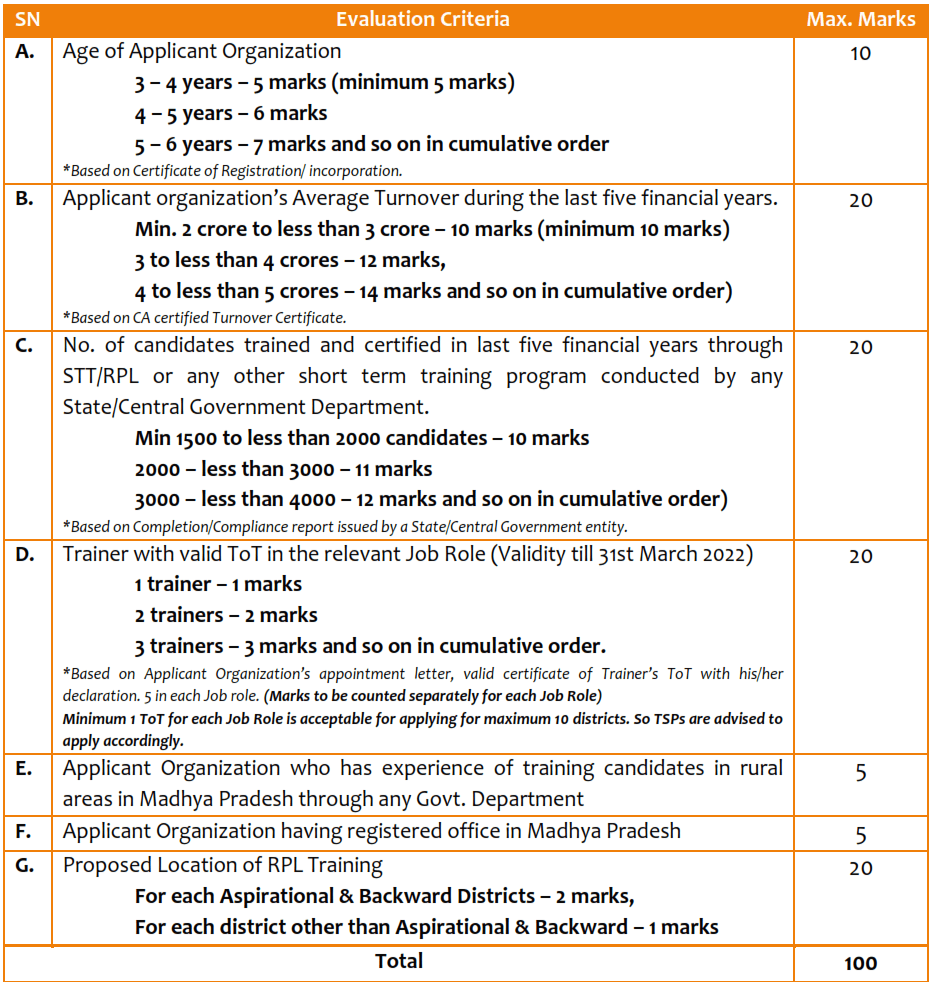 To download detailed RFP, Application Form and other Mandatory Data fro Proposal, click below links: