Maulana Azad Education Foundation (MAEF) under Ministry of Minority Affairs, is dedicated to meet education and Skill development needs of marginalized sections of minority communities viz; Muslims, Christians, Sikhs, Buddhists, Parsis and Jains in the country.
MAEF invites Request for Proposals for implementation of "Seekho aur Kamao" scheme for training courses aligned to National Skills Qualifications Framework (NSQF) and Common Norms under Ministry of Skill Development and Entrepreneurship (MSDE). The scheme would aim at upgrading the skills of the minority youth in various modern/ traditional vocations depending on their educational qualification, present economic trends and the market potential, which can earn them a suitable employment or make them suitably skilled to go for self-employment.
Proposals may be submitted by post/ by-hand to 'The Secretary & CEO', Maulana Azad Education Foundation (MAEF), Maulana Azad Campus, Chelmsford Road, New Delhi – 110055 latest by 15th
September, 2020 till 1800 Hrs.
The indicative trades and sectors for skill development training are as under: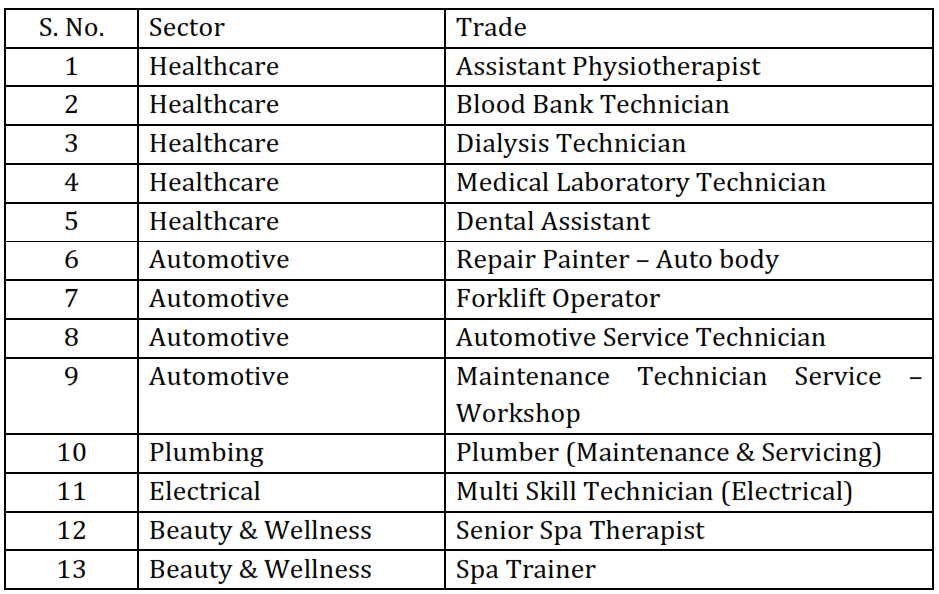 Eligibility Criteria:
Government Organizations including Autonomous Bodies of the Government are requested to submit the proposal form implementation of the training target under Seekho aur Kamao scheme of the Ministry of Minority Affairs.
Joint Venture (JV)/ Consortium will not be permitted to submit the proposal for empanelment.
The organization should have been active and operational in the field of Skill Development and vocational training for a minimum of three years as on 15th September, 2020.
The organization should have a total turnover of ₹ 2.00 Crore or more in the past three consecutive years. The organization is required to submit a copy of audited financials for the last three years along with Certificate for Turnover of the organization issued by the Chartered Accountant.
The organization should have trained minimum 200 trainees in each year for 3 years and have provided placement to not less than 75% of total trained in last three (3) years. The details should be furnished by the organization.
The organization is required to submit details of skill development training centers located in the State/UT of India, which are functional/ operational as on date of application.
The organization will ensure that sufficient space, furniture, equipment, tools, training aids, raw material, electricity, water supply, and other essentials required for imparting training to beneficiaries in the proposed course(s) are available at training locations.
MAEF specifically prohibits the organization to Lease /sub-lease/outsource/ franchise the skill development programme sanctioned by MAEF at any stage. In the instance of Lease/sub- lease/ outsource/franchise of any activity related to training program will lead to disqualification and blacklisting of the organization.
Similarly, intimation will be made to all other stakeholders including Ministries/Departments of the Central and State Governments and other penal action as per law, will also be taken against such organization. An undertaking to this effect shall be furnished by organization. The training center should be under the banner of implementing agencies itself.
The organization should not have been blacklisted by any Central Government/ State Government/ Govt. Department/ PSUs or any other funding/ donor organization. A self-declaration affidavit to this effect must be submitted on Rs.100/- stamp paper.
Any other criteria laid down by the Ministry of Minority Affairs/ MAEF/ Ministry of Skill Development & Entrepreneurship at the time of execution of MoU would be applicable.
Last Date: 15/09/2020 upto 6.00 PM
Address for Submission:
The Secretary & CEO, Maulana Azad Education Foundation (MAEF), (Ministry of Minority Affairs, Govt. of India), Maulana Azad Campus, Chelmsford Road, New Delhi – 110055.