M.P. Council of Employment and Training, MAPCET (An Autonomous institution under Department of Tribal Affairs, Govt. of M.P.) has been established for implementation of various skill development programmes to enhance the employment opportunities of Scheduled Tribe (ST) and Scheduled Caste (SC) Youths of Madhya Pradesh.
MAPCET invites Proposals from service providers towards establishment of 05 skill development centres in 5 districts at the infrastructure developed by MAPCET and for 10 Special residential schools at the infrastructure developed by the Tribal Department Govt. of MP for conducting Training for the prescribed course on the cost fixed by Government of India along with the placement of enrolled & trained Tribals.
To get the latest updates on skill development tenders, EOI, RFP, Notifications, News CLICK HERE to follow SKILLSPEDIA on FACEBOOK
For detailed scope and other terms and condition, please refer RFP document available at https://mptenders.gov.in/ commencing 24.01.2022, 12:00 NOON IST. The last date and time for Submission of Responses is 28.02.2022, 05:00 PM IST. RFP will also be available at MAPCET Website (http://mapcet.mp.gov.in). Any update, corrigendum, addendum etc. shall be made available only at MP Tenders and MAPCET Website.
Pre-Bid Meeting: 07-02-2022, 3.00 PM (Through Video Conference)
Last Date of Submission: 16-02-2022, up to 5.00 PM
Mode of submission: online through https://mptenders.gov.in/ portal
Date of Opening of PQ cum Technical Bids: 01-03-2022 at 5.00 PM
Cost of Document: INR 10,000/- (non-refundable) to be submitted online through https://mptenders.gov.in/ portal
Earnest Money Deposit(EMD): INR 5,00,000/- to be submitted online through https://mptenders.gov.in/ portal.
Performance Security / Performance Bank Guarantee (PBG): Irrevocable Performance Security of value 2% of the contract value in form of BG issued by Scheduled / Nationalized Bank in favour of MAPCET. To be submitted at the correspondence address within 15 days of issuance of LoI.
Eligibility / Qualifying Criteria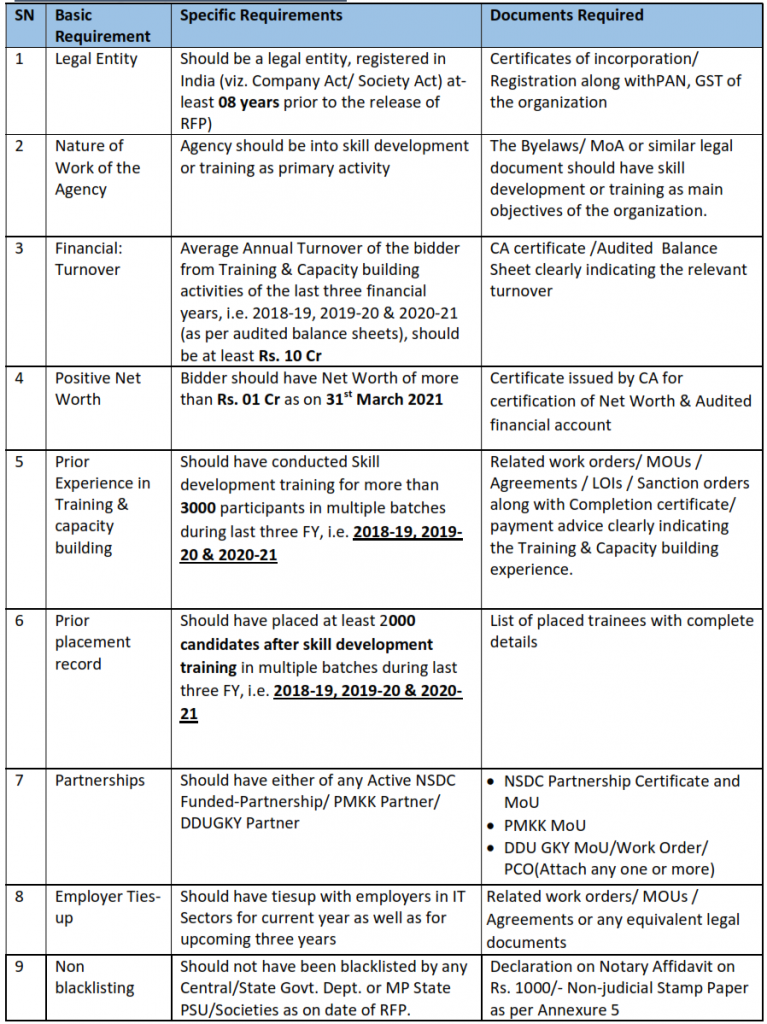 To Download detailed RFP, click the below link: