Directorate of Skill Development, Govt. of Tripura, invites Request for Proposal (RFP) from interested National Skill Development Corporation (NSDC), SMART Portal/ Skill India Portal Registered Training Providers and who are currently imparting any training programme under Directorate of Skill Development, Government of Tripura for conducting Short Term Skill Development Training under Border Area Development Programme (BADP) Scheme in West Tripura District.
The objective of the RFP is to organize skill development training for the Unemployed Youths residing across the BADP Blocks under West Tripura District through Government/ Private Training Providers (TPs) of the State. The Skill Development trainings shall be imparted on / State vetted course curriculum and in compliance with the Standard Operating Procedure issued by Directorate of Skill Development, Govt. of Tripura"
Interested Training Provider may submit the sealed proposal to the office of the undersigned, super scribed with " Project Application for Conducting Skill Development Training for the Unemployed Youths under Border Area Development Programme (BADP) scheme in West Tripura Districts".
The Location wise details of the skill development training which needs to be undertaken are mentioned below: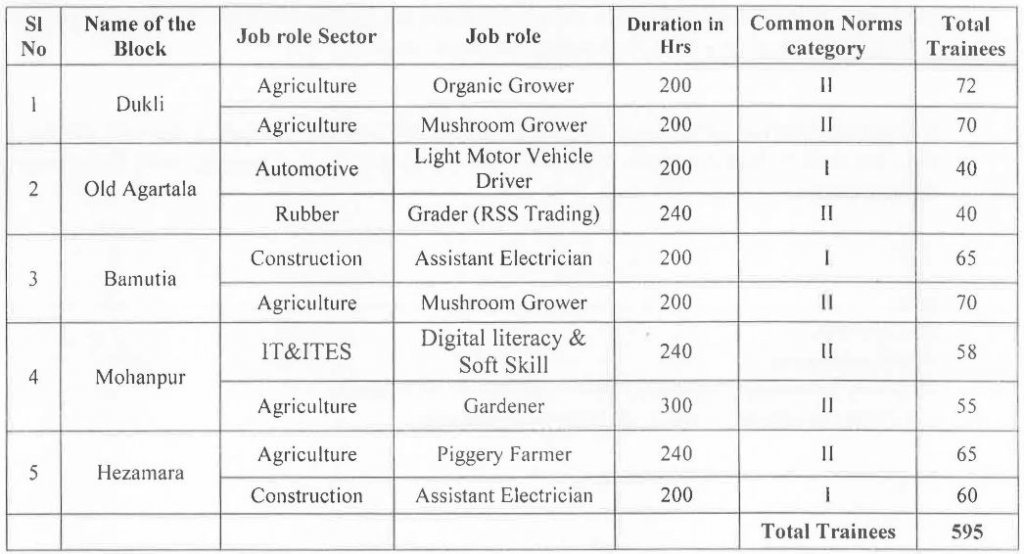 The Training Providers are expected to submit the hard copy of the project proposal in the prescribed Project Application Form (PAF) enclosed in Annexure-I.
The RFP is open to all entities that fulfill the eligibility criteria as prescribed in Annexure-II. Training centre requirements for specified job roles are mentioned in Annexure-III.
The last date of submission of proposal is 20th January 2021 by 5.00 PM. All Proposals are to be submitted in hard copies only.
Address for Submission of Proposals:
To, The Director, Skill Development, ITI Road, Indranagar, Agartala, 799006, Tripura (West Tripura), Tel: 0381-235-166
To download the Application Form click below link: