Directorate of Sports and Youth Welfare (DSYW) invites the Expression of Interest (EOI) from interested and eligible Agencies for submission of proposal for empanelment to undertake training project under DSYW Beauty Academies in the state of Madhya Pradesh.
For Free Updates JOIN our TELEGRAM channel, CLICK HERE
In first phase, courses only under category Beauty & Nutrition are being invited.
Background:
Madhya Pradesh Directorate of Sports and Youth Welfare (hereinafter referred to as DSYW, MP) is involved in comprehensive development of sports within the state of Madhya Pradesh. DSYW has been diversified into multiple sectors and built multiple non-sports training academies for the betterment of youth of Madhya Pradesh.
To get the latest updates on skill development tenders, EOI, RFP, Notifications, News CLICK HERE to follow SKILLSPEDIA on FACEBOOK
DSYW has already set-up the Beauty & Wellness training academies in Bhopal, Indore & Gwalior.
To provide employment to the youth in Beauty & Wellness sector, the department has initiated this career-oriented driveway back in 2007 and trained around 2000+youths across the 3 academies since inception. It's an employment-linked self-financed scheme and all successful candidates of the academy are being provided placement or offered self-employment through DSYW knowledge Partner& execution partner.
DSYW, with the EOI will identify right kind of Knowledge & Execution Partner across academies in Beauty & Wellness sector. DSYW will be acting as the infrastructure Partner for this scheme. These skill and livelihood development programs benefiting the unemployed youth of the state and to meet out the demand of skilled manpower.
*JOINT VENTURES (JVs) are also permitted to apply for the program.
Eligibility Criteria & Other Conditions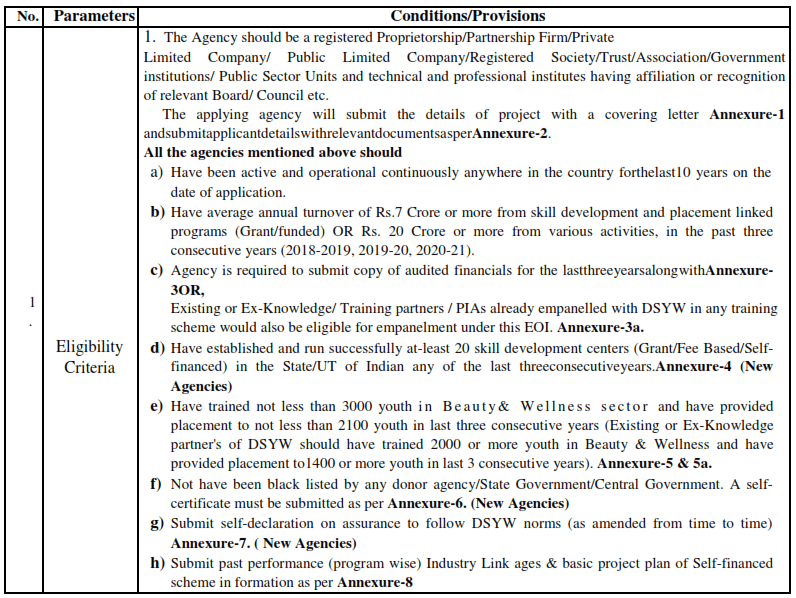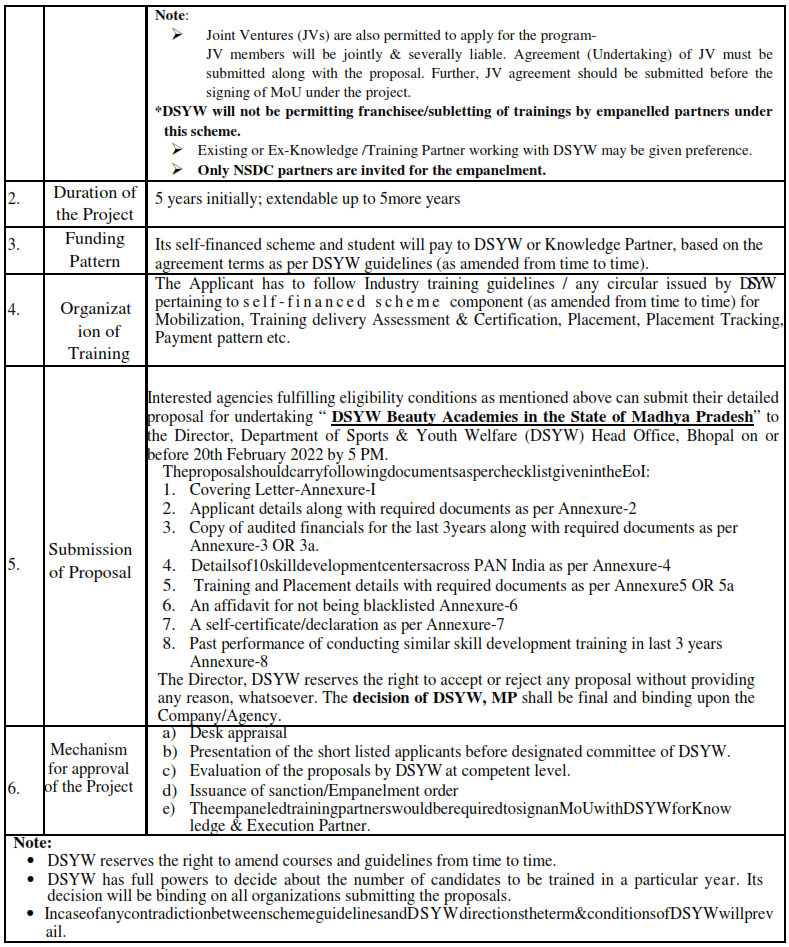 For further Contacts & Enquiry:-
Email– [email protected]
Click below link to download the detailed EOI and application form: