Invitation for Expression of Interest (EOI) for Empanelment of Service Providers for providing services for conducting Training Programmes at various locations in order to ensure imparting skills to the candidates under the supervision of MSME Technology Development centre (PPDC), Meerut.
For Free Updates JOIN our TELEGRAM channel, CLICK HERE
MSME – Technology Development Centre (PPDC), Meerut, Ministry of MSME, Government of India, invites EOI in sealed envelope from willing entities under two bids system (Technical and financial) for empanelment of Service provider for imparting and assisting the ensuing NSQF compliance Training Programmes at various locations given in Annexure A.
DETAILS OF tender/EOI: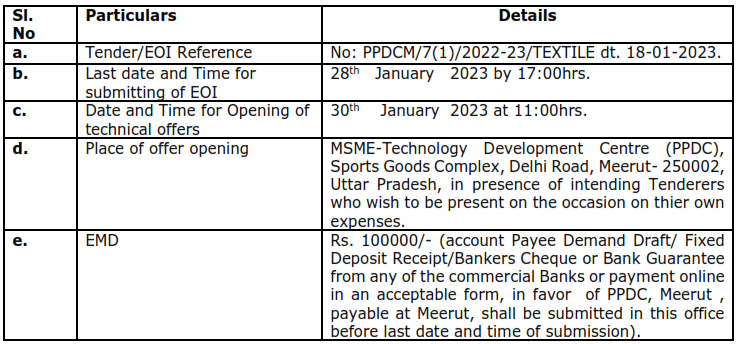 Proposal Submission:
The Service Provider (SP) should read the EOI document paper carefully. Submission of tender/EOI shall mean that the SP has read and under stood all the terms & conditions of the tender/EOI and agrees and binds himself to the same. All pages of the tender/EOI document should be signed and stamped by the SP and submitted with the offer.
To get the latest updates on skill development tenders, EOI, RFP, Notifications, and News CLICK HERE to follow SKILLSPEDIA on FACEBOOK
The sealed tenders/EOI super-scribing tender/EOI number, name of the work and last date of submission of tender/EOI on the left side of the envelope and should be addressed to the Principal Director, MSME- Technology Development Centre (PPDC), Sports Goods Complex, Delhi Road, Meerut -250 002. (U.P.).
Tender/EOI received after last date & time of submission and without submission of EMD, are liable to be rejected.
A security deposit of Rs. 100000/- shall be deposited by the SP through account Payee Demand Draft/Fixed Deposit Receipt/Bankers Cheque or Bank Guarantee from any of the commercial Banks or payment online in an acceptable form, in favor of PPDC, Meerut , payable at Meerut, within 7 days of receipt of acceptance of the order. The security deposit is refundable without interest after 15 days of completion of all contractual obligations by the SP.
The interested SP needs to be fulfill all the given requirements in order to associate with PPDC, Meerut:
(i) Must be proprietorship firm/ NGO/registered company/partnership firm with PAN/GST which must be in operations for 2 years or more as on 18th January, 2023.
(ii) Must have turnover of Rs 20.00 Lakhs in skill development activities in last 2 years or more as on 18th January, 2023.
(iii) Must have ToT certified Trainers.
(iv) CA Audited Financial Report of last 2 years with Annual turnover (in lakhs).
(v) Must provide the list of training centres along with full address where training progs. mentioned in Annexure A are to be conducted.
ANNEXURE-A-Details of Job Role/ Training Programme and Location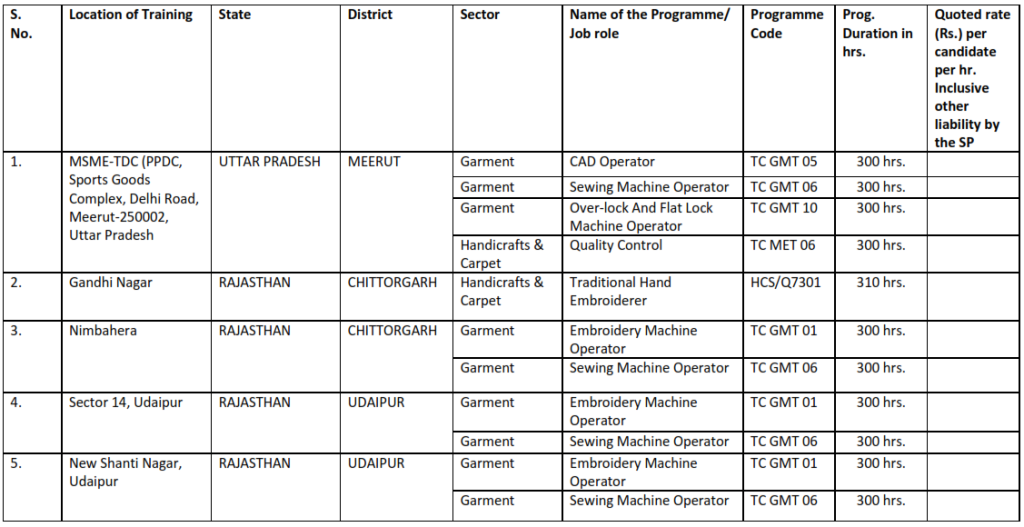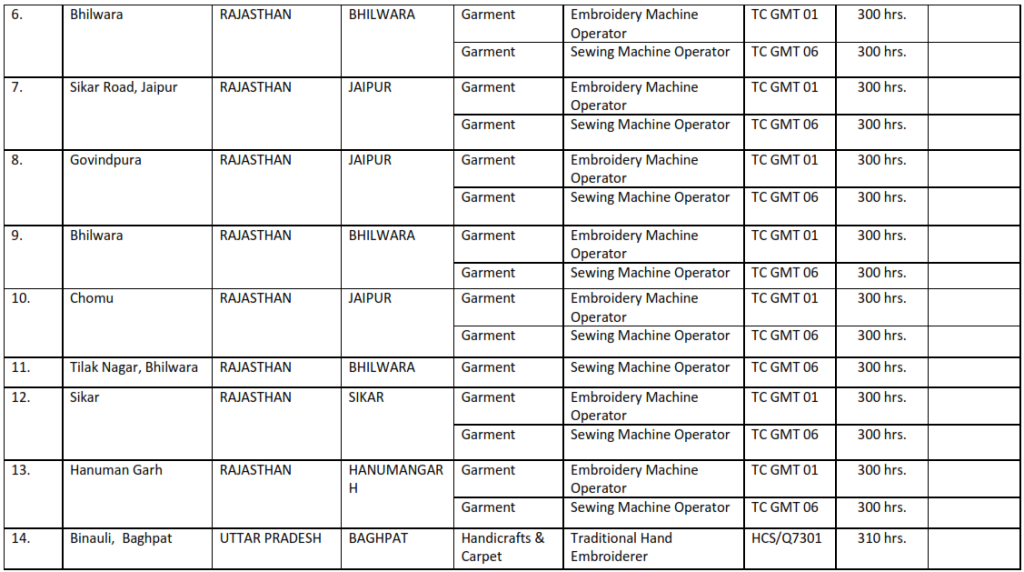 To download the EOI, click the below link: