Uttarakhand Skill Development Mission (UKSDM), Government of Uttarakhand invites EOI for Empanelment of Training Partners for Entrepreneurship & Employment Linked Skill Training Programme (ELSTP). The last Date for submission of the proposal is 29-08-2022 upto 5.00 PM.
For Free Updates JOIN our TELEGRAM channel, CLICK HERE
UKSDM invites proposals from eligible national and international professional agencies and business houses, engaged either in the business of manufacturing or services or facility management or in providing vocational skill training or in administering educational services, with keen interest to operate, maintain and manage skill training centre in different locations in Uttarakhand, and in imparting industry-relevant skills. Interested agencies with required qualification and experience may submit their proposals along with details and supporting documents as specified therein.
Mission intends to prepare a panel of Training Providers who have sufficient experience and credentials for conducting Skill Development training as per National Skills Qualification Framework (NSQF) of Ministry of Skill Development and Entrepreneurship, Government of India.
To get the latest updates on skill development tenders, EOI, RFP, Notifications, and News CLICK HERE to follow SKILLSPEDIA on FACEBOOK
The ELSTP is a Project for increasing the number of skilled workers through short-term skill training in Uttarakhand. The period of the Project is for FY 2022-23
The Project Director, Uttarakhand Skill Development Mission now invites bidders to indicate their interest in empanelment as Training Provider's for providing state specific skill development training following national skill qualification framework in the state of Uttarakhand.
(See https://www.msde.gov.in/en/reports-documents/981/archived for Common Norms)
The Project Director, UKSDM proposes to engage Training Providers to provide placement-linked skill development training in Uttarakhand State with the overall objective of enhancing the employment outcomes for unemployed youth of the state.
No consortium or joint venture is allowed.
Further information can be obtained at the address below during office hours from 10:00 to 17:00 hours. Queries shall be forwarded on email [email protected]. Attending the pre-consultation meeting is not mandatory. The minutes of this meeting can be viewed by all on the website-
www.uksdm.org
Expressions of interest must be delivered to the address below through post/ speed post/courier/byhand by till 29 August, 2022 at 1700 Hrs.
Uttarakhand Skill Development Mission
(Govt. Girls ITI Campus), 26 EC Road, Near Survey Chowk,
Dehradun, 248001, Uttarakhand
The EOI is open to all entities that fulfil the eligibility criteria based on the applications received UKSDM shall evaluate the documents submitted by the applicants along with the proposal. Final selection of organization shall be on the based on the presentation made before Project Director, UKSDM. Please be informed that submission of this application does not mean or indicate any commitment of approval /allocation of target for the said project.
ELIGIBILITY CRITERIA
1. The applicant should be a legal Entity in existence for min. 3 years from date of publishing of this EoI.
2. The entity should have an average annual turnover of at-least INR 20 Lakhs in the last three financial years
3. The applicant should have experience of skilling placement linked training program (under government funds, CSR or privately paid models).
4. The applicant eligible to work in a region and not be blacklisted by any donor agency/ State government/ central government/ govt. agency/ public sector undertaking/ autonomous bodies/ any other competent authority. An undertaking will be required in this regard (refer Annexure VI)
5. The applicant should have experience of working in Himalayan States
6. The applicant should have no statutory dues at the time of application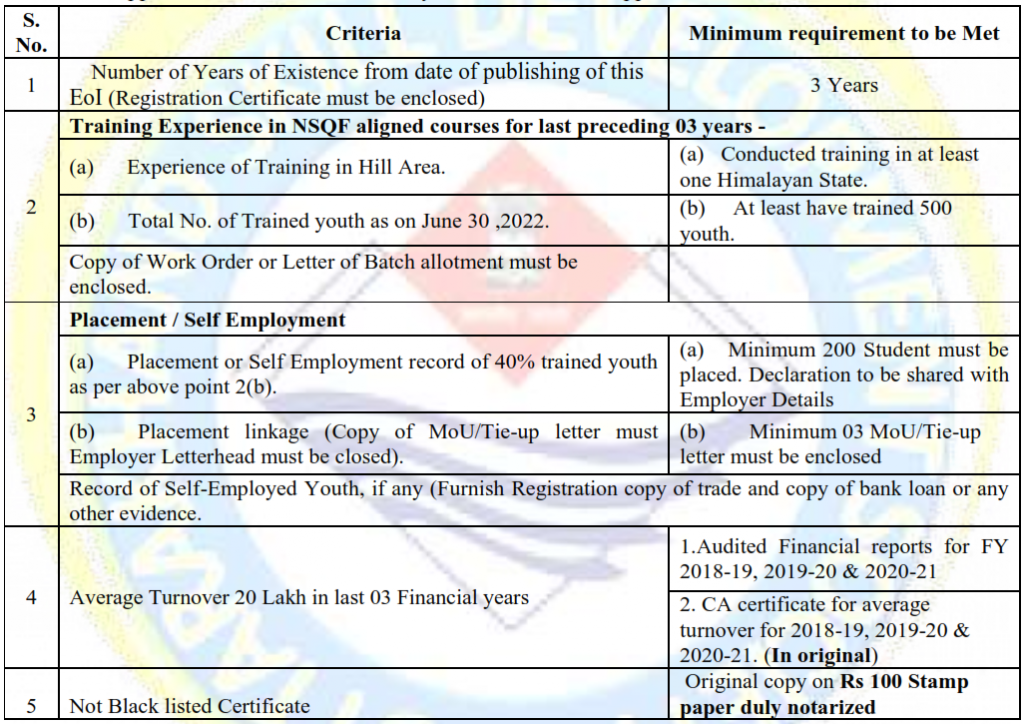 To download detailed EOI, click the download link below: