DATE EXTENDED till 31-07-2023 upto 5.00 PM
DATE EXTENTION-EOI for Imparting Hunar Se Rozgar Tak (HSRT) Training of Ministry of Tourism (skillspedia.in)
Program Monitoring Unit-Skill Development, Human Resource Development Division, Ministry of  Tourism invites Expression of Interest (Eol) and Request for Proposal (RFP) from UGC/AICTE/State/UT Technical Board approved institutions/NCHMCT affiliated private institutions (other than Central and State Government Institutions)/NSDC accredited/institutes/State & UT Governments approved Institutions/ Sector skill council etc. with proven track record and capable of conducting skill development courses in the area of Hospitality and Tourism as per the requirements of CBSP Scheme of Ministry of Tourism.
For Free Updates JOIN our TELEGRAM channel, CLICK HERE
Consortium of two institutions (One Technical partner and one financial partner) may also apply against EOI. Interested applicants may download the format and other documents related to Eol from the website: https://tourism.gov.in.
Application in sealed cover superscribed, as "EOI for imparting Hunar Se Rozgar Tak (HSRT) training under Capacity Building for Service Providers (CBSP) Scheme" along with Security Deposit in the form of Two Demand Drafts/Banker's Cheques, one of Rs. 20,000/- (Rupees Twenty Thousand only) per centre (Refundable as per terms and conditions mentioned in EOI) and one of Rs.10,000/- (RupeesTen Thousand only) per centre (Non-refundable), drawn for each centre in favour of "Pay & Accounts Officer, Ministry of Tourism", should reach to the following address* in offline mode by 21.07.2023:
Under Secretary (HRD) Ministry of Tourism,
7th Floor Chander Lok Building, 36 Janpath,
New Delhi -110001
Phone no. 011-23724147
For Tender Preparation support or for any query please call SKILLSPEDIA.IN @ 702-47-48-999
Introduction
As part of the Suo-Moto initiatives of Ministry of Tourism (MoT) under the Scheme of "Capacity Building for Service Providers" (CBSP), it has been decided to provide financial assistance to industrial units, private entities, associations of industries and professional/skill developing agencies with proven credentials and hospitality institutes approved by UGC/AICTE/NSDC approved/NCHMCT affiliated private institutions (other than Central and State Government Institutions)/State & UT Governments approved Institutions in the field of Tourism and Hospitality in addition to Government sponsored Hospitality Institutes, State Tourism Development Corporations (STDCs) and State Governments, etc. to conduct Skill Development Programs under "Hunar Se Rozgar Tak" (HSRT) program or its verticals.
In addition, it has further been decided to extend financial assistance to similar Institutions as mentioned in the preceding para, to implement Entrepreneurship Program under CBSP Scheme in addition to Government sponsored Hospitality Institutes, State Tourism Development Corporations (STDCs) and State Governments etc.
To fulfil the aims and objectives of both the programs and to expand the out-reach and output of the program, Institutions/Organizations/Bodies/entities desirous of becoming an Implementing Agency (IA) under "HSRT" and/or EP Program of MoT are invited to implement HSRT and/or EP program.
Such Institutions are required to apply only in the application as per the format given as Annexure – A along with the details and copies of the testimonials as per the Checklist given in Annexure B. Scheme Guidelines for implementing the respective programs may be seen and downloaded from the website of MoT.
These guidelines are under revision and the revised guidelines will be applicable from the date of their issue.
Hunar Se Rozgar Tak (HSRT) Program:
HSRT program is aimed at targeting persons with not much means and in need to acquire skills facilitative to employment. The objective of the program is to create employable skills amongst youth specific to Tourism/Hospitality Sector and to reduce the skill gap that afflicts the sector. It further aims at working towards the dispersal of the economic benefits of growing tourism/hospitality sector to the poor.
Entrepreneurship Program (EP):
EP is aimed at facilitating self-employment of the pass-outs of the Program by assisting them in obtaining loans (e.g. Mudra), licenses/registrations etc. and also by exploring their deployment at Mega Tourist Destinations/circuits.
Whereas the main objectives of HSRT Program are to provide free training, evaluation and certification in job oriented skill courses to deserving candidates, EP is aimed at enhancing their market acceptability.
Details of the Courses:
Note: i. Other training courses will be offered as and when decided by MoT. Additional filter will be done at that time.
ii. There will be a flexibility to run the course either for five days or for six days in a week. However, the Implementing Agency (IA) will have to complete the number of hours prescribed for the course.
Fees for the candidates/trainees:
There will be no application fee for candidates under HSRT Training Program. However, the fees chargeable to the applicant/eventual trainee for EP would be Rs.100/- for general candidates, 50% fee (i.e. Rs.50/-) from women and physically handicapped and no fees from the SC/ST candidates.
Essential Qualifications:
1. Applicants must submit applications complete in all respect along with supporting documents and security deposit as mentioned in para 12 of this EOI document.
2. Applicants must fulfill the Evaluation Criteria and methodology given in para 11 of this document.
3. The Institution must be three years old, i.e., it should have completed at least three years after its registration on 1st July 2023.
4. The Institution must be financially sound. For this purpose, the minimum average turnover of the Institution for three years should not be less than Rs. 2.0 Crore. However, keeping in view the COVID-hit years (2020-2022), as a special dispensation, the Institute can take into consideration the minimum average turnover of any three years during the past five years.
5. Institute must be in the hospitality sector/hospitality skill training business for the last two years.
6. The Institute must have a record of at least 50% placement of the certified trainees.
7. The Institute desirous of getting more than one centre empaneled will have to fulfill all the essential qualifications individually for all the centres. Ministry may consider empanelment of more centers only after assessing the outcome of the training program done during the first year of empanelment.
To get the latest updates on skill development tenders, EOI, RFP, Notifications, and News CLICK HERE to follow SKILLSPEDIA on FACEBOOK
Procedure of Empanelment:
Applicants fulfilling the Evaluation Criteria and methodology given in para 11 of this document will be called for making a short (approximately 10-15 minutes) presentation before a Screening Committee constituted by HRD Division of Ministry of Tourism for assessing the suitability of each institute.
The Committee will recommend the Institutes found suitable for empanelment as IA. The IA will finally be empaneled and annual targets corresponding to the available infrastructure trades and centres will be communicated to the aspiring and eligible training partner.
Empaneled IA will be required to open/give the details of a Savings Bank account dedicated to HSRT program (separate for each center), and to submit the Mandate Form to this Ministry in the Performa prescribed in Annexure-C.
Evaluation Criteria and Methodology for the Evaluation of the Proposals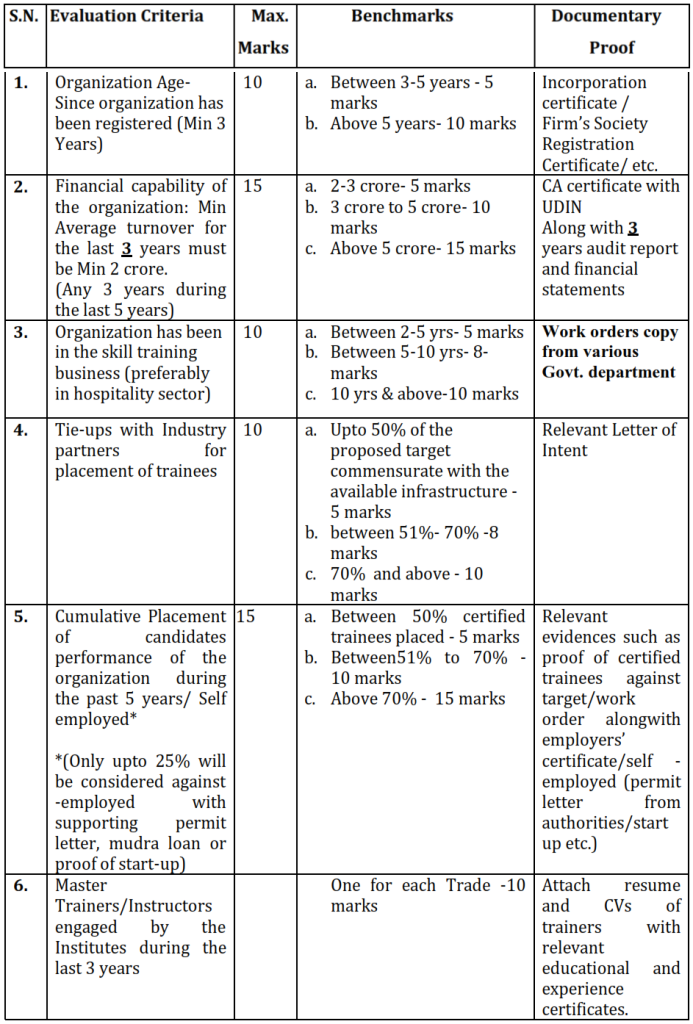 Evaluation Criteria for Presentation: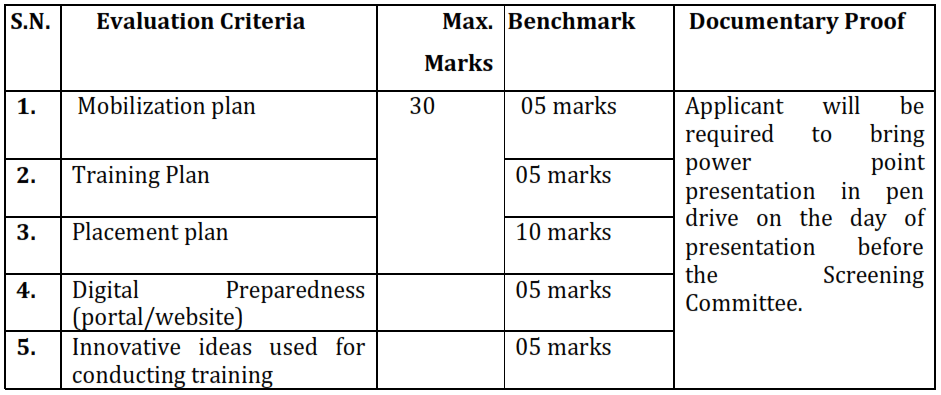 The applicant will have to secure a minimum of 62% (60% of 70 marks (42 marks) in Table 1 above and 66.6% (20 out of 30 marks) in Table 2 above for getting empaneled with the Ministry.
Important Dates:


Schedule of Reimbursement of Claims:
HSRT Claims
Note: IAs can submit their claims as per the above table. However, there will be no bar if the IAs wishes to directly claim 100% after submitting the proofs of achievements in the form of one month's salary slips. IAs will be rewarded for keeping track of employment/enhancement in wages of the trainees as per the costing norms under the scheme.
EP Claims:
IAs will be required to submit their claims after completion of the course on 100% reimbursement basis. Costing norms in respect of EP may be downloaded from the website of the Ministry.
Cost and Payment Norms:
Costing Norms will be as per Program Guidelines adopted as per Common Norms and revised from time to time.
To Read detailed EOI, click the below button: