Capacity Building Commission, Government of India invites EOI from eligible reputed companies/ firms to execute Assessment & Accreditation of various Central Training Institutes & Administrative Training Institutes on pan-India basis.
For Free Updates JOIN our TELEGRAM channel, CLICK HERE
Last Date: 1st November 2022 up to 4.00 hrs
Link for submission online: https://eprocure.gov.in/
Tender Fee & EMD: NIL
IMPORTANT DATES

INTRODUCTION
This EOI is being issued for identification of a suitable qualified agency for assessment and accreditation of Civil Service Training Institutes for accreditation to the national standards. CBC invites technical proposals from eligible bidders to be empaneled for assessment and accreditation of the training institutes.
Interested agencies are advised to study this EOI before submitting their proposals in response to this EOI notice. Submission of a proposal in response to this notice shall be deemed to have been done after careful study and examination of the document with full understanding of its terms, conditions and implications.
The EOI document is not transferable.
Any subsequent corrigenda/clarifications would be made available on the website of CBC:
http://cbc.gov.in and CPP portal.
This EOI is being issued with no financial commitment and the Buyer reserves the right to change or vary any part thereof at any stage.
To get the latest updates on skill development tenders, EOI, RFP, Notifications, and News CLICK HERE to follow SKILLSPEDIA on FACEBOOK
SCOPE OF WORK
1. OBJECTIVE
The overall objective of this RFE is to hire a capable and qualified agency to carry out assessments
of the 700 Training Institutes for accreditation to the National Standards.
2. SCOPE OF SERVICES:
The agency will be required to carry out the following activities: –
2.1. Conduct training programs for Training institutes on filling of application form as follows:
2.2 Filling up of application form & upload documents.
2.3 Carry out self-assessment
2.4 Filling up assessment framework
3 Conduct Desktop Assessment & Field Assessment of Training Institute.
4 Post Assessment following deliverables to be generated for each institute:
4.1 Gap Analysis Report
4.2 Detailed Assessment Report
4.3 Scoresheet
5 Provide data analytics to CBC for the final report. (Individual Institution wise/Parameter wise,
Region Wise etc. as desired). The analytics would be provided only on the parameters included in
the application form.
PRE-QUALIFICATION CRITERIA
Proposed pre-qualification for willing bidders for comments and suggestions. Interested parties may: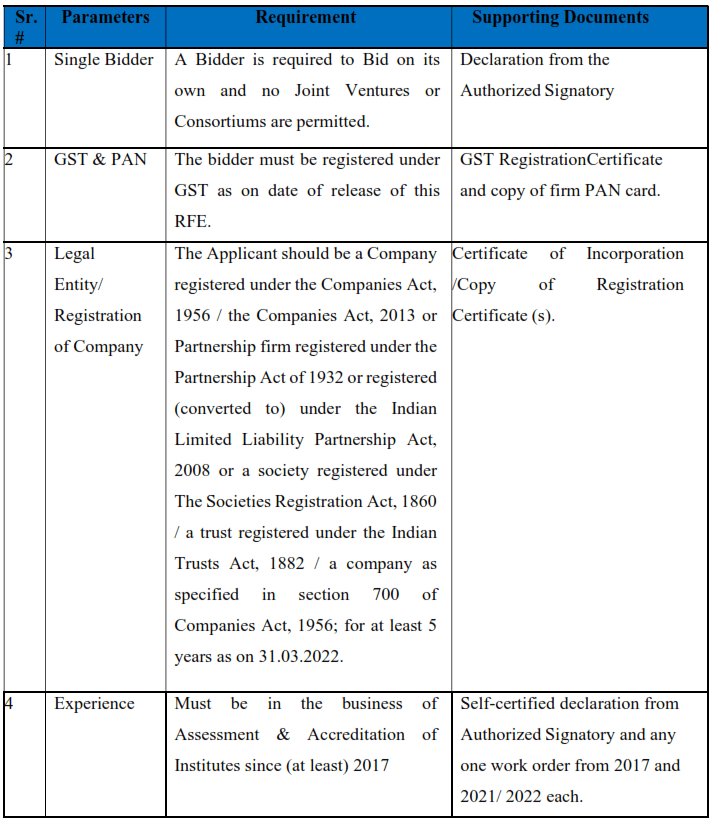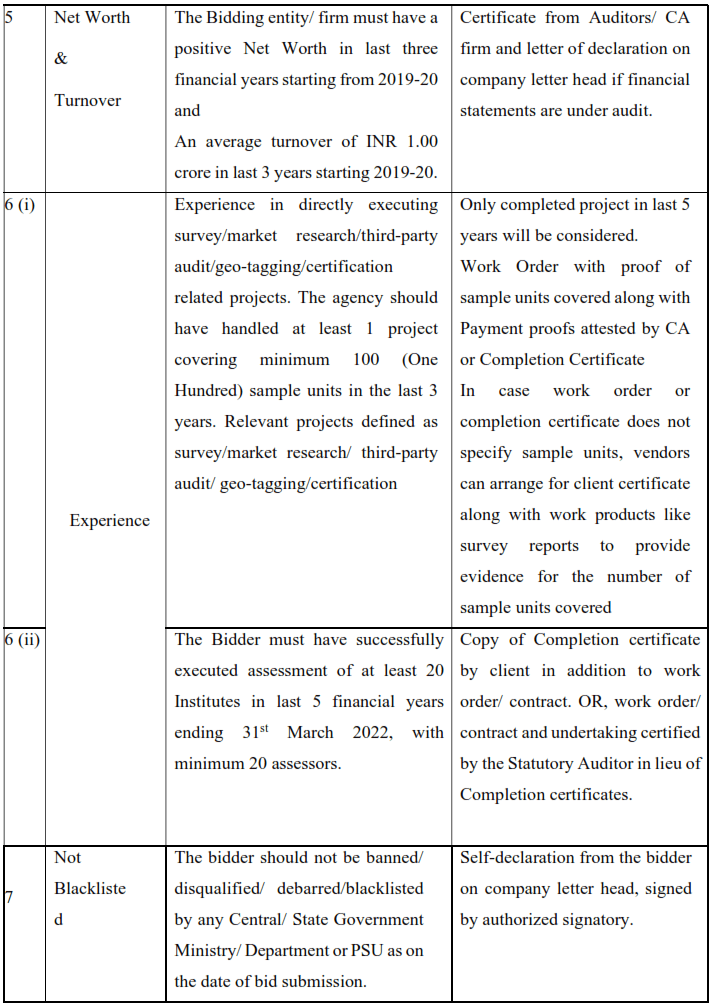 To read the detailed EOI click the below link: