Haryana Skill Development Mission (HSDM) is the apex body for all skilling initiatives in the State of Haryana. HSDM was established in 2015 with the aim and objective of enhancing the employability of the youth and empowering them to take part in the economic growth of Haryana and India, through skill trainings in modern & market-driven professions thereby reducing unemployment, poverty and socioeconomic inequality.
To get the latest updates on skill development tenders, EOI, RFP, Notifications, News CLICK HERE to follow SKILLSPEDIA on FACEBOOK
Being a nodal agency for promotion of skill development, entrepreneurship & innovation in the State, HSDM has been entrusted to execute skill trainings under various centrally and state sponsored schemes in the State of Haryana.
To this effect, HSDM would like to associate the Employers with Training Providers for an employment linked skill training programme.
The Training provider would identify an employer who is in need of certain skilled / multi skilled persons and approach the HSDM for skill trainings. The proposal should guarantee atleast 70% placements with the identified employer.
Program quality and implementation will be monitored and evaluated by the HSDM as per the guidelines of the Mission and MSDE, GoI for all programs including PMKVY 3.0 CSSM and other State schemes.
Eligibility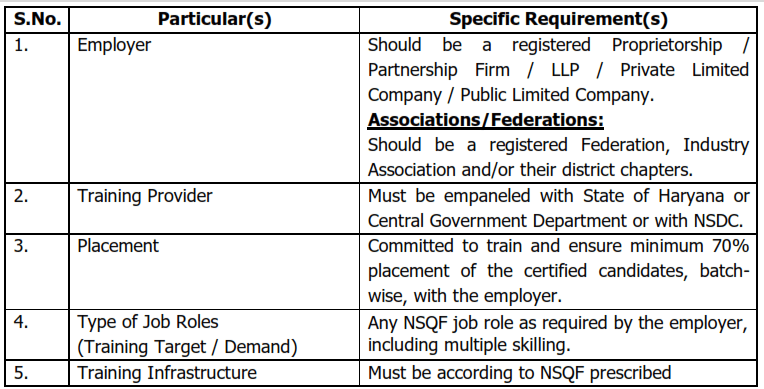 To Download the Application Form Click below link;
To get the latest updates on skill development tenders, EOI, RFP, Notifications, News CLICK HERE to follow SKILLSPEDIA on FACEBOOK