Uttar Pradesh Skill Development Mission (UPSDM) intends to invite proposals for the Empanelment of Private Training Partners for providing skill development training in NSQF compliant courses.
The Last Date for receiving the proposals is 31-01-2022 for the empanelment for the year 2021-22. The Proposals may be submitted physically.
To get the latest updates on skill development tenders, EOI, RFP, Notifications, News CLICK HERE to follow SKILLSPEDIA on FACEBOOK
The cost of the RFE is Rs. 10,000/- (Rupee Ten thousand only) to be submitted online in Mission's account which would be not refundable. The interested bidders have to submit UTR/ Receipt along with the proposal.
The proposals without it will not be considered. The details of the bank account are as below:
Name of Account: Uttar Pradesh Skill Development
Society Bank: Union Bank of India, Kapoorthala, Aliganj,
Lucknow Account No. : 437202010056762
IFSC: UBIN0543721
Proposals may be sent to the undersigned through registered post or submitted by hand in the office of the undersigned at the address mentioned below:
Mission Director
Uttar Pradesh Skill Development Mission
GOVT. ITI CAMPUS
ALIGANJ, LUCKNOW – 226024
OTHER KEY INFORMATION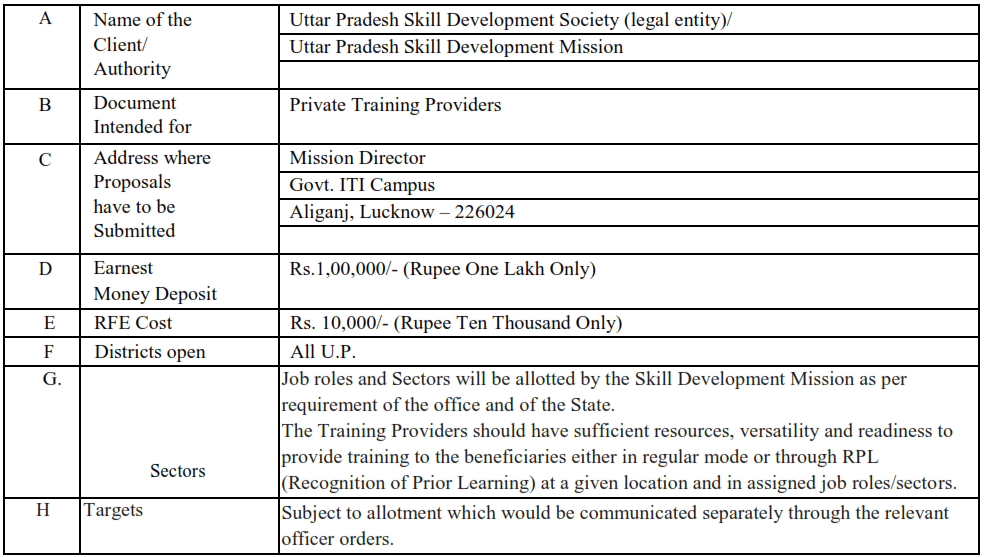 In case of any query or clarification, the following designated officer may be contacted:-
Shri Ram Asare Singh,
Deputy Director
UP State Development Mission
Mob. No. 7991200129
e-mail: [email protected]