Director, NITTTR Bhopal invites proposals from eligible firms for "Selection of a Technology Partner (TP) to set up a Center of Excellence for Research & Development and imparting high-end skill training in the field of Industry 4.0 & Digitalization.
Key Information
Sl.No.
Description
Important Information / Date
1
EOI & RFP advertisement
21.10.2020
2
Last date for submission of EOI & RFP
09.11.2020 upto 3.00 PM
3
Date of opening of EOI & RFP
09.11.2020 at 4.00 PM in the institute's
committee room
4
Declaration of shortlisted firms
Will be uploaded on the Institute website
5
Tentative date of MOA signing
Will be notified to the selected party
Pre-Qualification Criteria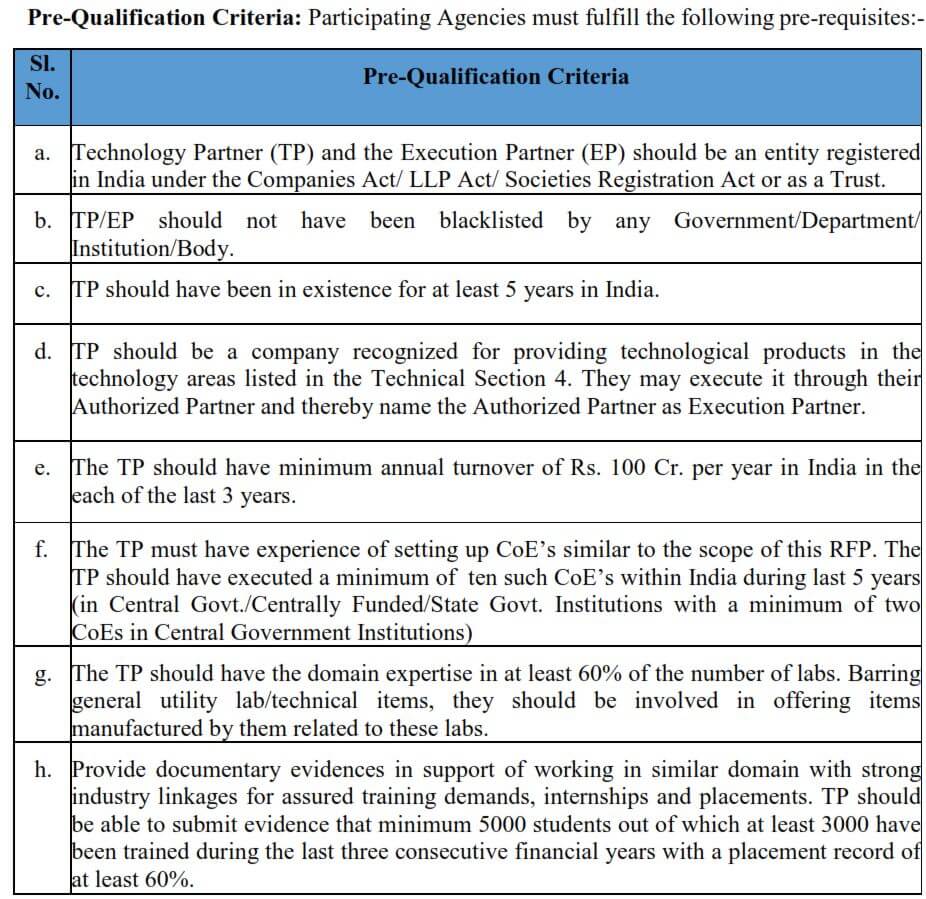 The bidding documents may be downloaded free of cost from the website: http://www.nitttrbpl.ac.in / Central Public Procurement Portal (CPPP) at www.eprocure.gov.in/ GeM portal.
Interested firms shall submit the EOI and RFP in the prescribed format up to 3:00 PM on 09.11.2020.
The duly filled proposal in proper format in a sealed envelope should be submitted in person to the Office of The Director, NITTTR or sent by courier, registered/ speed post etc. to the Director, National Institute of Technical Teachers' Training & Research, Shamla Hills, Bhopal – 462 002 (M.P.). Each page of the proposal should be signed along with rubber stamp by the authorized representative of the TP.
All amendments, time extension, clarifications etc. will be uploaded on the website only and will not be published in the newspapers. The interested firms should regularly visit the website to keep themselves updated.
In this proposal, NITTTR invites TP to set up Center of Excellence in Industry 4.0 & Digitalization with NITTTR Bhopal to cater the industry-oriented needs of competent manpower through skill development. And also address the requirements of research and consultancy in the areas of engineering, product design & development and digital manufacturing technologies towards the various technical domains, some of the major ones are listed below:-
1
Aerospace and Aviation
9
Defense
2
Automotive – Passenger & Commercial Vehicles
10
Electrical and Mechanical
Machineries
3
Agriculture and Farm Machineries
11
Electronics and Telecommunications
4
Oil and Power Sector
12
Digital Factories
5
Industrial machinery and Heavy engineering
13
Marine and Ship Building
6
Iron & Steel Sector
14
Food Production and Processing Industries
7
Infrastructure Sector and Construction Equipment
15
Chemical & Petrochemical
8
Industrial Automation
16
Bio-Medical Engineering
Last date for submission of EOI & RFP: 09.11.2020 upto 3.00 PM
To download the detailed RFP and EOI for Skill Training click below link: