Office of the Chief Engineer-cum-Executive Director Programme Management Unit (SWSM) Drinking Water & Sanitation Department, Jharkhand invites RFP for Empanelment as Implementation Support Agencies (ISAs) under Jal Jeevan Mission and SBM(G) promoting awareness generation, Capacity Building, hand holding support and Community Mobilization in rural areas of the Jharkhand.
For Free Updates JOIN our TELEGRAM channel, CLICK HERE
Please note that agencies who are already empanelled as ISAs in DWSD, Jharkhand need not apply again.
Mode of Submission of RFP: Online.
Last Date: 11-10-2022, up to 6. PM
Tender Fee: Rs. 10,000/- (non-refundable) in the form of Hard copy as Bank Draft.
EMD: Rs. 10,000/- (Refundable) in the form of BG or FD
Link for submission: https://jharkhandtenders.gov.in/nicgep/app
To get the latest updates on skill development tenders, EOI, RFP, Notifications, and News CLICK HERE to follow SKILLSPEDIA on FACEBOOK
Jal Jeevan Mission (JJM)
Jal Jeevan Mission (JJM) has been launched which aims at providing Functional Household Tap Connection (FHTO) to every rural household by 2024. The programme focuses on service delivery at household level, i.e. water supply on regular basis in adequate quantity and of prescribed quality. This necessitates use of modern technology in planning and implementation of water supply schemes, development of water sources, treatment and supply of water, empowerment of Gram PanchayaU local community, focus on service delivery, partner with other stakeholders, convergence with other programmes, methodical monitoring of the programme and to capture service delivery data automatically for ensuring the quality of services.
Under JJM, Gram Panchayats and local community will play a pivotal role in planning, implementation, management, operation and maintenance of in-village water supply systems including drinking water sources. Decentralized, demand-driven, community-managed implementation of the programme will instill 'sense of ownership' among the local community, create an environment of trust and bring in transparency leading to better implementation and long-term O&M of water supply systems. It will also ensure equity in accessing supply for every household and regular supply, thus willingness to pay for services. The incidents of diversion of water supply for other purposes will also get controlled.
For more details, may refer to OPERATIONAL GUIDELINES FOR THE IMPLEMENTATION OF JAL JEEVAN MISSION (Har Ghar Jal) issued by DOWS, Gol.
ROLE  OF COMMUNITY-BASED ORGANISATIONS  I  NON.GOVERNMENTAL ORGANISATIONS I SELF HELP GROUPS I SUPPORT ORGANISATIONS
ISAs and other organisations can play a catalytic role in the implementation of SBMG Phase II. Such organisations can provide the outreach and ground- level connect which can be tapped in the programme to achieve positive results. They can be actively involved in the IEC activities including in triggering leading to demand generation, in capacity building,  assistance in construction and ensuring sustained use of sanitation facilities, and hygiene promotion.
Implementation of JJM and SBM (G) in Jharkhand and Role of ISAs:
With the above backdrop, Drinking Water and Sanitation Department, PMU Jharkhand will be implementing rural water supply schemes and sustain the ODF status of villages, to improve the levels of cleanliness in rural areas through Solid and Liquid Waste Management activities,  making villages ODF Plus in the rural areas of the State to achieve the objectives of Jal Jeevan mission and Swachh Bharat Mission (Grameen) Phase II.  To support the software activities, PMU (SWSM) will engage Implementation Support Agencies.
Implementation Support Agencies  (ISAs)  will provide support in all such types of scenarios including hand-holding support with emphasis on Operation and Maintenance. ISAs will facilitate on the various components listed under JJM and ·SBM(G) guidelines with the active participation of communities and will ensure participation of women at all stages.
The payment to the ISAs will be based on their output-based performance on a quarterly basis and the payments will be made from the support activities fund.  Capacity building of ISAs and its staff engaged in project would be done periodically by DWSD.
Implementation Support Agencies:  Eligibility Criteria, Experience and Expectations from the Implementing Support Agencies:
To support the Jal Jeevan Mission and Swachh Bharat Mission (Grameen) Phase II, Implementation Support Agencies will be required for Environment building, Capacity development, Information, Education and Communication activities, Social Behaviour Change Communication, Community mobilization etc.
The agency fulfilling the following requirements is only eligible to apply. In absence of the following verifiable documents, the agency shall not be considered eligible: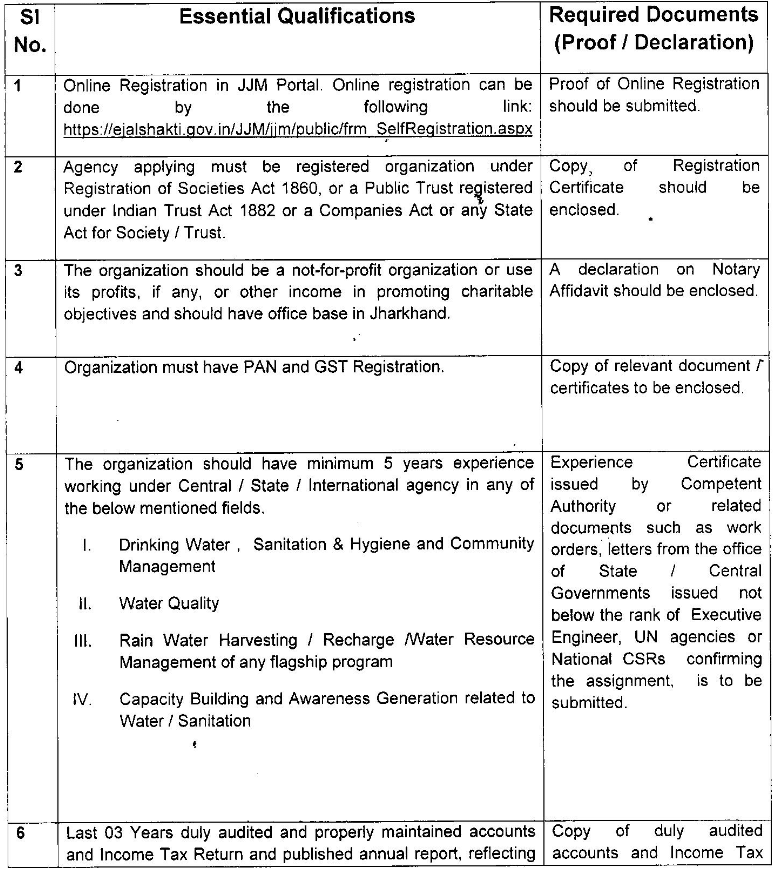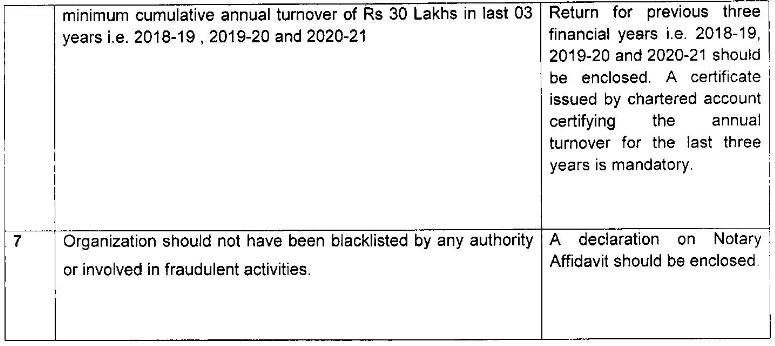 To read detailed RFP, click the below link: