Background:
1.1. Mission Youth
Mission Youth, J&K, a registered society under the society's registration act, 1860 vide registration no. 49-CSA of 2021 dated 03.03.2021, is an ambitious program conceived and launched by the Government of Jammu and Kashmir to positively engage the youth of J&K through a multi-pronged strategy involving all necessary systematic interventions. The organization envisions inducing a sieve of demand-driven interventions for the inclusive development of youth, including the provision of livelihood generation, skill development, education, counseling & rehabilitation, sports and recreation etc.
For Free Updates JOIN our TELEGRAM channel, CLICK HERE
1.2. Customized Skill development training program for youth of J&K
Mission Youth, J&K is a specially conceived initiative of the Government aimed to facilitate the engagement and empowerment of youth through systematic strategic interventions. Among others, Mission Youth is mandated to enhance the employability & marketability of youth in emerging Job Markets of the country through targeted Market-driven skilling programs. The program, Endeavour to Empower, is the targeted approach towards this direction for holistic and pragmatic youth engagement and empowerment in J&K on sustainable lines. Mission Youth envisions Imparting specially tailored skill development courses for youth in all 20 districts of Jammu and Kashmir.
For Tender Preparation support or for any query please call SKILLSPEDIA.IN @ 702-47-48-999
Objective:
The design of the project has been formulated to accomplish the following objectives:
a. To encourage & glamorize skill development training among the youth of Jammu and Kashmir.
b. To create sustainable & scalable livelihood opportunities for the youth of Jammu and Kashmir.
c. To create a pool of skilled workforce to cater to our local industry.
d. To encourage training in job roles with high potential for employment & entrepreneurship development based on the special geography of Jammu & Kashmir.
e. To promote arts/crafts and culture of Jammu & Kashmir through skill development.
f. The objective of the scheme aims to sponsor Market-Driven skill development training for the youth of J&K to facilitate:
i. Enhancement of Employability & Marketability of Youth in high potential/ emerging Job Markets.
j. Establishment of independent livelihood avenues for youth in various economic sectors
k. Development of a resource pool of skilled youth that can be used for the positive economic transformation of J&K.
l. Promotion of the concept 'Be Vocal for Local.
Training Partners (Tps) Data Sheet & Schedule for RFP: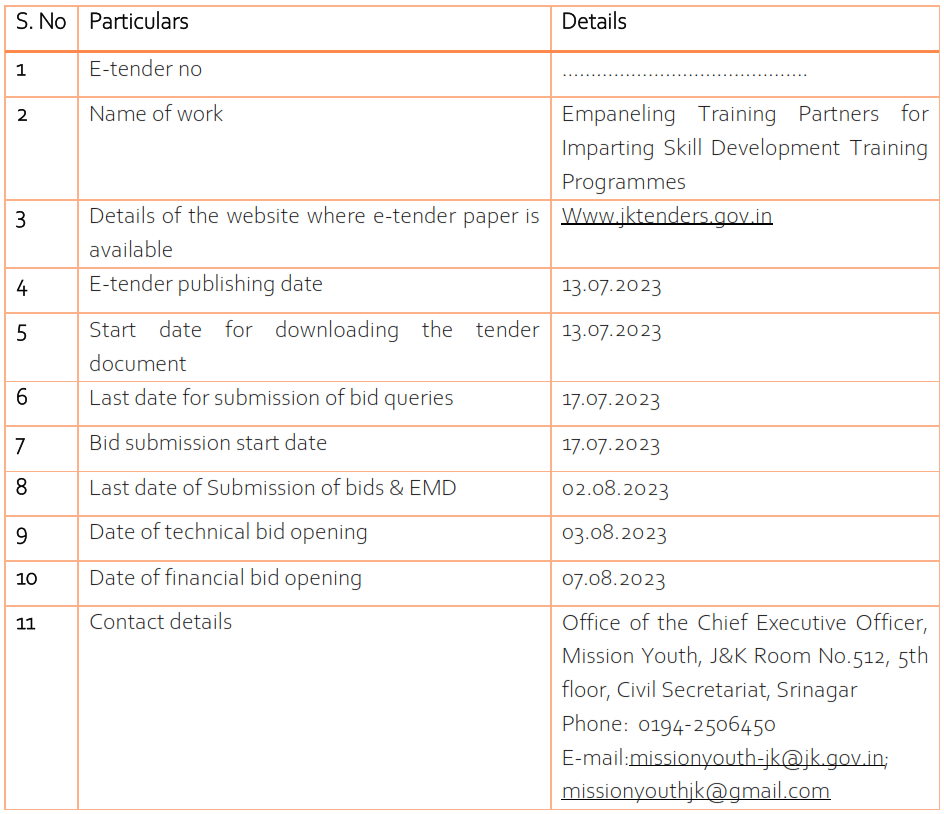 Applicant agencies are requested to download the RFP document from the website www.jktenders.gov.in
Application Processing Fee: Rs. 5,000/- (non-refundable) payable in the form of Demand Draft in favour of Chief Executive Officer, Mission Youth J&K payable at Jammu/Srinagar
Empaneled training partner shall follow accreditation, affiliation & continuous monitoring of training centers for the skills ecosystem, branding, and communication guidelines for program implementation as per the defined norms/criteria in the latest version and instructions given by the ministry of skill development & entrepreneurship, GoI or as per Mission Youth guidelines.
To get the latest updates on skill development tenders, EOI, RFP, Notifications, and News CLICK HERE to follow SKILLSPEDIA on FACEBOOK
All costs of training per trainee shall be given to the training provider as per the common norm's costs gazette of MSDE also called common norms for skill development schemes Fifth Amendment, 2021, published on 5th January 2021.
Absolute Eligibility criteria for Empanelment of Organizations/ Institutions:
a. The Organization/ Institution should be registered body or run by any organization registered under the Societies Registration Act, 1860 / Companies Act, 2013 or any other relevant act of Government of J&K/ Government of India, having registered Head office located in J&K only.
I. The Organization/ Institution should have been fully functional for a minimum period of three (03) years at the time of applying under this scheme and have imparted training to a minimum of 100 youth in the relevant courses/ sectors each year for the last three (03) years, immediately before the year in which applied for empanelment (Organization must submit proof of ITR for the period of 3 years as proof of functionality)
II. The Organization/ Institution should have the required number of qualified faculty members either on its payroll or on a part-time basis.
III. The Organization/ Institution should have the necessary infrastructure for the purpose.
IV. The Organization/ Institution should have a minimum placement/ conversion rate of 70% in aggregate for last three years.
V. The institution/organization should not have been declared bankrupt at any point in time.
VI. The institutions/organizations should have not been blacklisted by any department or body of the government at any point in time. (Self-declaration)
VII. The organizations not meeting minimum threshold of average turnover of 30.00 lacs will not be eligible for the empanelment.
Focus sectors: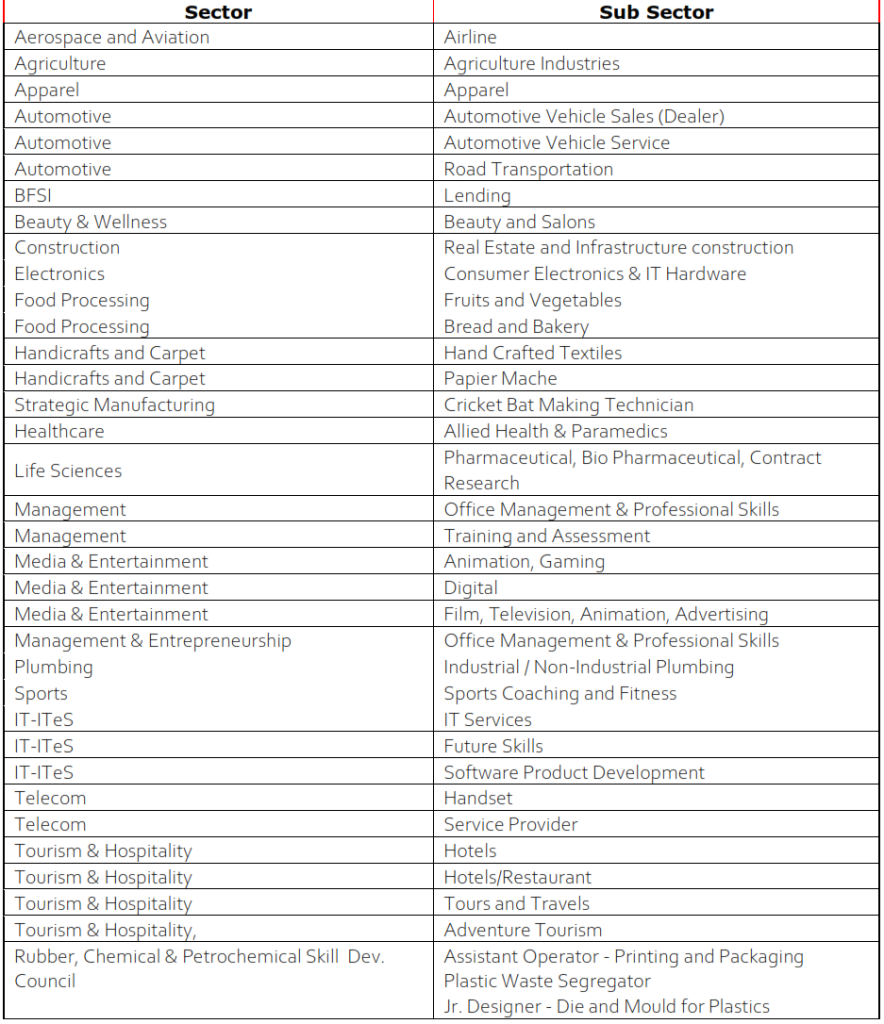 To read the detailed RFP, click the below button: