Request for Proposal (RFP) has been invited by Punjab Skill Development Mission Society (PSDM) for Conducting Online Skill Training under E-HUNAR.
Punjab Skill Development Mission Society (PSDM society) is the nodal agency in the state of Punjab to ensure organization of skill training programs for the rural and urban youth through nationally accredited training partners.
It integrates the efforts of various departments and public and private stakeholders engaged in skilling the youth of the state through numerous skill development schemes such as DDU-GKY, NULM, BOCW, PMKVY-II, etc. and bring necessary scale, synergy, oversight and effective coordination in their implementation.
PSDM society facilitates and monitors mobilization of eligible candidates at the grassroots level through empanelled training partners to participate in employment led and industry vetted hands-on skill training programs. The Mission also encourages and ensures organization of Kaushal-cum-Rozgar Melas and alumni meets from time to time in coordination with various stakeholders.
Due to the challenges that COVID 19 pandemic has imposed should be treated as an opportunity in creating an, even more, stronger and resilient skill and employment ecosystem. The learning from pandemic needs to be recognized in strategizing a robust action plan for mainstreaming projects by using technology. The project proposal of online skill training is designed to address the issues in a holistic framework in creating a resilient system.
Through this Request for Proposal (Tender Document), it is intended to invite Bids for selecting "Training providers" to provide online skill training as per Scope of Work. The basic objective of the work is to conduct online skill training for youths of Punjab of both rural and urban areas.
Bids are to be submitted online. A Valid Digital Signature Certificate(DSC) is mandatory to participate in the e-procuring process which may be procured from any of the authorized Certifying Authority (CA), such as; MTNL, TCS, eMudhra, N-code, Sify. For participating in the eprocing process, the bidder shall have to get themselves registered with https://eproc.punjab.gov.in and get user ID, Password.
Interested bidders can download the eproc documents online from website https://eproc.punjab.gov.in after depositing tender document cost and processing fee online.
The bidders will have to deposit tender, proposal processing fee, Earnest Money/Bid Security (Refundable) which is to be paid through online mode (NEFT/RTGS, OTC, NETBANKING, IPG). Other mode of payment will not be considered.
The bidder shall upload bids on the website (https://eproc.punjab.gov.in)
Tender Cost, Proposal processing Fees and EMD
All applicants are requested to submit a non-refundable Tender Cost of Rs. 7,500/- (Rupees Seven Thousand five hundred only) and Proposal Processing Fee of Rs. 25,000/- (Rupees Twenty-Five Thousand only) and EMD (Refundable) of Rs. 50,000/- (Rupees Fifty Thousand only) which is to be paid through online mode (NEFT/RTGS, OTC, NET-BANKING, IPG). Other mode of payment will not be considered.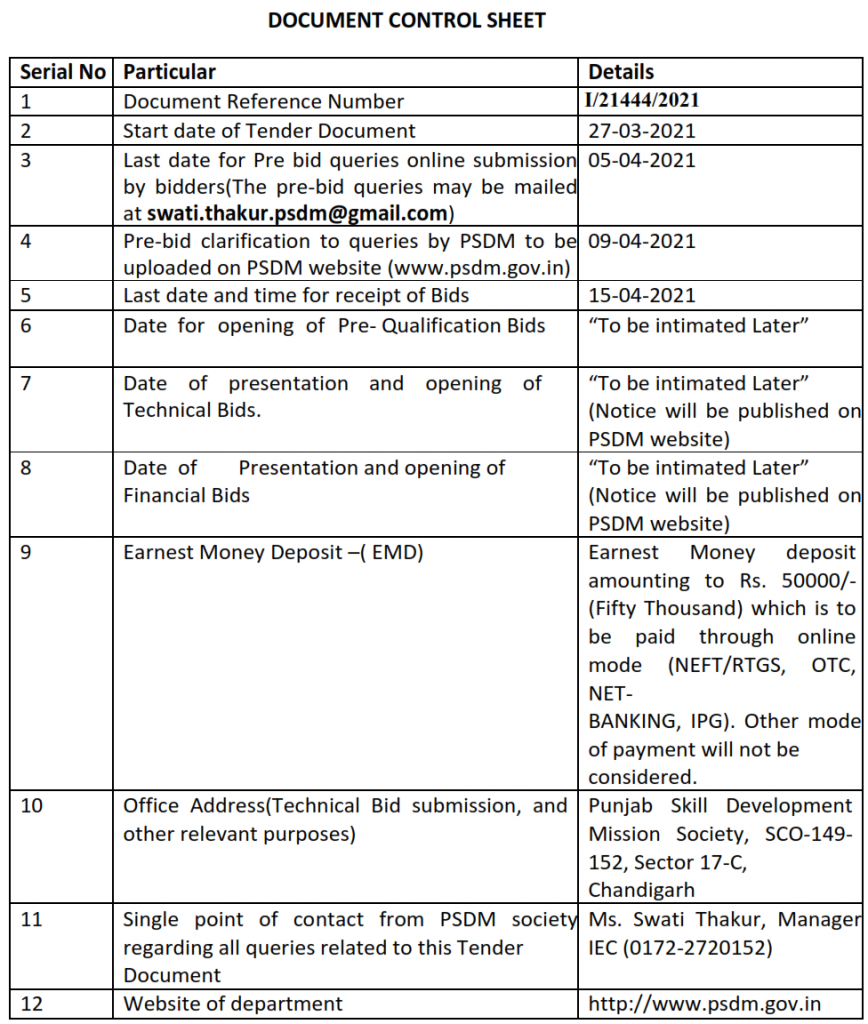 Last Date: 15th April 2021 upto 5.00 PM
DOWNLOAD RFP & APPLICATION FORM | QUALIFICATION & EVALUATION CRITERIA | SECTORS & JOB ROLES