RFP has been invited by Himachal Pradesh Kaushal Vikas Nigam (HPKVN) in offline mode from reputed agencies having adequate experience in implementing National Placement Program in Himachal Pradesh.
For Free Updates JOIN our TELEGRAM channel, CLICK HERE
Submission of bid shall be through offline mode in physical hard copy.
The last date for submission of bids is 18th July 2023 till 02:00 pm
PURPOSE OF THIS RFP:
a) To scale up the placement performance of various schemes and programs being implemented by HPKVN. With this HPKVN, intends to identify and empanel suitable Agencies as placement partners such as Employment Agencies/Employers who can facilitate/provide placements of skilled manpower trained through HPKVN.
b) Through this RFP, HPKVN invites Proposals for the Identification and empanelment of placement partners. The placement partners are expected to play one of the most critical roles in providing placement to skilled manpower.
c) HPKVN hereby invites proposals from reputed organizations of proven track record of accomplishment to be our placement partner in order to provide placement opportunities to job seekers registered/already trained through HPKVN and candidates who will be trained under various HPKVN Schemes.
d) The duration of the agreement will be 6 Months initially. Based on the performance of the agency and need of HPKVN, the agreement can be extended further as mutually agreed terms and conditions, from the date of commencement of services on mutual agreement.
e) HPKVN intends to empanel Agencies who are technically qualified as per pre- evaluation criteria and will be automatically qualified for Provisional Empanelment with HPKVN. HPKVN will enter into agreement with the provisionally empanelled agencies based on the LOI's and Job offers submitted for review. HPKVN reserve the right for further inclusion or exclusion subject to performance and business need on future date.
f) A pre- proposal meeting will be held on 10th July 2023 at the address given below at point number 6 to provide additional clarifications. Non-attendance at the pre-proposal meeting will not be a cause for disqualification of a Proposer. Interested proposers should depute their staff only to attend the preproposal meeting or can join through Video Conference (Details will be shared with the organization requesting for same).
RFP SCHEDULE: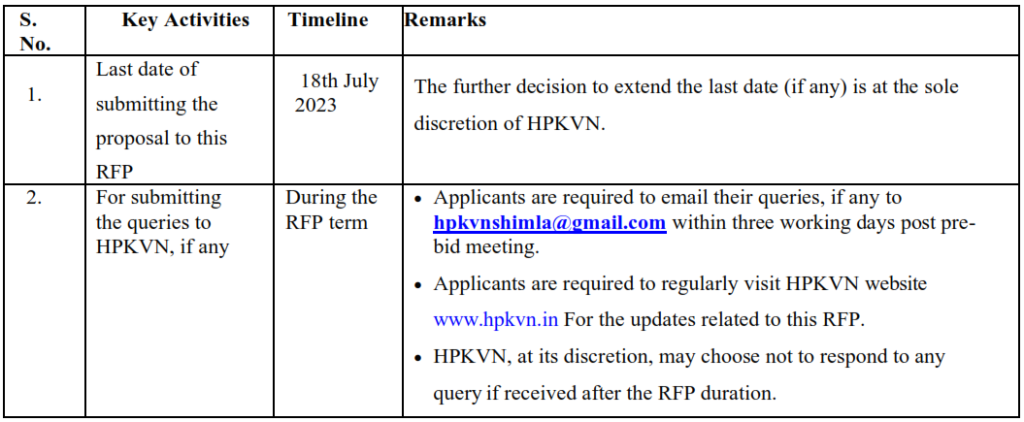 PROPOSAL SUBMISSION:
Applicants should submit their Proposals in hardcopy only to HPKVN at HPKVN Office, Block No. 24, STPI, Building, SDA Complex, Kasumpti, Shimla, and Himachal Pradesh 171009. The proposal enveloped must contain Applicant's name, contact details along official address, with the subject line, 'CONFIDENTIAL –
Proposal for Selection & Empanelment of Agency/organization for Pre-Placement Orientation Training (PPOT) & Placements.
APPLICABLE PROPOSAL FEE:
Along with the Proposal, Applicant shall submit a one-time non-refundable fee (hereafter referred to as 'Proposal Fee') of INR 10,000/- + GST (Indian Rupees Ten Thousand only).
The Proposal Fee may be deposited to the Managing Director through anyone of the following options:
i. In the form of Demand Draft in favor of 'The Managing Director, payable at Shimla, India.
ii. Online bank payment to:
Account Name: The Managing Director HP Kaushal Vikas Nigam,
Type of Account: Saving Fund
Bank Account No: 4193000100067144,
Branch Address: Punjab National Bank Kasumpati Shimla -09
IFSC Code: PUNB0419300
QUALIFICATIONS CRITERIA: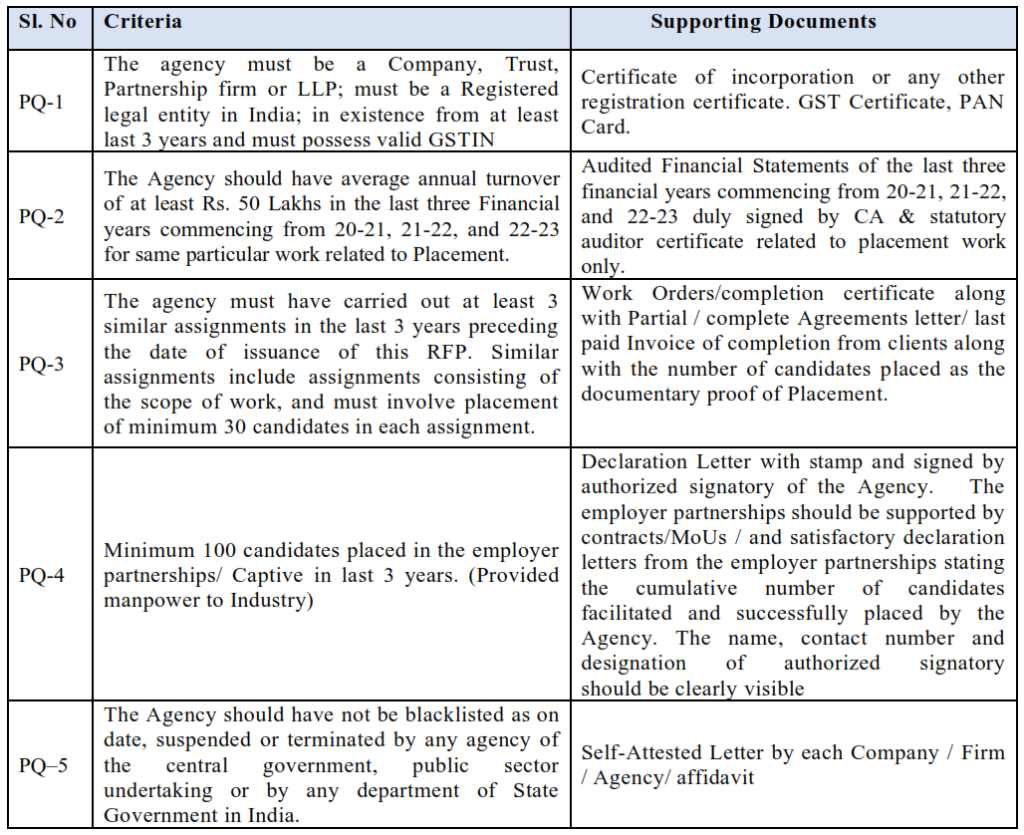 PAYOUT MECHANISM:
FUNDING MECHANISM – 1 (In hand salary must be above INR 11,000/- monthly)
HPKVN shall pay a fixed fee of INR 6000 per candidates to the empanelled agency/ organizations in two tranches (as per below details) for the candidates who are successfully placed and verified by HPKVN including post 3 months of retention:
• The 40% of the fixed fee mentioned above will be paid by HPKVN after verification of the candidates who have joined the employer and proof of the same to be submitted for due diligence of HPKVN.
• The remaining 60% will be remitted post 3 months retention of the same candidates and proof of the same to be submitted for due diligence of HPKVN.
To read detailed RFP and other terms and conditions, click the below button: