Additional Chief Secretary, Dept. of Labour Resources, Govt. of Bihar- cum- CEO, Bihar Skill Development Mission (BSDM), invites proposals (Two Bid System) from reputed and experienced organizations for Selection of Training Partner (TP) to Establish, Operate & Maintain Mega Skill Training Centres 03 Districts on a Pilot basis in Bihar under Bihar Skill Development Mission.
Document Fee and Tender Processing Fee: All Applicants have to pay a non-refundable Document Fee of Rs. 10,000/- (Rupees Ten Thousand only) and Tender Processing Fee of Rs. 1,180.00 or as applicable (One Thousand One Hundred Eighty only) through e-payment mode (i.e. NEFT/ RTGS/Credit Card/Debit Card) on E-Proc Portal.
Earnest Money Deposit (EMD): An EMD of Rs. 1,00,000/- (One Lac) through e-payment mode only (i.e. NEFT/RTGS/Credit Card/Debit Card) on E-Proc Portal, well before the last date/time for submission/ uploading of offer/Bid, failing which the bid will be rejected.
To get the latest updates on skill development tenders, EOI, RFP, Notifications, News CLICK HERE to follow SKILLSPEDIA on FACEBOOK
This EMD will be non-interest bearing and refundable. If the selected bidder fails to submit the requisite performance guarantee or to execute the agreement, this EMD will be forfeited. The Proposal has to be submitted through online mode on https://www.eproc2.bihar.gov.in and can be searched by clicking the Tab "Tender" on home page of above website and then going to Latest Tender by searching Department Name as "Labour Resources Department".
The Proposal has to be submitted in online mode containing following cover stage:
A) Technical Bid Open Stage and B) Cost Bid Open Stage
The application procedure, eligibility criteria, evaluation methodology, terms and conditions and the scope of work are detailed in this RFP which can be seen or downloaded from the "e-Procurement Portal https://www.eproc2.bihar.gov.in and departmental website: http://www.skillmissionbihar.org .
The RFP will be available to download from the above websites from 04.08.2021. The Pre-bid meeting will be held on 03:00 PM of 11.08.2021 (both physically and virtually).
The last date for uploading of proposal/bid will be 27.08.2021 up to 15.00 Hrs. Technical Bid will be opened on or after 27.08.2021 post 16:00 Hrs. Please refer RFP document for complete details.
Tender Schedule/Programme: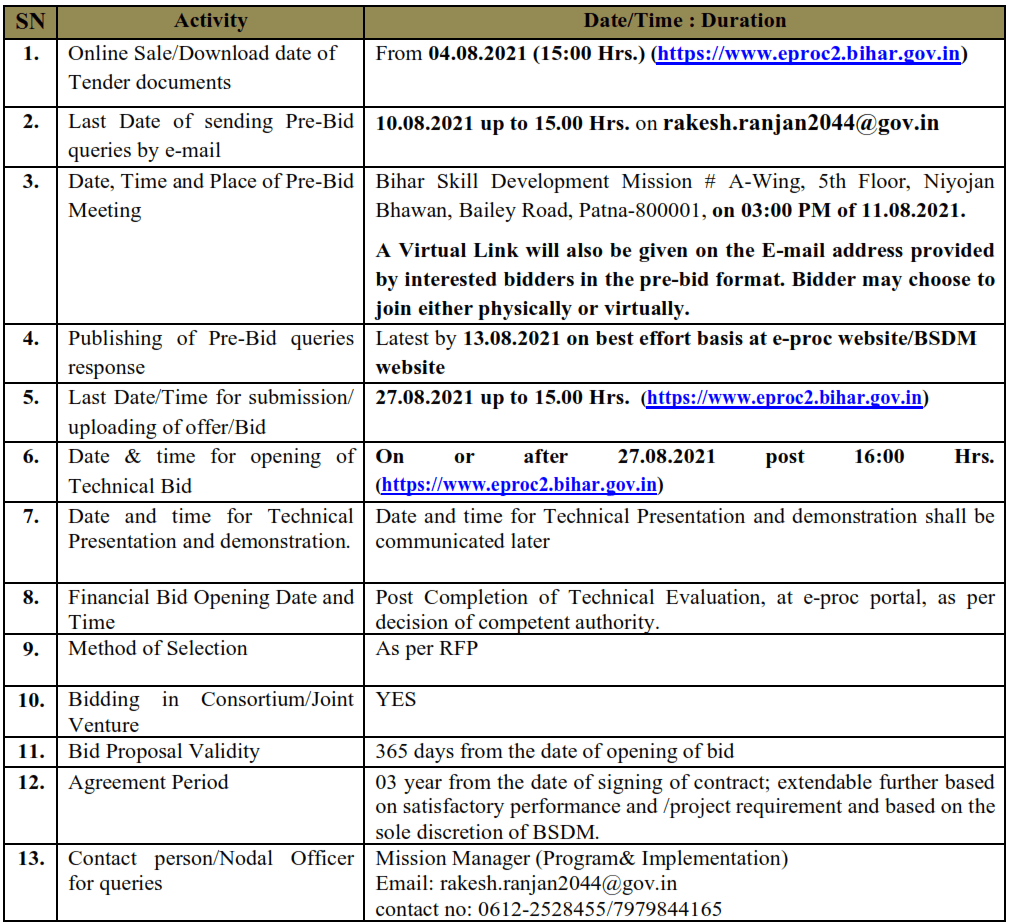 Objective and snapshot of the Project
The key objective of the project is to establish Mega Skill Training Centres in 03 districts on a Pilot basis in Bihar with a skill training capacity of 2000 to 2500 beneficiaries per year per Mega Skill Training Centers for non-residential training. These centres shall emerge as Centre of Excellence for the skill training in their respective sectors.
BSDM through this initiative desires to impart training in modern/advance courses/trades of sectors, tentatively mentioned as below:
Please refer Annexure: I (List of Sectors and Courses)
List of Districts:
Districts
1. Patna
2. Nalanda
3. Darbhanga
Scheme
The Mega Skills Center scheme focuses on setting up benchmark skill development centres of at least 15,000 square feet. Courses offered in Mega Skill Centers will be non-residential in nature and matching the industry expectations with special focus on the job training component. Primarily each of the training centres is expected to train around 2000 to 2500 candidates annually. The Mega Skill Centers in addition to conventional courses will also showcase emerging technologies, Industry 4.0 and other advanced technologies in trend for which the course and content is available with the Sector Skill Councils.
Objectives
The Mega Skill Centers are envisaged to (indicative, not exhaustive):
a) Have best-in-class infrastructure and equipment
b) Impart Quality Training in industry relevant and demand driven trades/ courses
c) Have cross sectoral focus with future demand / incremental manpower requirement in mind
d) Facilitate creation of employment opportunities
Mega Skill Center Salient Features
a) Area requirement of at least 15 K Sq. Feet
b) Expected capacity to train 2000 to 2500 candidate/Year
c) Selection of at least 8 courses across minimum 2 sectors at any center.
d) Non-Residential Training
Establishment Modalities
a) The private training partner will set-up a Mega skill center of at least 15,000 sq. ft. at their own cost. In case the SSC courses chosen by the Training Partner at the Mega Skill Center require a larger area, the same will be made available by the Training partner.
b) Currently the Mega Skill Centers would be set-up in 3 districts on a pilot basis and one Training partner organization will be allowed to set-up a maximum of one Mega Skill center in the pilot phase.
c) The Mega Skill Center will be set-up in line with the Sector Skill Council norms for the chosen course and the other center set-up guidelines issued by BSDM.
d) The Mega Skill center will have to be registered on the BSDM portal for carrying out training and will have to undergo detailed physical verification to establish compliance to Scheme / SSC / BSDM norms.
Last Date for uploading of proposal/bid: 27.08.2021 up to 15.00 Hrs
To download the detailed RFP click below link: