Small Industries Development Bank of India [SIDBI], a corporation established by the Small Industries Development Bank of India Act, 1989, acts as the principal Financial Institution for promotion, financing and development of the MSME sector and also to coordinate with institutions engaged in similar activities. The role and function of SIDBI are given in its website https://www.sidbi.in/
For Free Updates JOIN our TELEGRAM channel, CLICK HERE
The Bank invites applications from accredited agencies to roll out SIDBI Swavalamban Connect Kendra for SIDBI as per para 6 (Scope of Work) of Term and Conditions.
Last Date: 23/01/2023 Upto 06.00 PM
Mode of Submission: Through GEM Portal only
Bid Price: Rs. 1180/- including applicable taxes through online transfer as per the bank details mentioned at page no. 6 above favouring "Small Industries Development Bank of India"
To get the latest updates on skill development tenders, EOI, RFP, Notifications, and News CLICK HERE to follow SKILLSPEDIA on FACEBOOK
EMD: Should be in the form of Bank guarantee (BG) from a Scheduled Commercial Bank valid for a period of 6 months from the last date of submission of bid and strictly in the format as prescribed in Annexure – XII.
OR
Through online fund transfer to SIDBI as per Bank account details mentioned above at page no. 06.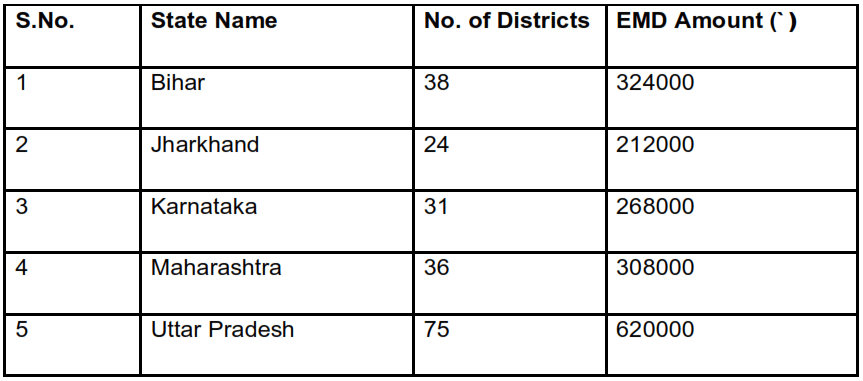 CRITICAL INFORMATION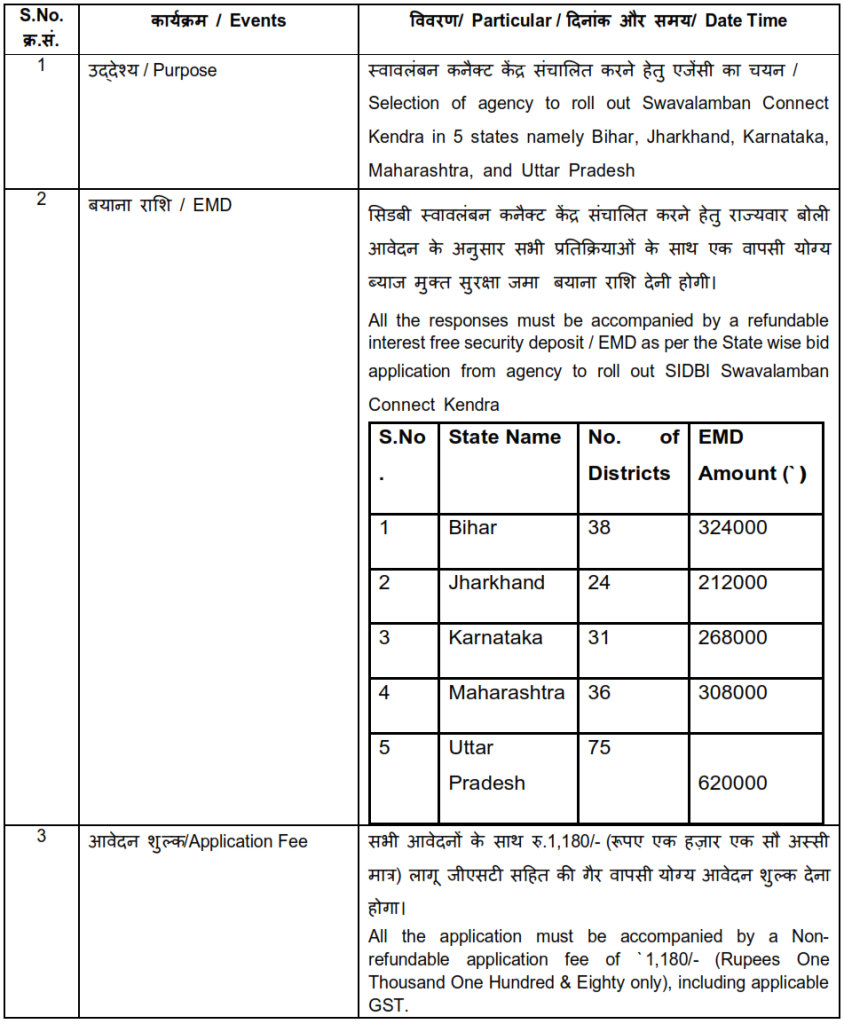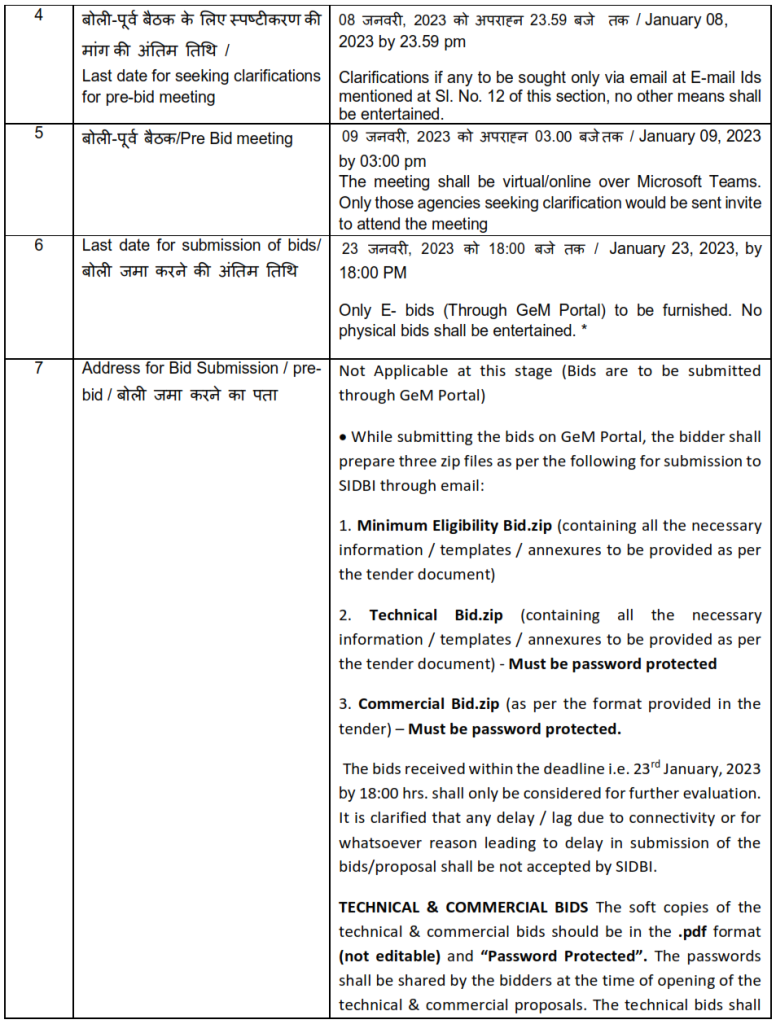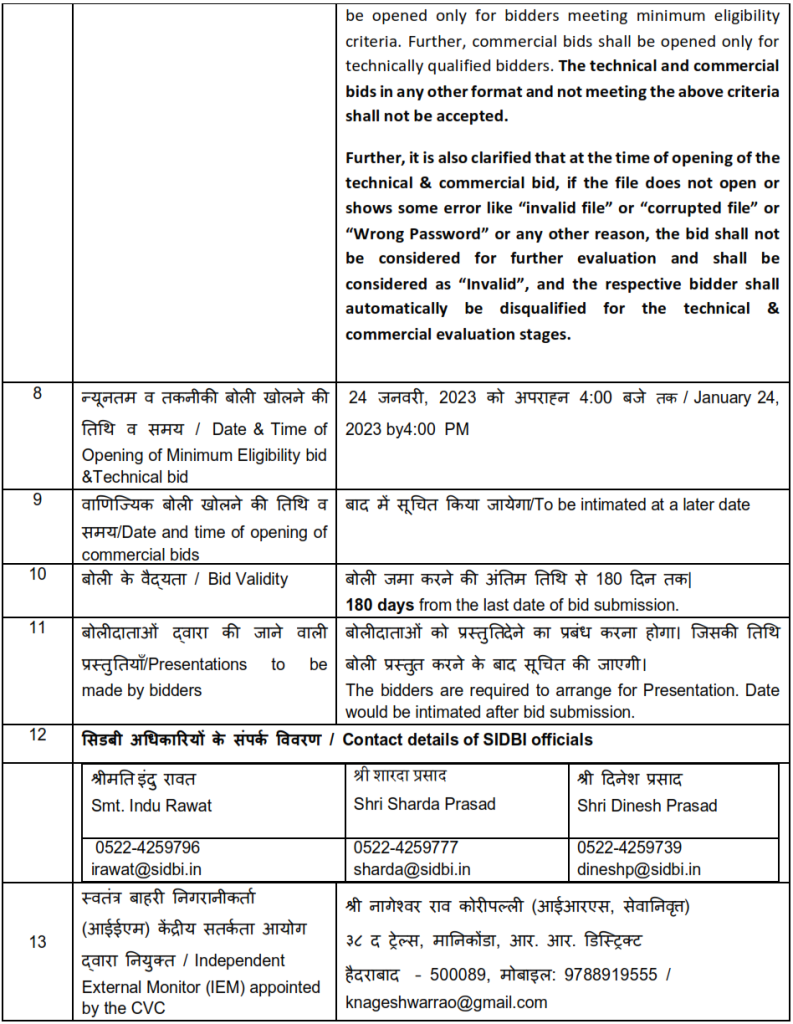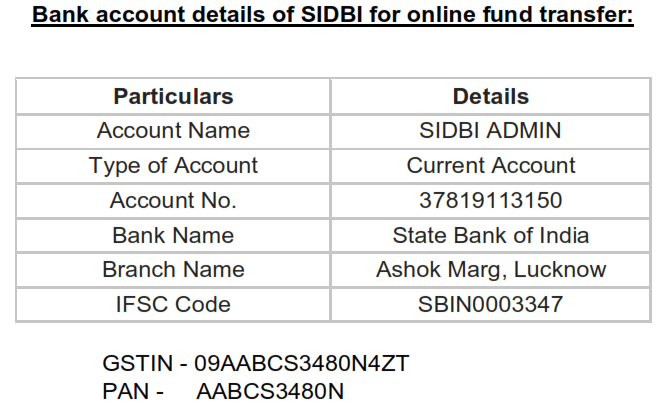 SCOPE OF WORK
The agency should be capable to roll out the proposed Swavalamban Connect Kendra (SCK) in following districts: –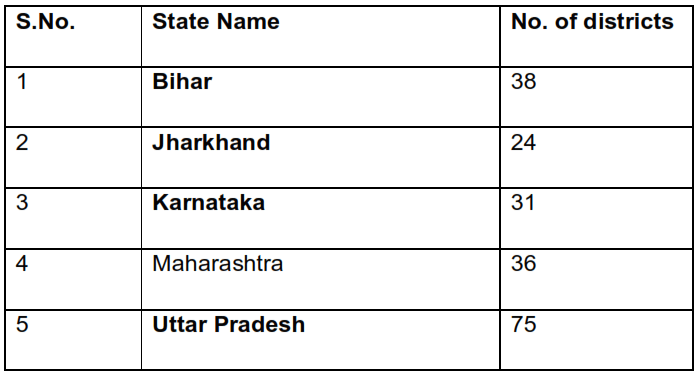 One agency can apply for a maximum of 2 States and Bids / commercial Bids to be submitted separately for each state (State wise). The scope of work for selected agency includes but is not limited to the following:
The agency shall:
a. Place and manage a dedicated central team (to be called Project management Unit at agency level), zonal/state teams at state level and Field Managers / Executives depending upon the requirement of the agency/project. The SCKs (204 Nos – one in each district , either through own offices/setup or tie ups with implementing partners/agencies/NGOs/community based organizations with multi lingual workforce) to facilitate enterprise setting up (including conversion of informed leads, mapping gaps for suitable engagement, handholding for enterprise setting up, credit linkage) as per deliverables.
b. The SCKs shall be a separate independent and sustainable unit and shall be branded accordingly. SIDBI reserves the right for changing / modifying / altering the nomenclature of these centers at its sole discretion. Individual SCKs to be designed as perpetual industrial entities themselves which should operate on sustainable basis even after the project period.
c. ensure that these physical centers to be branded / known as Swavalamban Connect Kendra (SCK), have appropriate soft and hard infrastructure including capable manpower, comply with due diligence and are ready to start.
d. SIDBI will provide digital / MIS platform with suitable architecture for capturing each stage of initiative towards setting up enterprise and as M&E tool. It will capture the process (including uploading documents), response from aspirants, conversion rate from aspirants to actual units/enterprise, various reports to assess the weekly / monthly / quarterly progress and dashboard for client. The digital platform shall be capable of generating data, on a periodic basis w pertaining to all interactions / steps, progress captured in the IT platform in formats to be designed during implementation. The platform shall be in plug and play mode.
e. Conduct suitable awareness programme, skilling/up-skilling/re-skilling, experience sharing and exposures, interaction with bankers etc. in each district.
f. Develop suitable mechanism to strengthen Swavalamban Connect Kendra, build their capacities and run the initiative as self-sustainable model in long term. However, SIDBI is not obliged to carry out all activities mentioned above. SIDBI has the discretion to change the scope of activities without having any commercial
implication.
g. The scope of work could be modified / altered / moderated to make the program more effective normally without any financial bearing but with objectives and deliverables remaining same. SIDBI may consider additional items of work if need be, in the interest of project and may compensate suitably additionally, should the need so arise in the interest of the project.
The identified SCK will:
i. Organize awareness campaigns, meeting with the stakeholders in the districts such DIC, LDM, District Administration etc.
ii. Generate lead and guide to the aspirants for enterprise set up on their area of interest.
iii. seek basic details from the aspirants like educational qualification, proposed line of activity for setting up enterprise, skill possess, support required etc.
iv. make the aspirants aware about the various ways s/he can go for setting up an enterprise including skill training if required, raising funds for enterprise including applying online loans through Udyamimitra, psbloansin59min and other online portals etc.
v. Support with local knowledge of potential enterprises /challenges, ready reckoner / FAQs/videos/kits etc. Knowledge products such as Project profile etc. available with SIDBI shall be shared or hosted on Udyamimitra or any other portal managed/supported by SIDBI or any other relevant agency.
vi. Follow-up with the aspirant to check if they have understood the process of starting the business and ways of raising funds.
vii. If the aspirant seeks more details, the representative will assist for starting a business to the person, connect with suitable resource organization for next step.
viii. Based on the update provided by the aspirants, SCK will consider the case closed with either of the three options: (i) They are going to start the business (ii) They are not going to start the business (iii) They probably need more time to think about starting a business.
ix. SCK shall update the process on regular basis on the digital MIS platform.
x. Setting of enterprise/business, provide handholding and submitting periodical reports on platform.
To read detailed RFP click the below button: