West Bengal State Electricity Distribution Company Limited referred to as WBSEDCL invites E-tenders for Contract to impart Training on Management Development Programmes to be imparted at all EETI's & Kalyani Junior Training Centre for the Employees of WBSEDCL as per detail "Training modules" and other terms and conditions furnished in the different clauses of the bid document.
For Free Updates JOIN our TELEGRAM channel, CLICK HERE
Tender Fee: NIL
EMD: Rs. 1,00,000/- (Refundable) to be paid via online/RTGS/NEFT/Bank Guarantee
Eligibility Criteria:
The Bidder must comply with the "Mandatory Condition" as mentioned in Annexure-I.
The Bidder should give a Self Declaration Certificate for acceptance of all terms & conditions of tender documents. A duly completed certificate to this effect is to be submitted as per Annexure-II.
The bidder shall have experience in imparting Training in any Government or Private Organisation on different Training Modules as per the Scope of Work (Section-II) at least during the last three years at regular basis , say 15-20 days in a month.
The Annual Turnover should be at least Rs. 5 crores during last previous three financial years (2018-19 to 2020-21). Copies of duly signed balance sheet/profit & loss accounts along with supporting documents are to be submitted as per Annexure-III.
This invitation is open to all reputed Management Institutions /Universities /Deemed Universities which are recognized by AICTE preferably/UGC or a Ltd / Pvt Ltd Company/engaged in imparting Training to the Corporates / Govt CPSU/SPSU or internationally reputed Pvt organizations having wide experience in Training & Development However Trustees /Partnership Firms/Consortium/Franchise or Training Partner are not allowed to bid.
The bidders should be neither blacklisted, banned, debarred from participation in any Govt. organization across India in last three years nor any criminal case registered/pending against the firm or its Director/Faculty Member etc. anywhere in India. A duly completed certificate to this effect is to be submitted as per Annexure IV.
The bidders should have successfully executed such HR & Finance related Training Orders in at least one organization preferably in the Power Sector/ CPSU/SPSU during last three years. The Institution should attach list of Orders/ certificate of satisfactory completion of Training /credentials where the work had been executed in the last 3 years is required. The Training Experience and its working credentials should be executed in favour of the bidder , experience certificate provided by the bidder where the work has been outsourced on behalf of the bidder to any third party will not be considered. The details of the same along with supporting document are to be submitted as per Annexure V.
Intending Bidders desirous of participating in the tender are to log on to the website http://wbtenders.gov.in. The tender can be searched by typing wbsedcl in the search box of the website.
Bidders willing to take part in the process of e-tendering are required to obtain Digital Signature Certificate (DSC) in the name of person who will sign the tender, from any authorized Certifying Authority (CA) under CCA, Govt of India (viz. nCode Solution, Safescrypt, e-Mudhra). DSC is given as a USB eToken. After obtaining the Class 2 or Class 3 Digital Signature Certificate (DSC) from the approved Certifying Authority they are required to register the fact of possessing the Digital Signature Certificates through the registration system available in the website.
Intending bidders are to download the tender documents from the website stated above, directly with the help of the e-Token provided. This is the only mode of collection of tender documents. Details of submission procedure are given in "Instructions to Bidders".
To get the latest updates on skill development tenders, EOI, RFP, Notifications, News CLICK HERE to follow SKILLSPEDIA on FACEBOOK
PRE-QUALIFICATION CRITERIA FOR BIDDER:
Bidders must possess the following pre-qualification criteria and upload the documentary evidence in support of the same in Techno commercial folder.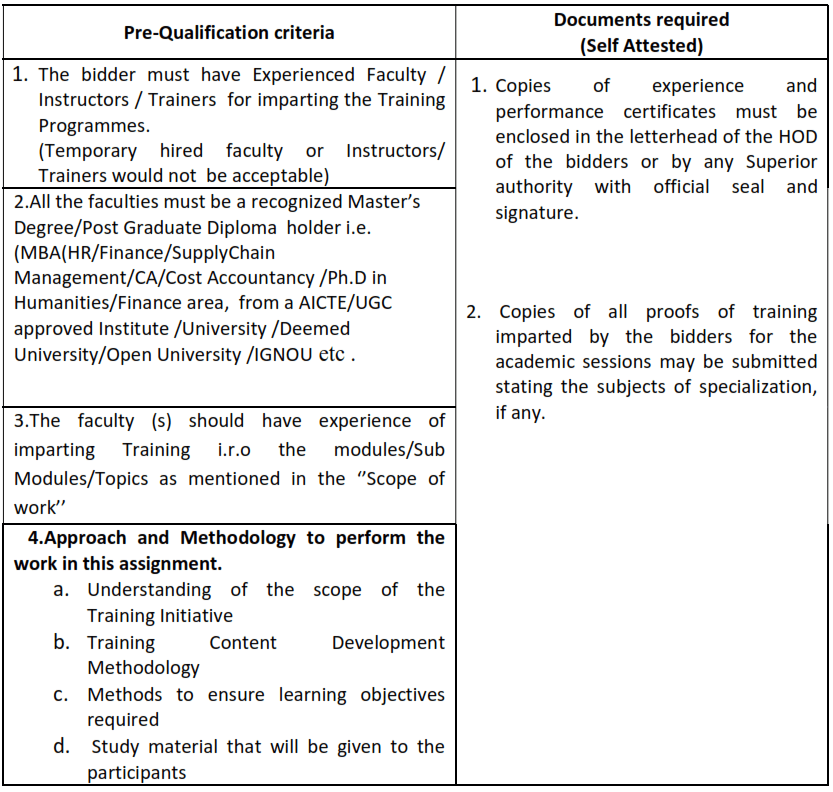 Schedule of Dates for Tendering

To download the E-Tender click the below link: