NATIONAL INSTITUTE OF WIND ENERGY, CHENNAI invites Expression of Interest for Empanelment of Training Partners for Imparting Training Under Vayumitra Skill Development Programme (VSDP) for the FY. 2022-23 To 2023-24. The empanelment of TP may be considered for two years or beyond subject to the continuity of the program, based on satisfactory performance and mutual agreement.
For Free Updates JOIN our TELEGRAM channel, CLICK HERE
The online portal for submitting the application will be activated on or before 10.08.2022 at the NIWE website (https://niwe.res.in)
Any queries regarding EOI shall be mailed to [email protected] NIWE reserves the right to modify, amend or cancel the EOI without specifying any reason thereof.
The last date of submission of online application shall be 24.08.2022 up to 05.30 PM
To get the latest updates on skill development tenders, EOI, RFP, Notifications, News CLICK HERE to follow SKILLSPEDIA on FACEBOOK
Processing Fee (non-refundable): The applicant has to deposit an online processing fee (non-refundable) of Rs.5000/- for submitting application for one center in a state/UT. The NIWE accounts details:
RTGS_document-sb_account (niwe.res.in)
Introduction
National Institute of Wind Energy (NIWE) is an Autonomous Institute of Ministry of New and Renewable Energy (MNRE), Government of India to facilitate Research & Development (R&D), Testing, Certification and Skill Development activities in the areas of Wind energy technologies in the country. It is a premier institution with highly experienced professionals having expertise in all related disciplines of wind energy sector.
Under the skill development initiatives of the MNRE, NIWE is mandated as the nodal agency for implementation of "Vayumitra Skill Development Programme" (VSDP). NIWE is inviting Expression of Interest (EoI) for empanelment of Training Partners (TPs) for imparting training under VSDP.
About Vayumitra Skill Development Program (VSDP)
Government of India launched a Skill India initiative to empower the youth of the country with skill sets in various industrial sectors which make them more employable and more productive in their work environment.
Skill development of the youth add not only to their personal growth, but also to the country's economic growth as well. In recent years, new industries have ventured into many sectors with innovative ideas. The Renewable Energy sector, especially Wind Energy has gained momentum and developing fast in the country as the entire world is in the race of reducing carbon emission.
As of May 2022, India had 159949 MW of renewable energy installed capacity including large hydro and represents 40% of the overall energy installed capacity of the country (402817 MW). Further, apart from the existing target of Government of India to achieve 175 GW of RE by 2022, Hon'ble Prime Minister of India, committed at the recently concluded United Nations COP26 Climate Change meet held in UK that India would achieve 500 GW non-fossil fuel capacity target by 2030 and would achieve net-zero carbon emission by 2070. To achieve this targets and to meet the demands, India needs a skilled workforce that is currently unavailable to the expected level.
In order to give a thrust to the wind energy sector, Ministry of New and Renewable Energy (MNRE), Government of India has provided a sanction to National Institute of Wind Energy (NIWE) to conduct the Vayumitra Skill Development Programme (VSDP) for training 5734 trainees [(5010 participants i.e. 3660 no. Technicians + 1350 no. Site Supervisors in Wind Power Plant), 690 Trainers & 34 Assessors].
The Programme will be conducted in 192 batches (167+23+2); in eight (8) windy states (Rajasthan, Gujarat, Maharashtra, Karnataka, Tamil Nadu, Andhra Pradesh, Telangana, Madhya Pradesh) & Kerala during the year FY 2021-22 to 2023-24.
The proposed VSDP is in line with the guidelines/norms prescribed by the Ministry of Skill Development and Entrepreneurship (MSDE), Government of India.
Scope of Expression of Interest:
In sequel to the mandate, NIWE is inviting response document in the form of Expression of Interest (EoI) for identifying the Training Partners (TP) located in and around the wind farms in windy states to conduct training programs as envisaged in the VSDP. The complete requirements are explained in the following paras to enable the interested and eligible institutions to respond on Pan India basis.
The identified/recognized Training Partners (TP) shall be training the participants according to the job roles in line with the approved three Qualifications Packs (QP) namely;
 O&M Electrical & Instrumentation Technician – Wind Power Plant (SGJ/Q1503)
 O&M Mechanical Technician – Wind Power Plant (SGJ/Q1502)
 Site Surveyor – Wind Power Plant (SGJ/Q1202)
The detailed QPs are provided in Annexure-1. No of Participants: 30 participants per batch.
Eligibility Criteria
All TPs must fulfil the following criteria so as to be considered for further evaluation as per technical scoring given below:
The institute/training partner for VSDP will be selected within the vicinity of existing wind farms and wind power potential locations. The institute will be selected based on multiple criteria, reputation, infrastructure, distance from the wind farms etc. Institution located nearby wind farms will be preferred for ease of practical training and 50 km radius will have higher advantage as part of the marking criteria.
All the TPs will be required to undergo the Centre accreditation and affiliation process as per the MSDE Guidelines for Accreditation & Affiliation. Training Partner shall have to pay the required fees which will be varying from time to time (Refer Website) upon selection to Skill Council for Green Jobs (SCGJ).
The TP must be an ITI / Polytechnic / Engineering College / University preferably Government owned/supported or Deemed to be University / Institution / Wind Energy industries with full-fledged training facilities to conduct the courses.
TP having training experience in Energy / renewable energy/wind energy will be preferred.
TP selection will be based on the potential and installed capacity of wind in the states.
TP must conduct the training programs where facilities are available within the premises including hostel facilities for boys and girls separately, laboratory facilities of the identified TP institute and cannot be done at different locations or state.
TP must have 3 minimum faculties (at least one each) in Electrical, Mechanical, Civil, Instrumentation and Physics domain who will be trained through Training of Trainers (ToT) by NIWE for the selected TP institute. To support this, a CV with relevant documents of each faculty must be submitted. The 12 days ToT training will be conducted by NIWE at its Chennai or Kayathar campus and the training fee, accommodation and food will be taken care of by NIWE and to and fro travel cost from the institute to the training venue has to be taken care by the TPs.
TP must have at least one MoU with industries engaged in wind energy sector in nearby places for practical / field training. In the event of not having any such tie-up or MoU arrangements, TP must submit an undertaking on a non-judicial stamp paper to the extent that such arrangements with industries would be done and the same will be submitted to NIWE before starting of the training, failing which the TP recognition will be withdrawn. Safety guidelines to be included in the MoU between TP and the industry in the wind energy sector.
TP must have well-equipped laboratory, classroom and Students Hostel facilities. A List of necessary equipment needed is given in Annexure 2. Photographs of all the facilities available for conducting the training must be sent along with the application. In the event of not having such facilities, TP must submit an undertaking on a non-judicial stamp paper to the extent that well-equipped laboratory, classroom and students hostel facilities with toilets would be made available either within the institute campus or outside the campus and the same will be submitted to NIWE along with proof like, purchase invoices, bills, photographs etc. with GPS coordinates, video clips etc., before start of the training, failing which the TP recognition will be withdrawn.
Marking Criteria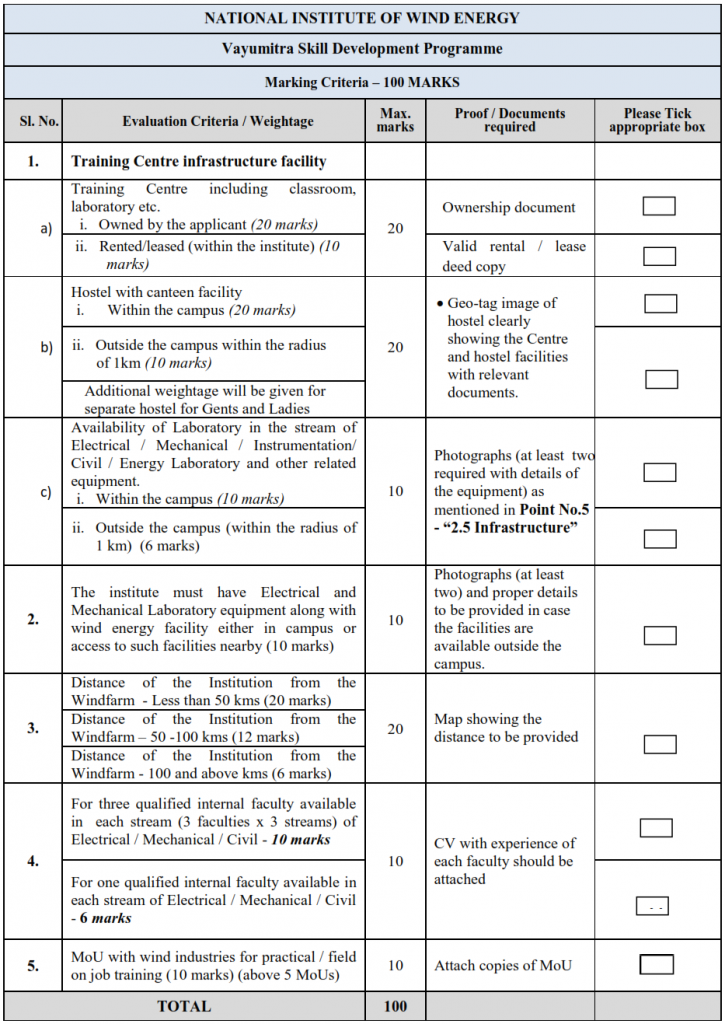 To download detailed EOI follow the download link below: