Punjab Skill Development Mission (PSDM) aims to enable a large number of youth to take up industry-relevant skill training that will improve their theoretical as well as practical knowledge and help them in securing a better livelihood by bringing necessary synergy oversight and effective coordination. Punjab Skill Development Mission is bridging the gap between the skilled people required in Industry and the unemployed youth by ensuring that the right candidate with passion for a particular job chooses the right course according to his/her academic background, aptitude and skill-set.
For Free Updates JOIN our TELEGRAM channel, CLICK HERE
Currently the Mission is implementing the following schemes and projects:
a) Employability Skill Training Program Component of National Urban Livelihood Mission (NULM) – skill training program for urban youth.
b) Deen Dayal Upadhaya Grameen Kaushal Yojana (DDUGKY) – skill training program for rural youth.
c) Pradhan Mantri Kaushal Vikas Yojana (PMKVY)- skill training program for urban & rural youth.
d) Corporate Social Responsibility (CSR) Projects for skill development.
e) SANKALP (Skills Acquisition and Knowledge Awareness for Livelihood).
For Tender Preparation support or for any query please call SKILLSPEDIA.IN @ 702-47-48-999
Tender Cost & Proposal Processing Fees (Non-Refundable)
All applicants are requested to submit a non-refundable Processing fee on https://eproc.punjab.gov.in as per portal norms and non-refundable Proposal Processing Fees of Rs. 25,000/- (Twenty-Five Thousand only).
Indicative Timeline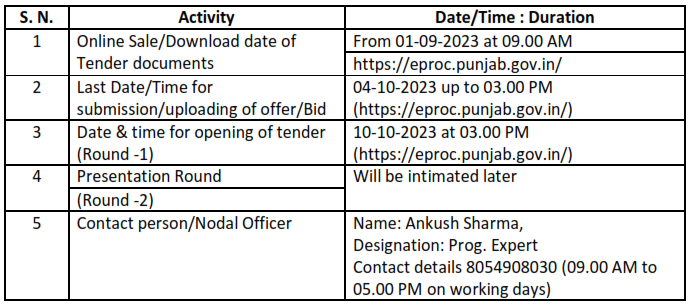 PSDM invites the Expression of Interest (EOI) for proposal for empanelment to undertake projects in the State of Punjab listed as below:
 Private Academic/Technical institutions who have set up State of the art infrastructure for promoting innovation in skill-training life cycle wherein the state of the infrastructure is defined as belonging to the most recent stage of the development of technological development and having or using the latest techniques and equipment's.
 Skill Training in Future skills like Artificial intelligence, Cloud computing, etc. The list of future technologies is attached at Annexure A. The list of future technologies is subject to change from time to time as per the industry demand by PSDM.
 Skill Training targeted for specific segments of the society such as Drug rehabilitation, Persons with Disabilities (PWD), Transgender, Seropositive, Jail inmates, etc.
Eligibility Criteria
 The applicant must be a Company/Partnership/Proprietorship/Public sector undertakings /Public sector company /Society/Trust/NGO registered prior to 01.06.2020. (The empanelment of Government, Semi Government Industries/organizations and Private Industries is open and can be empanelled throughout the year without any Expression of Interest under PSDM).
 The applicant is not blacklisted by any donor/State Government/Central Government/ any competent authority from which they have received the allocation under any skill development training. (Should submit an undertaking on its letterhead duly signed by authorized representative).
 The Net worth of the organization as on 31-03-2022 should be positive.
To get the latest updates on skill development tenders, EOI, RFP, Notifications, and News CLICK HERE to follow SKILLSPEDIA on FACEBOOK
Evaluation Criteria
a) Category A – Applicants having prior Skill Training Experience:
This category is applicable to applicants who have prior experience in implementation of Government Sponsored (Central/State/UT) Skill Training Schemes /Sector skill council (SSC) programs free of cost or on paid basis/National skill Development Corporations schemes (NSDC)/ Empanelled with large organisations for implementing corporate social responsibility projects in skill development. Only Empanelment letters shall not be sufficient to be considered under this category.
Any applicant which has received work order/sanction order from Central/ State Government/ Sector skill council / National skill Development Corporations/ Empanelled with large organisations (large organisations hereby are defined as an entity with an annual turnover of Rs. 50 million (Rs. 5 crores) and more) for implementing Corporate social responsibility in the period 01.04.2018 to 31.03.2023 or still executing the projects and have a positive net worth as on 31.03.2022 will be considered under Category A.
b) Category B – Applicants having no Prior Skill Training Experience:
This category is applicable to applicants who don't have prior experience in implementation of Central/ State Government skill development schemes, Sector skill council projects, National Skill Development projects or implementing any corporate social responsibility project with any large organization.
To read detailed EOI, click the below button: