Jal Jeevan Mission is implementing Recognition of prior learning (RPL) in mission mode with a target of training the youth of UTTARAKHAND in the Financial Year 2021-22 in Mason General, Assistant Electrician and Plumber (General).
To get the latest updates on skill development tenders, EOI, RFP, Notifications, News CLICK HERE to follow SKILLSPEDIA on FACEBOOK
This EOI is for interested facilitator agencies/ organisations for submission of proposal/ Application for conducting Training of 6000 uncertified workers across Uttarakhand in phase -I under Type 1 during FY 2021-22 for the job roles of Mason General, Assistant Electrician and Plumber (General).
Multiple Facilitator agencies may be selected for each job role for conducting Skill Development training under this EOI for RPL component in the State of Uttarakhand. Empanelment of facilitator agencies/organizations shall be for one year from the date of issue of Targets or end of FY2021-22 whichever is earlier.
The objective of this EOI is to organise Skill Development training for uncertified workers of the abovementioned sectors through government / private facilitator agency in the state of Uttarakhand . The skill development trainings shall be in compliance with the guidelines of RPL(MSDE).
Interested training provider cum facilitator organisations/agencies may submit the proposal mandatorily in form of hard copy in a sealed envelope to the office of the undersigned, super scribed with 'Project Application for conducting for RPL under JJM".
The facilitator agencies are expected to submit the project proposal enclosed in Annexure I, II & III.
Eligibility for participating in the "EOI" for conducting Skill Development Training under RPL for FY 2021-22 in Uttarakhand is as follows:
I. The applicant should be a legal entity of Indian origin.
II. Must be an NSDC emplaned Training Partner.
III. Should have experience in conducting RPL or Short Term/ Long Term Skill Development Training programme in NSQF compliant courses job roles in last three years.
Technical Eligibility Criteria (Must Meet) :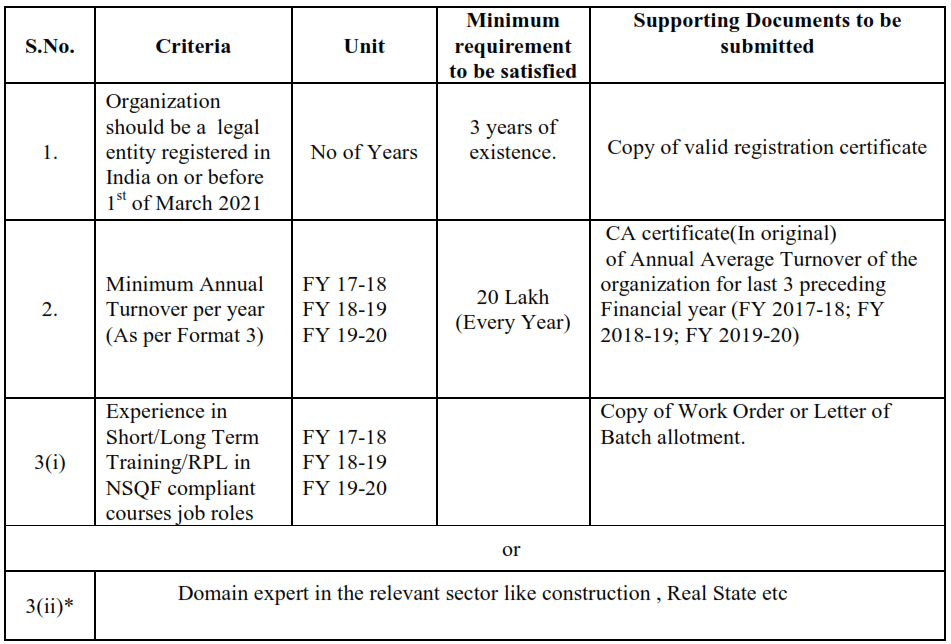 *In case an applicant applies under category 3 (Domain Expert) he has to essentially meet point 1 & 2.
Based on the applications received UKSDM shall evaluate the documents submitted by the applicants along with the proposal. Final selection of organization shall be on the based on the presentation made before Project Director, UKSDM.
OTHER KEY INFORMATION: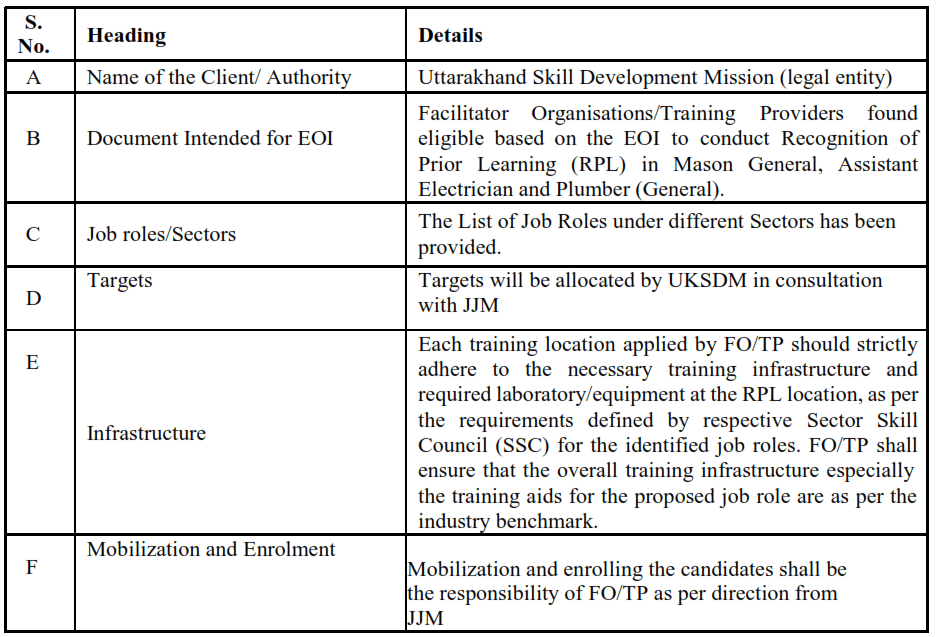 The last date for receipt of proposals/applications is 11th June '2021.
Address for Submission EOI:
Project Director
Uttarakhand Skill Development Mission
26, E.C. Road, Mahila ITI, Near Survey Chowk
Dehradun, Uttarakhand , 248001
To get the latest updates on skill development tenders, EOI, RFP, Notifications, News CLICK HERE to follow SKILLSPEDIA on FACEBOOK
For more details Download EOI: