Haryana Skill Development Mission (HSDM) invites e-TENDER for Hiring of Consultant/Agency for IEC (Information, Education and Communication) activities, Media, Advocacy for "Skill Acquisition and Knowledge Awareness for Livelihood Promotion (SANKALP)".
To get the latest updates on skill development tenders, EOI, RFP, Notifications, News CLICK HERE to follow SKILLSPEDIA on FACEBOOK
Haryana Skill Development Mission (HSDM) was established in May 2015 by State Government with an aim to empower youth to take part in the economic and all round growth of HARYANA and INDIA. The Mission acts as the nodal agency in the state of Haryana to ensure organization of skill training programs for the rural and urban youth through empanelled training partners. HSDM integrates the efforts of various departments and public and private stakeholders engaged in skilling the youth of the state through skill development schemes such as PMKVY, SURYA, Driver Training, SAKSHAM YUVA, SAMARTH, etc. and bring necessary scale, synergy, oversight and effective coordination in their implementation.
HSDM is also entrusted with responsibility to drive a 'Skills Acquisition and Knowledge Awareness for Livelihood' (SANKALP) scheme in Haryana. SANKALP scheme is a centre and state funded scheme conceptualised by Ministry of Skill Development & Entrepreneurship (MSDE), Government of India, with a special focus on decentralised planning and quality improvement.
Two key components of SANKALP scheme include:
• Institutional Strengthening at the National and State Levels for Planning, Delivering, and Monitoring High-quality Market Relevant Training.
• Improved Quality and Market Relevance of Skill Development Programmes. Within this component it is mandated that media campaigns and events be rolled out to connect with youth and educate them on skill-based careers and opportunities. It is also recommended to hold monthly industrial roadshows on training placement and apprenticeship, organize 2 events for felicitation of training partners, etc.
An e-TENDER is invited by HSDM to utilize services of credible professional agencies for a period of one year (which may be extended at the discretion of HSDM on same Terms & Conditions for maximum of further 2 years subject to satisfactory performance to be reviewed periodically) for producing original creatives, content TVCs, promotional material, media management, managing public relations and events management. The agencies will provide professional services including Strategic as well as Tactical Media Planning Strategy and Formulation, including strategies for digital media, electronic media, print media, outdoor media, content creation, networking, management, etc. as under the direction of HSDM on case to case basis. The proposal/bids are invited from credible professional agencies/firms, for this purpose. The scope of works to be taken by the agencies have been broadly spelt out in Section III.
The agency/firm must have in-house organizational and production capability. All other requirements such as manpower, tools, applications, creative content, advertising etc. will have to be met by the Agency. Agency must have expertise in the activities as desired to be performed in accordance to the Scope of Work. The entire data and intellectual property generated from the activity will be owned fully by the HSDM. The firm has the responsibility to store the same and provide it to HSDM on a weekly basis or as & when demanded. Agency will be completely responsible to maintain the 1.Back-up, 2. Storage and 3. Recovery mechanism. The agency will ensure data protection (secrecy) and ensure that no data is leaked to any person not authorized by the HSDM. In case of any such leak /breach of data, the entire legal, financial and other consequences will be borne by the firm/agency. All the real and virtual creations will be the property of HSDM and IPR will vest with HSDM. The agency/firm will also ensure that all the creations submitted by them to the HSDM are free of copyright and IPR encumbrances and any error and omission in this matter shall be sole responsibility of the Agency.
SCOPE OF WORK
An indicative scope of work is mentioned below, and it should be deliverable by the selected agency in its entirety, however, the list is not exhaustive and the additional task may be given as per the direction of HSDM and is on case to case basis.
communication strategy
Content development and Management
Concept Development and Art Work/ Creative Creation
Event Management
Media Management
Public Relations and Networking
Production of content for PR and advertising
Branding
Additional services
KEY INFORMATION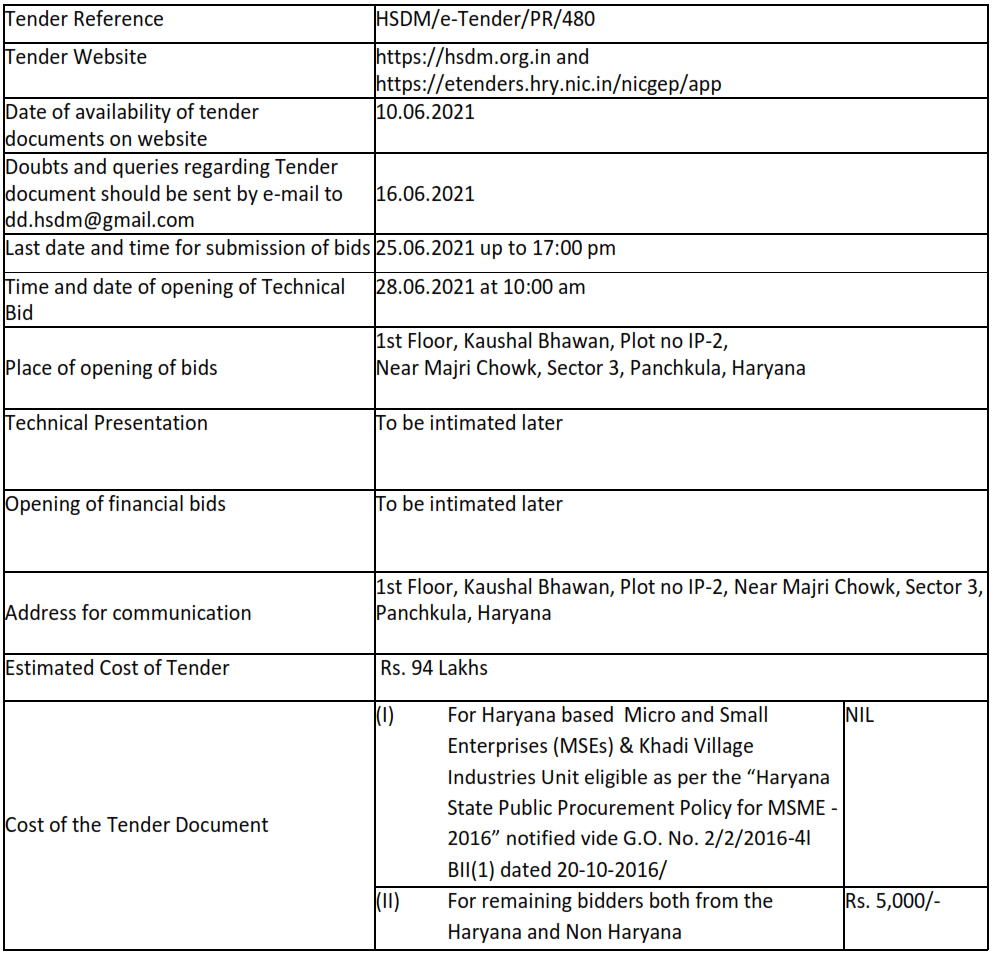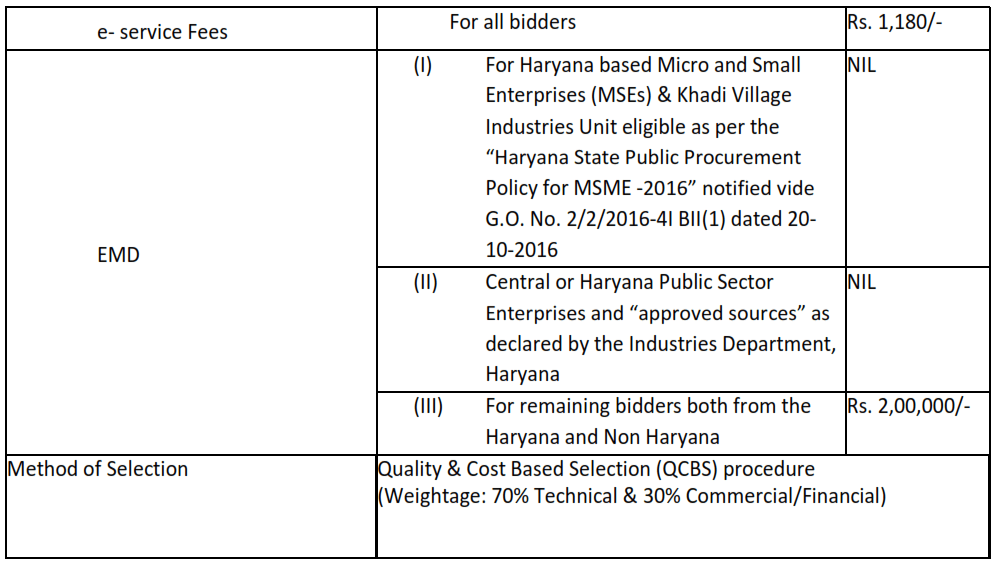 The tender document can be downloaded from the website of Haryana Skill Development
Mission: https://hsdm.org.in and https://etenders.hry.nic.in/nicgep/app
Last date and time for submission of E-Tender: 25/06/2021 upto 5.00 PM
To get the latest updates on skill development tenders, EOI, RFP, Notifications, News CLICK HERE to follow SKILLSPEDIA on FACEBOOK
DOWNLOAD E-TENDER