The National Commission for Women invites sealed Expressions of Interest (EOI) from Institutions for conducting  Micro Enterprise Development  Programs [MEDPs] and Employability & Soft Skills Development Programs [ESDPs].
For Free Updates JOIN our TELEGRAM channel, CLICK HERE
The EOI Document containing the details of qualification criteria, submission requirement, brief objective  & scope of work and evaluation criteria etc. can be downloaded from the website http://ncw.nic.in
Further details, if any, may be obtained from Deputy Secretary, National Commission for Women, Plot no.  21, Jasola Institutional Area, New Delhi-110025 ([email protected]  I [email protected]   011-26944886) during working hours.
The last date for submission of EOI is 30th June,  2023 up to 17:00 hrs. Sealed  envelope, containing EOI and non-refundable fee of Rs. 1000/- by way of DD/Pay Order in favour of "PAO, National Commission for Women" addressed to:
Deputy Secretary
National Commission for Women,
Plot no 21,  Jasola Institutional Area, New Delhi, 110025
Applicants meeting the qualification criteria may be invited for presentation I proposal before the selection committee of the NCW.
To get the latest updates on skill development tenders, EOI, RFP, Notifications, and News CLICK HERE to follow SKILLSPEDIA on FACEBOOK
Purpose and Objective of Expression of Interest (EOI)
The National Commission for Women (NCW) is seeking to economically empower women across all strata. NCW seeks to promote different income-generating activities, particularly promoting self-owned micro-enterprises through skill and entrepreneurship development training.
These interventions will be aimed to enhance their capacity and help them financially to strengthen their enterprises. The entire approach to strengthen the ecosystem will be proposed for long-term sustainability of the intervention. The employability and soft-skill development intervention will be aimed to make the target group market-ready.
For Tender Preparation support or for any query please call SKILLSPEDIA.IN @ 702-47-48-999
Terms of Reference
a. Scope of Work
i. Selection of Beneficiaries based on the following parameters
Age Group [18 to 45 Years]
Education Qualification [Intermediate or equivalent]
Engaged in any informal employment or self-employed
ii. Conducting Non-Residential Micro Enterprise Development Programs [MEDPs]
Entrepreneurship Development Programmes of Two Weeks (10 Days)
Giving Training and Mentoring to set up Enterprises
Providing handholding support to Emerging Enterprises for at least one year to ensure their sustainability
iii. Conducting Non-Residential Employability & Soft Skills Development Programs [ESDPs] (3 Days) with the following objectives:
To provide set of soft skills and business skills to the participants to become successful entrepreneurs
Address issues and challenges faced by women to enter the economic mainstream by empowering them through these skill training
Promoting efficiency and developing quality assurance of their enterprises/self-entrepreneurship opportunities
Readiness to access different government schemes
iv. Training of 900 Women under MEDPs and 900 under ESDPs yearly with batch size of 25-30 participants.
v. Ensuring that at least 40% trained beneficiaries (a) Create New Enterprises; or (b) Grow their existing Enterprises, in terms of achieving more sales and creating new jobs etc.
b. Location of the Work
i. Across the country, covering at least 25 States/UTs
ii. Both urban and rural areas
Qualification Criteria: An EOI must meet the specific requirements for all the criteria listed below in order to be shortlisted: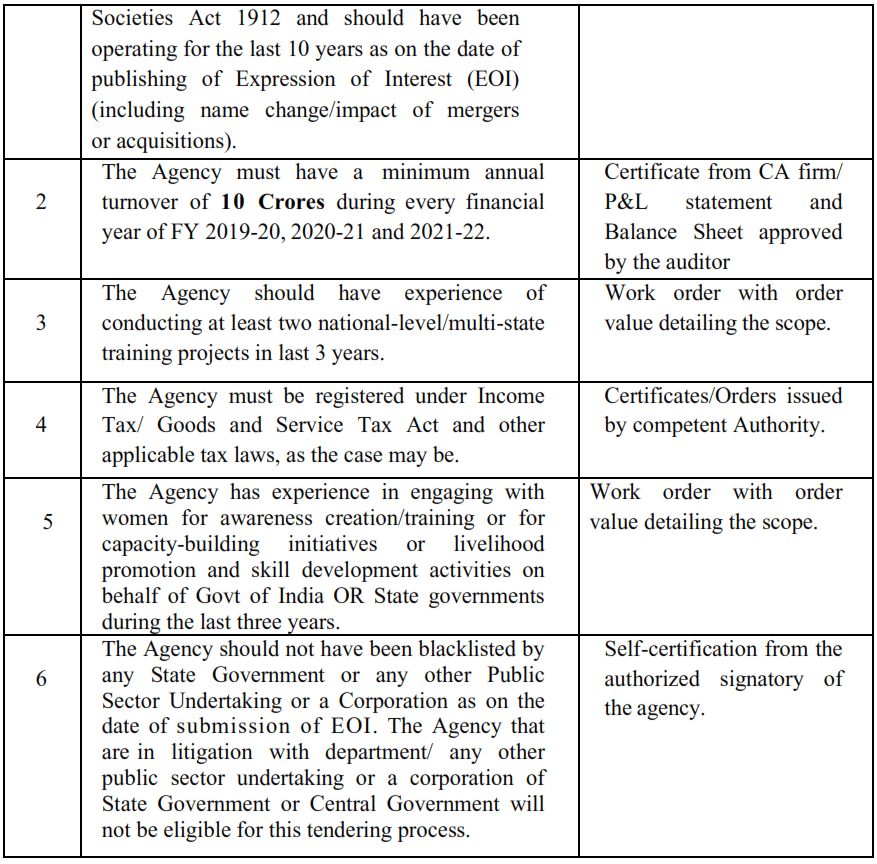 To read the detailed EOI click the below button: