Maharashtra State Skill Development Society (MSSDS) by way of EOI, invites application from prospective applicant, for engaging an independent Training Partners (TP) herein referred to as 'applicant' to establish
PRADHAN MANTRI UDYOJAKATA KOUSHALYA VIKAS KENDRA in rural area in various districts of Maharashtra as below:
For Free Updates JOIN our TELEGRAM channel, CLICK HERE
Yavatmal, Washim, Wardha, Thane, Solapur, Sindhudurg, Satara, Sangli, Ratnagiri, Raigarh, Pune, Parbhani, Palghar, Dharashiv, Nashik, Nandurbar, Nanded, Nagpur, Latur, Kolhapur, Jalna, Jalgaon, Hingoli, Gondia, Gadchiroli, Dhule, Chandrapur, Buldhana, Bhandara, Beed, Chatrapati Sambhajinagar, Amravati, Akola, Ahamadnagar.
Last Date of Submission: 30-06-2023 upto 3.00 PM
Non-Refundable Processing Charges Fee: Rs. 25,000/- per district irrespective of the number of proposed training center('s). To be paid in the form of Demand Draft in the favor of "Maharashtra State Skill Development Society"
Refundable EMD: Rs. 2,00,000/-. To be paid in the form of Demand Draft in the favor of "Maharashtra State Skill Development Society"
Link for Registration of Applicant Organization and Submission of Proposal: https://organizations.maharashtra.nextprocure.in
Schedule for EoI: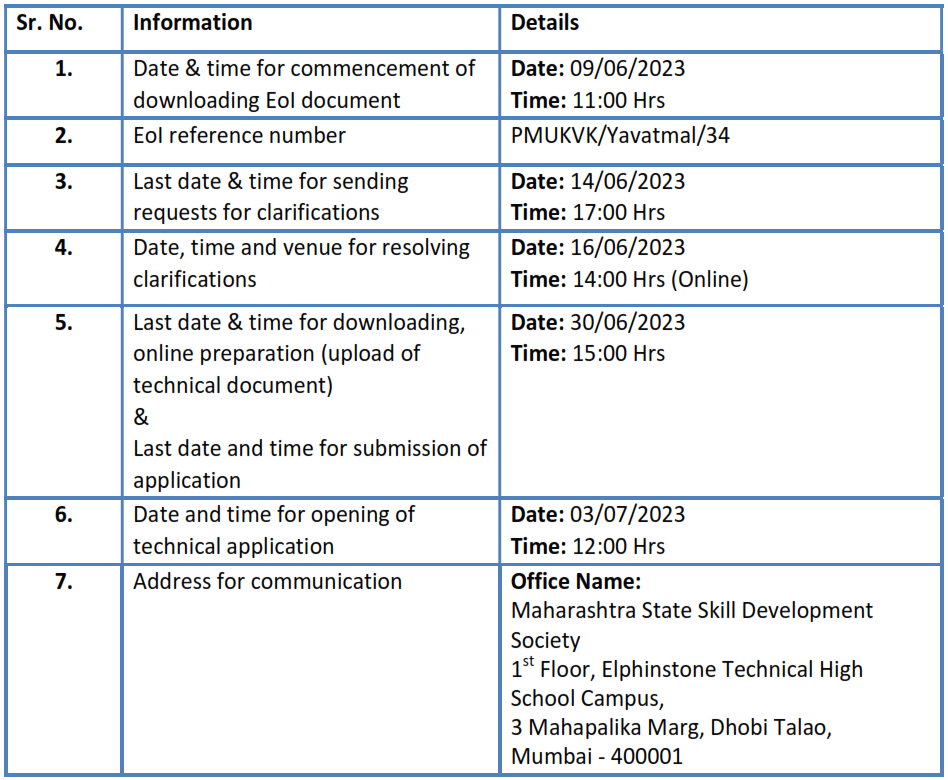 Objective:
a. To establish PRADHAN MANTRI UDYOJAKATA KOUSHALYA VIKAS KENDRA in rural areas of District Yavatmal. (Refer Annexure – 14)
b. To conduct skill development training programs in various sectors & to provide employment/self-employment opportunity to rural youth by providing skill development training.
c. Supplying required skilled labor in rural areas thereby eliminating shortage of skilled labor in the state/district.
d. Making unskilled manpower skilled (Reskilling) if necessary. Also providing upskilling to existing skilled manpower for career advancement.
Scope of work of TPs to be selected mainly includes conducting NSQF Aligned Courses Skill Training, adhering to PMKUVA Scheme GR of Skill Development, Employment and Entrepreneurship Department, Govt. of Maharashtra, GR dated 02.09.2015 & 17.08.2017.
To get the latest updates on skill development tenders, EOI, RFP, Notifications, and News CLICK HERE to follow SKILLSPEDIA on FACEBOOK
Following Agencies/ Training Providers are Eligible to Apply
1. Government or Semi Government Agencies e.g. JSS, MSRLM, MAVIM, KVK, MSRTC etc.,
2. Maharashtra State Board of Skill, Vocational Education & Training (MSBSVET) affiliated Training Centers,
3. Maharashtra State Board of Technical Education (MSBTE) affiliated training centers/Institutes,
4. Green channel training partners of SEEID,
5. Training centers affiliated on Skill India Portal (SIP),
6. National Skill Development Corporation (NSDC),
7. Sector Skill Councils (SSCs),
8. Government ITI, Government Technical High schools, Government Polytechnics, MSME Tool Rooms- Institute for Design of Electrical Measuring Instruments (IDEMI), Central Institute of Petrochemicals Engineering & Technology (CIPET), Government Engineering College, Government Colleges, Government Medical Colleges, Government District Hospitals, Public Universities,
9. Corporate Training Institutes (e.g. Tata Strive, Mahindra etc.) Govt. approved Private Engineering Colleges, Govt. approved Fine Arts College, Govt. approved Private ITI, Govt. approved Private Polytechnics, Govt. approved Private Universities,
10. Local Panchayat Raj Institute (village panchayat/Municipal Council),
11. Reputed NGOs working in the field of Skill Development.
The Minimum Eligibility Criteria for Non-Government Applicant Agencies are as follows:
1. Minimum 3 years of incorporation at the time of proposal submission,
2. Total average turnover- To apply for PRADHAN MANTRI UDYOJAKATA KOUSHALYA VIKAS KENDRA average turnover of applicant should be equal to or more than as mentioned in Annexure 16 for the respective district for which application is submitted, in any 2 years out of previous 4 years.
3. The applicant shall have a positive net worth for the last two consecutive financial years,
4. Applicant should have trained minimum 300 Candidates in NSQF aligned job-roles,
5. Applicant should not have been blacklisted by any State or Central Government /PSU.
For Tender Preparation support or for any query please call SKILLSPEDIA.IN @ 702-47-48-999
To read and download the district-wise EOI, click the below button: