Khadi and Village Industries Commission (KVIC) is inviting a detailed Expression of Interest from new training centres / NGOs to become a "TRAINING PARTNER" with Khadi and Village Industries Commission in Khadi & Village Industries Sector under Khadi & Gramodyog Vikas Yojna (KGVY) scheme for FY 2022-23, Accreditation of Training Institutes for Skill Development Programmes.
For Free Updates JOIN our TELEGRAM channel, CLICK HERE
Last Date of Submission: 06-05-2022
Important dates

Background
Khadi and Village Industries Commission, a Statutory Body under the Ministry of Micro, Small and Medium Enterprises, Govt. of India, through its Directorate of Capacity Building is organizing training programme on Skill Development in various trades in its Departmental and Non-Departmental Training Centres situated all over the country.
To get the latest updates on skill development tenders, EOI, RFP, Notifications, News CLICK HERE to follow SKILLSPEDIA on FACEBOOK
Due to limited trained manpower available in the departmental training centres of KVIC, there is a need to outsource expert / Training Partners, etc. to conduct training programmes effectively. Further, Commission in its No.662nd meeting held on 24.10.2018 has taken a decision that "The Non-Departmental Training Centres be permitted to retain entire amount of the IRG generated by conducting the training programme".
This is being done to incentivize the institutions and to make them self-sustaining over a period of three years, so as to reduce the reliance on Govt. funds. In the recent past, besides the nondepartmental training centres, proposals are received from NGOs/ Academic Institutions/ Industries/ individuals/ experts intending to be a recognised training provider of KVIC in various disciplines.
With the implementation of revised pattern of assistance, those new institutions enrolled with KVIC as well as the existing non-departmental training centres of KVIC are eligible for getting accreditation from KVIC (and shall acronym as "Training Partner") and will get the financial assistance under revised pattern of Assistance for organizing skill development training.
Eligibility Criteria
i.     The Institute should be a reputed and registered entity under Societies Registration  Act/ Academic Institutions/NGO/Directly Aided Institutions of KVIC/ Specified Agencies/ Experts in the respective field/ Reputed Training Institutes/ corporate houses, etc.
ii.     The  Institute should have sufficient infrastructure,  Machinery  & Equipment, expertise etc., and trainers either owned or on hire basis or through associates to conduct the prescribed courses listed in Annexure III.
iii.     Institute should have minimum 3 years experience in skill development training in the particular field; however, the same can be waived off with the approval of C.E.O. and Chairman, by duly recording the reasons thereof. In such cases, the MoU will initially be executed for one year and based on the performance, the period of MoU can be extended by another two years. The prospective Training Partners may submit the resolution of their body authorizing the office bearers to apply for becoming a Partner along with their 3 Years Audited Balance sheet. (Annexure -I).
iv.    The concerned State/Divisional Director will forward the proposal after due physical verification along with criteria/merit-based recommendation (Annexure-II) to the Directorate of Capacity Building with a copy to Zonal Dy. CEO.
v.    Machineries   &   Equipment:-   Related trade Machineries and Equipment required for training purpose must be available with prospective Training Partner either owned or hired or through his Associates during the MoU period.
Accreditation fees and Tenure of the Accreditation
The tenure of the Accreditation will be of 3 Years (calendar year basis). However, the concerned State/Divisional Director will review the performance of the Accredited Training Partner from time to time and if the performance is not found satisfactory, the Accreditation of the institution as Training Partner is liable to be discontinued/ cancelled at any time before the expiry of 3 years by giving a notice of one month. The registration charges for new Accreditation shall be Rs.3,000/- per year and shall be renewed every year depending upon the performance and recommendation of concerned State/Divisional Director. The existing non-Departmental training Centre shall be exempted from the registration charges for Accreditation.
Pattern of Assistance by KVIC
The KVIC will provide the following financial Assistance to the training Centres including Non-Departmental Centres and New Centres accredited as "Training Provider" of KVIC in various disciplines as given below :-
Cost Sheet for Skilled Development Programme
Number of candidates per batch: 20 – 30 Candidates.
Estimated Expenditure: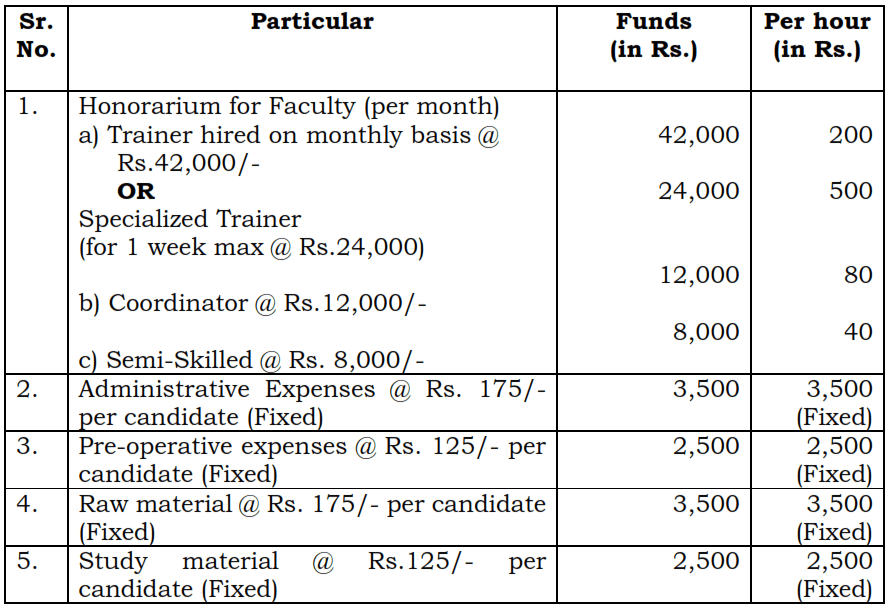 ** For Outstation Trainer or if the Trainer has to train candidates at other places, the TA limited to III AC train fare will be reimbursed additionally. If the trainer happens to be a Government servant, the same will be regulated as per TA/ DA rules applicable to them subject to the production of original journey tickets.
Maximum Financial Assistance:
i.     As the budgetary support of KVIC is from the KVI verticals, under this Pattern of Assistance, a maximum assistance of   Rs. 20 Lakhs will be paid to the accredited Training Partner institute i.e. Non-departmental Training Centre in a financial year.
ii.     No infrastructure cost or machinery cost will be paid under this pattern of Assistance to the Training Partner.
iii.     Over and above,  if in terms of qualitative terms  (feedback from candidates) and outcomes, additional support can be provided subject to the approval of the Competent Authority and within the budget available with the Directorate of Capacity Building on a case-to-case basis.
Selection criteria and Submission of Application
The eligible organisations will be evaluated on the basis of the criteria stated in the EOI Application Form.
The EOI proposals titled as "EOI Application for KVIC training Partner" should be filled in the prescribed format and submit to concern State/Divisional Director. Institutes meeting the above requirements may submit their EOI Application Form. The list of State Offices and Divisional Offices of KVIC is attached in Annexure V.
The concerned State/Divisional Director will forward the proposal after due physical verification along with criteria/merit-based recommendation (Annexure-II) to the Directorate of Capacity Building with a copy to Zonal Dy.CEO. In case the Dy. CEO has any observation or comments on the same, then the same shall be brought to the notice within 7 working days to Directorate of Capacity Building or else will be treated as deemed to have been recommended.
Please note, only shortlisted agencies will be invited for submitting the detailed technical proposals, including strategy, work plan with timelines and budget. KVIC is not bound to select any of the agencies submitting the proposals and reserves the right of rejection of any or all proposals without assigning any reason thereof.
To Download the EOI, Application Form and List of Courses, click the below link: