Expression of Interest (EOI) has been invited by Punjab Skill Development Mission (PSDM) for empanelment of Migration Support Center Providers with a view to strengthen the migration support services for the migrant youth from Punjab under the PSDM's skill development programs.
It is proposed to empanel services of reputed, professional and competent Migration Support Center Providers (MSCPs).
This EOI is being offered to those agencies/companies meeting the requirements of requisite skills and expertise in the above-mentioned area for providing Migration Support Services (MSS).
Such agencies/companies are expected to establish and operate the MSCs on a turnkey model BOT or BOO model. The MSCPs should also provide infrastructure, services, resources/manpower for the Migration Support Centers (MSCs).
All proposals submitted in response to the RFP document must be accompanied by a Bid Security of Rs. 50,000/- (Rs Fifty thousand only) in the form of a bank guarantee as per the format prescribed in this RFP document.
Any subsequent corrigenda/clarifications will be made available on www.psdm.gov.in. The empanelment process of agencies will be a three stage process comprising of – Pre-qualification, Technical and Financial qualification and shall be done as per method and procedures described in this RFP.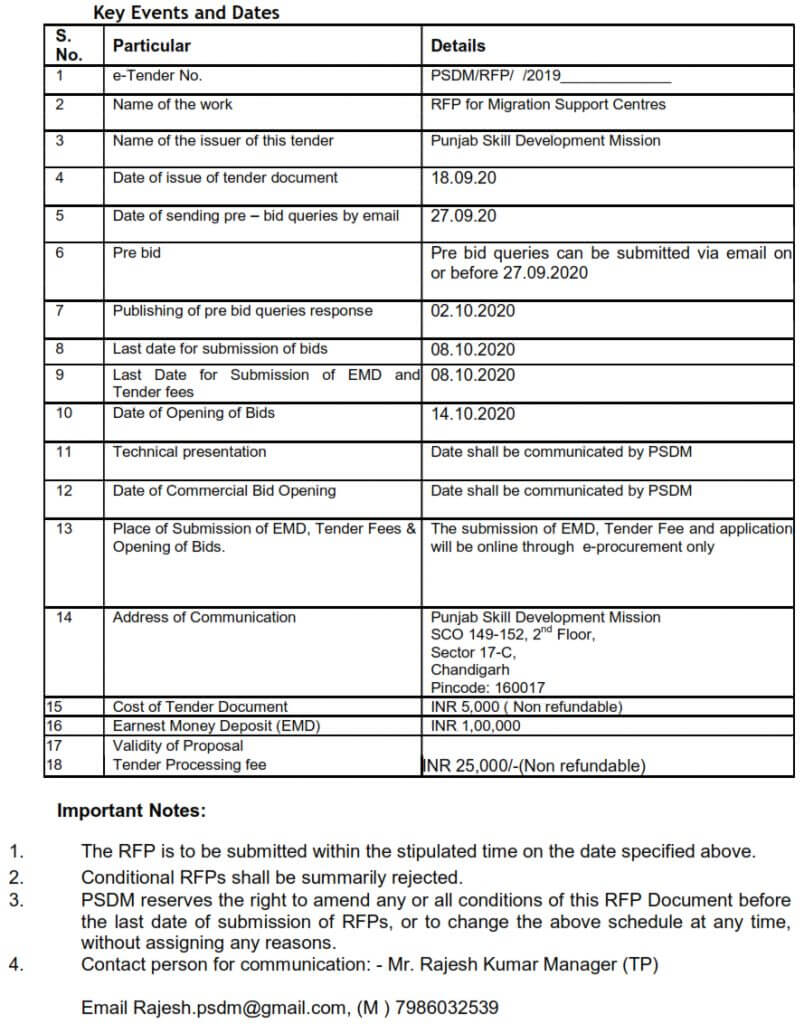 Background –Migration and Migration Support
India has a large migrant Hostel population as evident in many major cities, states and industrial centers of the country. These cities and industrial centers have a large demand for skills and skilled manpower.
Spurred by the need for steady job and income and to fulfil their career aspirations, many of poor rural migrate to cities where they often face an unfamiliar territory, social and economic challenges such as higher costs of living, shelter, access to services.
These adaptation challenges become difficult to cope with leading to poor job retention, inability to integrate and unfulfilled aspirations. The candidates trained under various skill scheme of PSDM have to leave their native places for jobs.
They migrate out of districts/state and some time out of state for better job opportunities. The difficulties of adjustment often lead the migrant candidates to return to their native place thus nullifying the effort put in skilling, placement and job retention.
Overview of the Scope of Work
The primary objective of this RFP is the empanelment of Migration Support Centre Providers who will setup/ establish the MSCs as per the norms and guidelines of PSDM and operate and maintain the same till the end of the contract period.
The role of the MSCs, as detailed in this RFP is primarily for post-placement support services for PSDM alumni and related monitoring feedback to State and its stakeholders. the clientele shall be from PSDM and residential support shall have to be exclusive for PSDM trainees/skilled youth only.
The role of MSCs under this RFP is that of a service provider.
Physical Infrastructure
The overall space for the MSC may be planned as minimum 1500 to 3000 sq. ft. The major elements of the infrastructure (suggestive) are as follows. The MSCP could also plan to progressively enhance and upscale the facilities as well:

Cost of Tender Document: INR 5,000/- (Non-refundable)
Tender Processing Fee: INR 25,000/- (Non-refundable)
Last Date of Submission: 08/10/2020
DOWNLOAD EOI | SCOPE OF WORK | ELIGIBILITY & EVALUATION CRITERIA