Request for proposal has been invited by National Commission for Women from NGOs/ Universities/Academic Institutions for Grant of Financial Assistance for Conducting Seminars.
For Free Updates JOIN our TELEGRAM channel, CLICK HERE
Last date to apply online: 30-05-2022
Link for online application: http://ncwapps.nic.in/eproposalv2/
The National Commission for Women has been providing financial support for conducting seminars by Colleges, Universities, State Commissions for Women, Non- governmental organizations, etc., with the objective of getting an insight into the relevant subject and also throwing up recommendations for better implementation or even modification of the existing policies/programmes/schemes/projects relating to welfare and empowerment of women. Such seminars also provide a forum for sharing knowledge, information and experience of participants and resource persons on the subject of the seminar. Such experience sharing could be helpful in better dissemination of the required information and also lead to better execution of schemes, etc. at the ground level.
To get the latest updates on skill development tenders, EOI, RFP, Notifications, News CLICK HERE to follow SKILLSPEDIA on FACEBOOK
The National Commission for Women as per its mandate to sponsor Seminars on Gender-related themes is delighted to announce the themes finalized for this year as:
i. Mahila Thana (Working, Efficiency and Effectiveness)
ii. Rights of Differently Abled Women (DAW)
iii. Effectiveness of Fast Track Courts
iv. Women in Para Military Forces
v.  Women in Sports
Eligibility for financial assistance for Seminars and release of such assistance:
A. Institutions namely Universities including Deemed to be Universities, Colleges should be National Assessment and Accreditation Council (NAAC) accreditated with a minimum B grade/ Institute of National Importance/National Law Universities shall be eligible for grant of financial assistance in accordance with the procedures stipulated in these guidelines (NAAC Accreditation must be valid in current year)
B. Non-governmental organizations (NGOs) having valid registration in current year with NITI AYOG shall be eligible for grant of financial assistance in accordance with the procedures stipulated in these guidelines. For NGOs, Working on women-related issues must be part of its mandate in accordance with its bye-laws/Memorandum/Articles of Association, etc. No organization blacklisted as per details specified in the guidelines relating to seminars will be eligible to apply. Similarly, organizations blacklisted by State or Central Government, or any of their statutory/autonomous bodies shall also not be eligible to apply for grant of assistance for conducting Seminars. NGO's must certify that they have not violated the Rules of FCRA Regulations and that they have not been blacklisted by any Department of the Government of India.
All non-governmental organizations (NGOs) will be required to indicate their registration number with the NITI AYOG. As stated earlier, no organization without valid registration with NITI AYOG will be eligible to submit a proposal to the National Commission for Women for conducting a seminar.
Release of Funds and submission of seminar report:
The funds for organizing a Seminar approved by the Commission shall be released in two installments, each equivalent to 50% of the sanctioned amount.
Category-Wise Budget Allocation- Seminar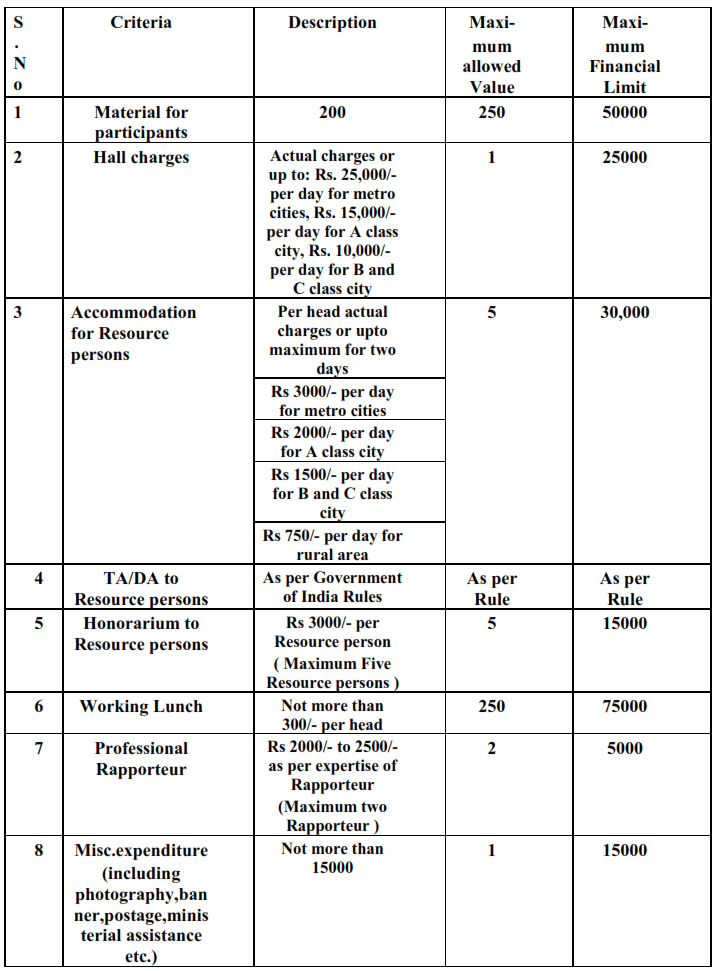 For getting detailed RFP, Guidelines and list of documents to be submitted online, click the download link: